Lolley Family Lines
Allen, Anderton, Balier, Banastre, Batchelder, Buck, Butler, De Anderton, Grice, Hartshorn, Hartson, Hebard, Holley, Lenhart, Lolley, Lunt, Rathburn, Rice, Riston, Shemberger, Thorpe, Vantings, Walden, Worden, Worthington
Lineages
DNA Testing Results
See how DNA testing has helped us confirm ancestors and determine our ethnicity. Click here for results.
Family Signatures


John Wesley Lolley
1829-1890

Mary Rebecca Hartson Lolley
1839-1899

George W. Lolley
1835-1848

Isaac Hartson
1830-1908

Lydia Bloss Hartson
1840-1902

Roscoe Earl Lolley
1895-1918

Ralph Alven Lolley
1899-1966
Articles
Lolley Family History by Estella Gunnell Taylor
Childhood Memories by Walter Virgil Lolley
Photos
Lolley Family
Thanks to LoAnn Bonstein for contributing the photo of John W. and Mary Hartson Lolley, and thanks also to Becky Lolley for the photos of George W. and Prudence McBride Lolley and family.
Lenhart Family
In 1892 Ida Josephine Lenhart received a photo album as a Christmas gift. She filled it with pictures of her friends and family who lived in Pottawatomie County, Kansas. The album now belongs to her granddaughter Myrna Lolley Erickson who kindly allowed us to scan these images.

Records
Census Records
1841 William and Susannah Lolley in Cliffe, England
1850 Susannah Lolley in Ontario, Wayne, New York
1860 William and Susannah (Lolley) Fowler in Wisconsin
1870 William and Susannah (Lolley) Fowler in Missouri
1880 William Fowler in Missouri
1860-1880 John and Mary Hartson Lolley WI-MO-KS
1880-1920 John and Margaretha Shemberger Lenhart OH-KS

Marriage Records
1854 John W. Lolley and Mary Hartson in Elkhorn, Wisconsin

Military Records
1864 George W. Lolley Civil War Enlistment in Missouri
1880 John W. Lolley Civil War Pension in Leghorn, Kansas
1890 Mary R. Lolley Widow's Pension in Wheaton, Kansas


Passenger Ship Records
1843 William Lolley Immigrates to America on the Sheridan
1845 Lolley Family Immigrates to America on the Panama


Death Records
1901 Obituary of George W. Lolley of Independence, Kansas
1915 Certificate of Mary Anne Lolley of Brown's Valley, Minnesota
2001 Obituary of Walter Virgil Lolley of Boise, Idaho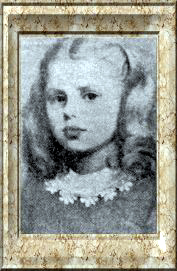 Portrait of Mercedes
Portrait of Mercedes Lolley
What became of this portrait of Mercedes Lolley. It was painted by acclaimed Northwest artist Sally Haley (1908-2007) in about 1948 in Portland, Oregon. It appeared in a number of exhibits through the 1950s, including a show at the Maryhill Museum of Art.