Family of John and Margaretha Lenhart
John Paul Lenhart was born 30 Jun 1833 in Baden, Germany. His parents are unknown. According to two census records, he immigrated to the U.S. in 1836 at the age of 3. He died 4 Feb 1926 in Wamego, Pottawatomie County, Kansas.
On 23 Nov 1862 in Columbus, Ohio he married Margaretha 'Mary' Schlumberger. Her mother was the twice widowed Margaretha Zimmer Schlumberger, maiden name unknown. Her mother was first married to a man named Francas Zimmer. They had one son John Francis Zimmer. The family immigrated from Germany to Brazil in the early 1820s when John Francis was about five. Francas Zimmer died in Brazil and Margaretha married a man named Schlumberger (first name unknown). They had two children, Adeline and Mary. Schlumberger then also died in Brazil and Margaretha moved to Columbus, Ohio with all three of her children probably shortly after Mary was born. Mary died 29 Feb 1896 in Pottawatomie County, Kansas.
John and Mary had seven children. All were said to have been born in Columbus, Ohio. In 1880 the family was living in Madison County, Ohio and sometime prior to 1900 they moved to Pottawatomie County, Kansas.
Frank Lenhart (22 Aug 1863 - 5 Dec 1932) m. Susan Alice Alsip
Matilda Lenhart (abt 1866 - ) m. William Neely
Jacob Edward Lenhart (5 Jun 1868 - 30 Oct 1953) m. Elizabeth Honeywell
John C. Lenhart (May 1870 - )
William Frederick Lenhart (17 Nov 1872 - 13 May 1929) m. Laura Kate Alsip
Mary Lenore Lenhart (15 Aug 1874 - 21 Jun 1922) m. Albert Isaac Lolley
Ida Josephine Lenhart (15 Oct 1876 - 18 Apr 1949) m. Asa Horatio Lolley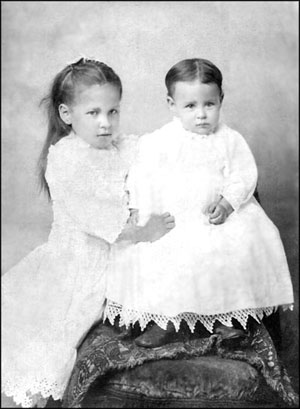 Ida Josephine 'Josie' Lenhart and 'Aunt Mabel' or 'Nellie'
Ida had two older sisters Matilda and Mary. Matilda was
10 years her senior, but Mary only two, so this must
have been Mary and Ida?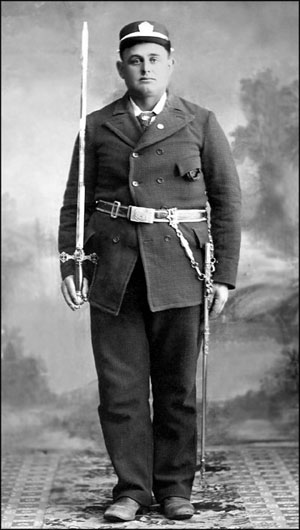 John C. Lenhart
The hat and belt may be from the Spanish American War?
Sword appears to be a Medical Service Sword.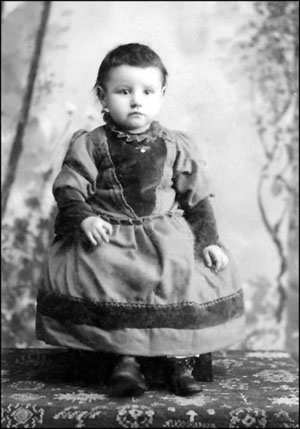 Ethel Neely, daughter of Matilda Lenhart
and William Neeley