Marriage Record of John W. Lolley and Mary R. Hartson
October 28, 1854
Delevan, Walworth, Wisconsin
Certificate of Marriage

1. Full Name of Husband.
John W. Lawley
2. Name of the Father of Said Husband.
William Lawley
3. Name of the Mother of Said Husband.
Hannah Lawley
4. Occupation of said Husband.
Farmer
5. Residence of husband.
Genoa, Walworth Co., Wisconsin
6. Birthplace of husband.
England
7. Full name of wife previous to marriage.
Mary Rebecca Hartson
8. Name of father of said wife.
Horatio Hartson
9. Name of mother of said wife.
Maria Hartson
10. The time when the marriage was consummated.
October 28, 1854
11. The place, town or township, and county, where the marriage was consummated.
Delavan, Walworth Co., Wisconsin
12. The color.
White
13. By what ceremony consummated.
Justice form
14. Name of the person pronouncing the marriage.
C. C. Stowe
15. Residence of person last named.
Elkhorn
16. Name of person signing the certificate.
C. C. Stowe
17. Date of certificate.
October 30, 1854
18. Date of registration.
October 30, 1854
Click image to enlarge.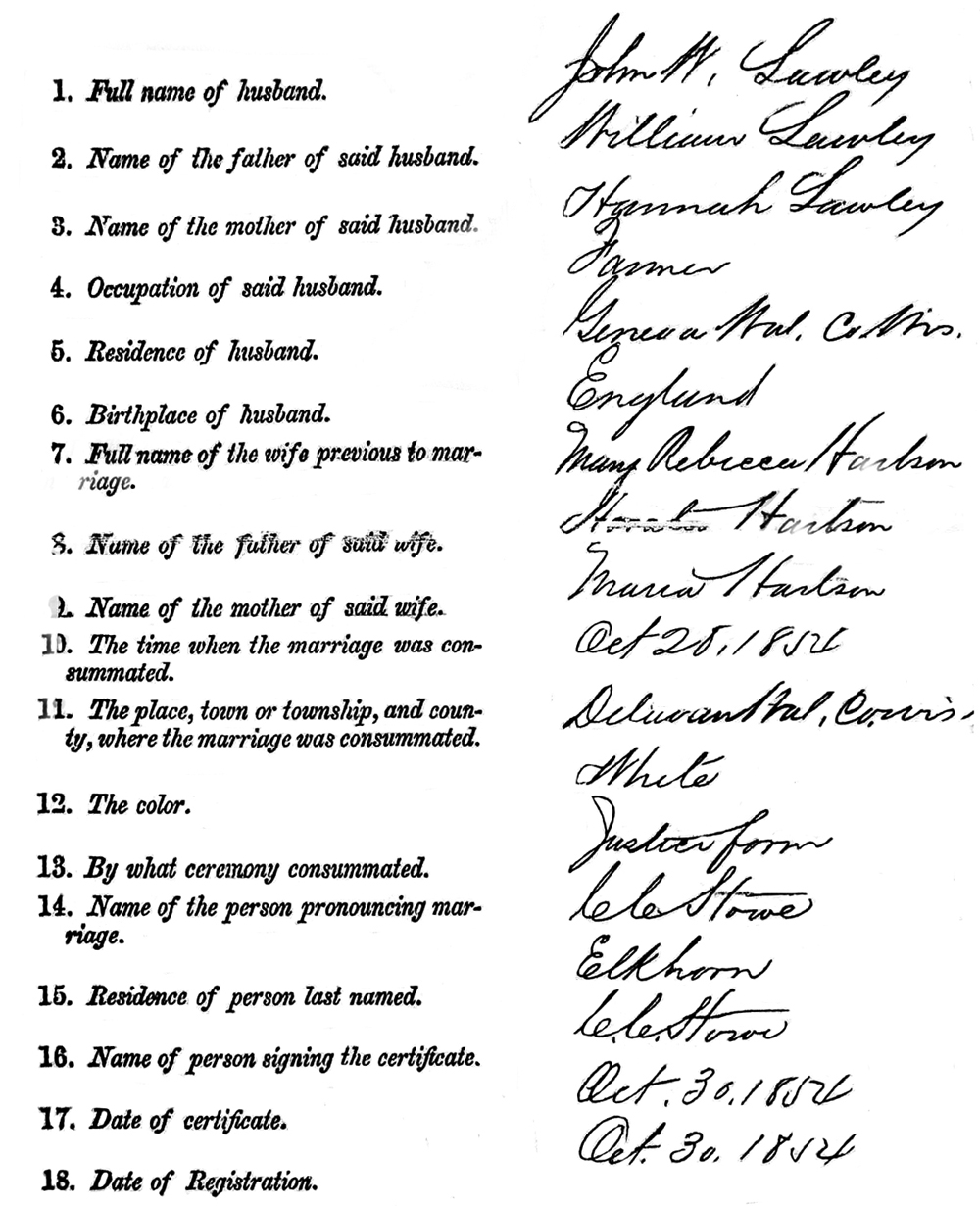 Copy of Marriage Certificate
John W. Lolley and Mary R. Hartson were solemnly united by me in the holy bonds of matrimony at Elkhorn, Wisconsin on the 28 day of October in the year of our lord one thousand eight hundred and fifty four conformably in the ordinance of god and the laws of the state in the presence of
William Fowler
Horatio Hartson
William Benedict
Signed Esq. Stow, J.P.
Copyed by J. N. Force
a Notary Public
December 3, 1891