Camas Prairie in the News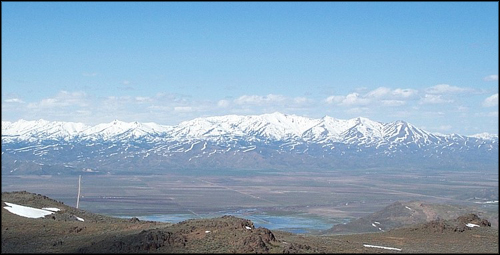 View of Camas Prairie and Soldier Mountain courtesy of Dan Robbins at Idahosummits
In the late 1880s our grandparents H.F. and Mary McCarter left their home in Grayson County, Virginia to homestead in Idaho Territory. They settled on the Camas Prairie named for the Camassia quamash, a flower in the lily family that covered the area in a sea of blue each spring and served as a critical food source for Native Americans in the fall.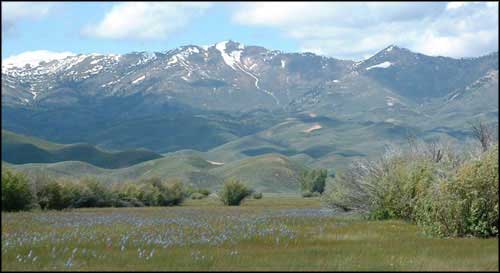 Camas in the meadow near the homestead of H.F. and Mary Jane McCarter courtesy of Dan Robbins at Idahosummits
In researching our family, we came across some newspaper accounts of the prairie that we thought might be of interest to others studying the history of the area. Because there are three Camas Prairies in Idaho, early newspapers designate this as Big Camas Prairie. Southwest of Big Camas is Little Camas, and in northern Idaho we find simply Camas Prairie.
The earliest stories of the prairie center around exploration, roads, mining, and settlements, but the bulk of the reports are about the tensions between the settlers and Native Americans which culminated in the Bannock War of 1878.
1865
January | February | March | April | May | June | July
August | September | October | November | December

1866

January | February | March | April | May | June | July
August | September | October | November | December

1867
January | February | March | April | May | June | July
August | September | October | November | December

1871
January | February | March | April | May | June | July
August | September | October | November | December

1872
January | February | March | April | May | June | July
August | September | October | November | December

1873
January | February | March | April | May | June | July
August | September | October | November | December

1874
January | February | March | April | May | June | July
August | September | October | November | December

1877
January | February | March | April | May | June | July
August | September | October | November | December

1878
January | February | March | April | May | June | July
August | September | October | November | December

1879
January | February | March | April | May | June | July
August | September | October | November | December

1880
January | February | March | April | May | June | July
August | September | October | November | December

1881
January | February | March | April | May | June | July
August | September | October | November | December

1882
January | February | March | April | May | June | July
August | September | October | November | December

1890
January | February | March | April | May | June | July
August | September | October | November | December
1903
January | February | March | April | May | June | July
August | September | October | November | December