Levi McCarter and Evoline Greer of Smyth Co., Virginia
Levi Hickman McCarter was the oldest child of Philander and Thurza (Williams) McCarter. He was born on the family farm in Elk Creek, Grayson, Virginia in 1836. His younger siblings were Van, Jane, Andrew, William, Emily, H. F., Jim, Sarah, and George.
His father Philander was a traveling tinware salesman from New York City when he married Thurza in 1832. His mother was a farmer's daughter, the second of eleven children of Susan and Levi Williams who lived in the Rye Valley of Smyth County, Virginia.
Levi's parents settled in the Elk Creek community of Grayson County where Philander became the postmaster and, according to the 1850 census, was 'engaged in commerce' as well as farming, so may have been the proprietor of a small store.
Levi was named for his maternal grandfather, but his middle name is a bit of a mystery. There are no known Hickmans in the family tree, so he may have been named for a family friend, perhaps Edwin Hickman who lived in Grayson County at the time.
When Levi was enumerated for the first time in 1840, he was little more than a tick mark on the census form. Ten years later the census became more detailed and listed all eleven family members by name. Levi was 14 and had attended school that year.
When the 1860 census was taken, he was a 24-year-old farmer living in the home of neighbors John and Mary Cornett. He was presumably working on their farm because the agricultural census shows that he had no farm of his own.
Civil War Erupts
On 24 Apr 1861, twelve days after Confederate forces attacked the federal garrison at Fort Sumter, Levi and his brother Van enlisted as privates in Co. F, Virginia Infantry also known as the "Grayson Dare Devils." Levi's brothers, Andrew and William, would also eventually join the fray.
Because the South believed the war would be short, Levi was mustered into service in Richmond for a period of just 12 months. In June he spent two weeks in the hospital at Winchester, but returned to his unit in time to fight in the first major battle of the war, the First Battle of Bull Run or the Battle of First Manassas as the Confederates called it. It was a Confederate victory and also showed the Union forces that the war would not be easily won.
In March 1862 Levi's unit fought in the First Battle of Kernstown which was a Confederate defeat. After his unit retreated to Swift Run Gap, muster rolls show that he was AWOL. Some in his unit had been transferred to Co. G, 14th Virginia Cavalry and it appears that Levi decided to simply forego the paperwork and join them which he did on April 12th.
The desertion rate of Confederate Virginians was somewhere between 10 and 15 percent and occurred for a variety of reasons including poor food, equipment, and leadership. Levi appears to have fallen into the category of soldiers who went AWOL so that they could return home to see family and friends when it became clear that the war was going to extend beyond their one year enlistments.
The Co. G "Border Rangers" weren't fully organized until September 1862 and while Levi was home for the summer he married Nancy Hale, the 20-year-old daughter of Lewis B. and Margaret (Huddle) Hale who also lived in the Elk Creek community.
From the fall of 1862 through the spring of '63, the 14th Virginia Cavalry was involved in a number of skirmishes. During this time Levi was AWOL again for three days in February and detailed as a witness in a court-marital in March and April.
In July of '63 his unit was ordered to Gettysburg. After their defeat, the 14th Virginia Cavalry retreated and there was little activity for the next three months. A week before the Battle of Droop Mountain, Levi was again AWOL.
So many Confederate soldiers fell out of the ranks after the Union's decisive victory in the Battle of Gettysburg that Jefferson Davis offered full amnesty to those who would return. Levi never did and was stricken from the roles as a deserter. His reasons for not returning are unknown, but could have included exhaustion, ill health, or general disillusionment.
Levi Returns to Grayson County
Nine months after his return, while the war still raged, Levi's son William Stephen McCarter was born. Just three months later, in the fall of '64, Levi's wife Nancy died of fever. He must have been living with his parents at this time because in February when his father purchased a 450 acre farm just over the state line in North Carolina., Levi and baby Willie moved with them.
In the aftermath of the war, Levi began courting young widow Evoline Greer Hackler. Evoline was born in 1840 in Grayson County, Virginia to Shadrack and Sarah (Baker) Greer. She grew up on the family farm near Grant with her five older and five younger siblings: Noah, John, Martha, Eli, Isaac, Andrew, Nancy, James, Jane, and Shadrack. As a child she learned to read and write and clearly signed her name Evoline, not Evaline as it sometimes appears.
On 3 Feb 1860, at the age of 19, she married Joel O. Hackler, 26, who had a 380 ace farm at Elk Creek. Joel died sometime soon after they were married. The 1863 Grayson County Tax Records show his farm as the Joel Hackler, Est. He doesn't appear in any Civil War service records, so his death may have been prior to or unrelated to the war. Evoline and Joel had no living children, and there are no records showing who inherited Joel's estate.
Evoline and Levi were married on 11 Feb 1866 in Grant, Grayson, Virginia by Alexander Young, J. P. and went to live on Levi's father's land in the Wilson Creek community. In late 1868 Levi's four-year-old son Willie died of fever as his mother had before him.
When Levi's father died in February 1870, he inherited the 52 acres on which he and Evoline had been living. The land fell on both sides of the state line, but their home was in Grayson County where they were enumerated a few months later. They had two children – Martha Sedalia "Mattie" and Shadrack Philander "Shady" named after their fathers. Also living with them were farm laborer Perry Franklin, 16, and housekeeper Hannah Clark, 17. At the end of 1870 Evoline gave birth to their daughter Sarah Ennis.
Over the next two years tensions began to develop between the McCarter brothers living along Little Helton Creek in Virginia and North Carolina. H. F. and George claimed that Levi was "a troublesome neighbor" who "turned his stock on their fields and destroyed their grain." During this time Levi had been trying to induce neighbor John Little from Chestnut Hill to buy his farm for $2,000, but Little thought it worth only $800 which was its valuation in the 1870 census.
H. F. and George promised Little a $100 note if he would agree to Levi's asking price. So Levi sold his farm for more than twice what it was worth, but John Little never saw the $100 even after taking his suit against H. F. and George McCarter all the way to the North Carolina Supreme Court.
Levi and Evoline Move to Smyth County
After selling his inherited land in the fall of 1872, Levi bought a 250 acre farm in the Quebec community of Sugar Grove, Smyth, Virginia just a mile west of where his mother was born and raised.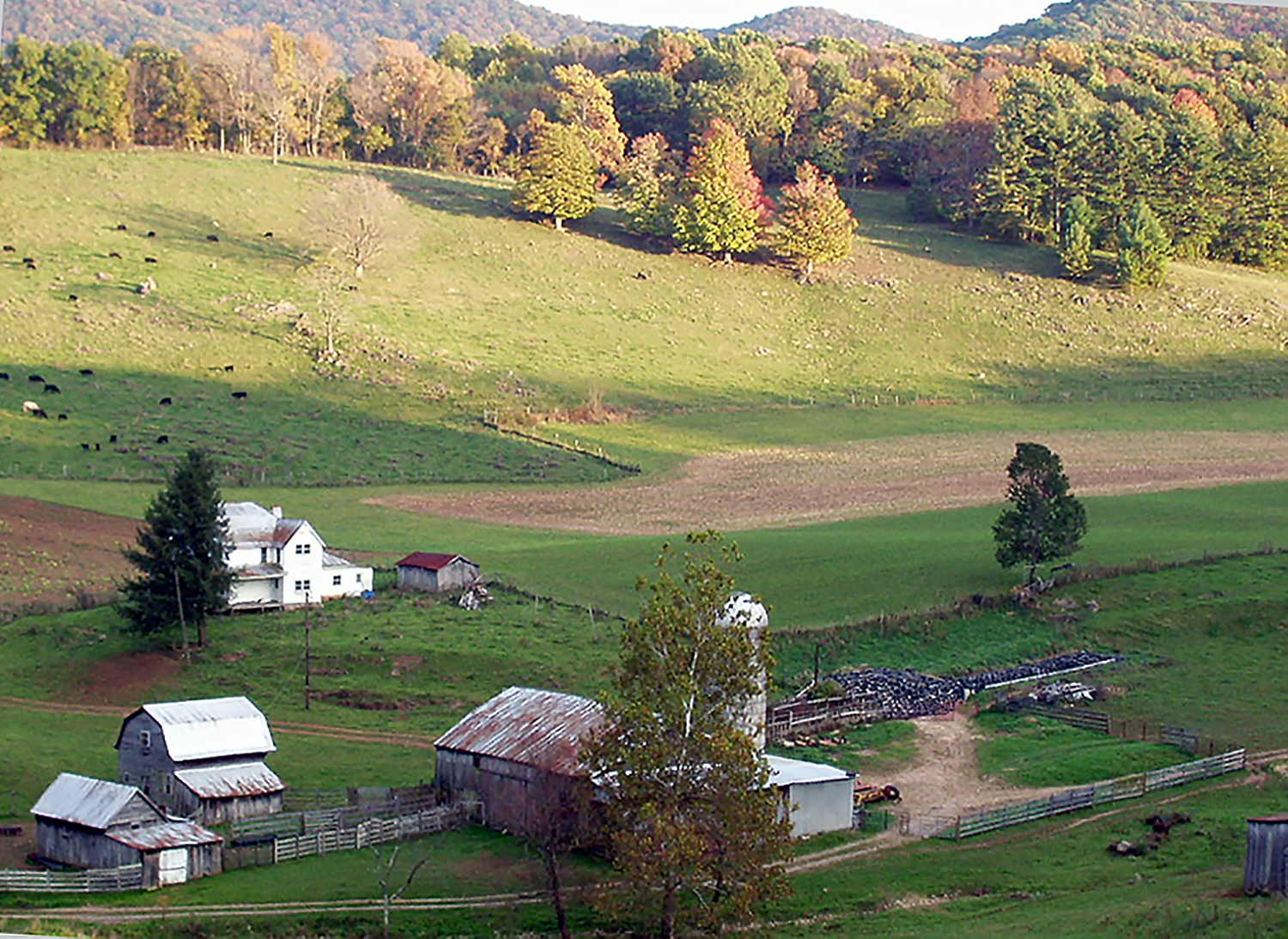 Levi and Evoline McCarter's farm as seen from the family cemetery.
The farm is located at 132 Co. Rd. 650 Sugar Grove, Virginia.

The farm was included in an historical architectural survey of the county taken in 1995. Son Robert built the house sometime shortly after Levi's death in 1908, but many of the outbuildings are much older. They include a two-story tobacco barn with hand-hewn 8-inch logs, a spring house, a wash house, and another tobacco barn.
The 1880 Agricultural Census shows their 250 acre farm valued at $2,000. The previous year they had produced 150 bu. oats, 100 bu. corn, 70 bu. wheat, 35 bu. apples, 18 bu. potatoes, 13 gal. molasses, 40 lbs. honey, 100 lbs. butter, 40 lbs. fleece, and 130 eggs. They had the usual assortment of farm animals including 5 horses, 5 'milch' cows, 2 steers, 12 sheep, 14 swine, and 12 chickens.
By 1880 the last of their children had been born. They were Thurza Belle, Robert Franklin, and Clayborn Baker and Dollie who were twins. Dollie died three months after their birth of an unknown cause. She has no headstone in the family cemetery, but her grave may be marked by one of three field stones there.

At the time of the census Clabe was still just a baby, but all five of the older children had attended school in the previous year and were able to read and write.
Levi's children were:
Born

Married

Died

Levi and Nancy (Hale) McCarter's Children
William Stephen


Jul 1864
Grayson Co., VA

13 Oct 1868
Grayson Co., VA

Levi and Evoline (Greer) McCarter's Children
Martha Sedalia
27 Apr 1867
Grayson Co., VA
13 Jun 1889
John Barton

25 Sep 1951
Sugar Grove, VA
Shadrack Philander
21 Dec 1868
Grayson Co, VA

6 May 1899
Anna Lou Scott

12 Mar 1900
Sugar Grove, VA

Sarah Ennis
22 Dec 1870
Grayson Co., VA
13 Oct 1895
Robert Griffitts

9 Jan 1939
Sugar Grove, VA

Thurza Belle
1873
Sugar Grove, VA


3 May 1887
Sugar Grove, VA

Robert Franklin
12 Aug 1876
Sugar Grove, VA
16 Apr 1923
Laura Pierce
16 Apr 1929
Sugar Grove, VA
Clayborn Baker
16 Apr 1879
Sugar Grove, VA
abt 1901
Celia Jane Haga

12 Dec 1944
Sugar Grove, VA
Dollie
16 Apr 1879
Sugar Grove, VA
Jul 1879
Sugar Grove, VA
Throughout the latter half of the '80s, Levi served as a postmaster for the Rock Grove post office. (No present day maps show its location.) His brother James was postmaster for the mining camps at Smoky, Alturas, Idaho at the same time. These were political patronage jobs which meant that Levi and James, like their father before them, were active in the Democratic party. The president at this time was Grover Cleveland, the first Democratic president since the end of the war.
In 1887 Levi and Evoline lost their 14-year old daughter Thurza Belle to an unknown cause. Like her sister, Dollie, she has no headstone in the family cemetery, but her grave may be marked by one of the field stones.
In 1894 Levi's mother, Thurza, came to live with the family after selling her farm in Ashe County, N. C. Thurza had been managing her farm for 25 years since the death of her husband Philander. She died at Levi and Evoline's home four years later at the age of 89 and was buried in the family cemetery.
On 13 Mar 1900, Levi and Evoline lost their 31-year-old son Shady two weeks before he was to become a father for the second time. (DNA results confirm a family legend that Shady had fathered a child, George Washington Teaster, by Sarah Elizabeth Teaster in 1892.) Engraved on the back of his headstone is this verse from a 16th century hymn:
Let me not murmur or repine,
Under these trying strokes of thine,
But while I walk the mournful road,
Be still and know that thou art God.
When the census was taken a month later, the grieving household was made up of Levi and Evoline, sons Robert and Clayborn, daughter-in-law Anna and two-week-old grandson William Shady, recently widowed brother William McCarter, and their servant Celia Haga who would marry Clayborn the following year.
Levi died eight years later on 3 Feb 1908 at age 71. His death certificate lists the cause of death as chronic valvular heart disease suggesting that he may have had rheumatic fever as a child and may have never been entirely well.
In 1910 the McCarter household included Evoline, her son Robert, servant Laura Pierce, and grandson William Shady. William's mom, Anna, had married a widower with five children in 1907, but he remained in the McCarter household until adulthood.
Five years later, at the age of 75, Evoline applied for a Confederate pension based on Levi's war record. Levi had never claimed a pension and this was the first time she had applied. According to the record she was living with her son Robert and had no real property or real estate. This suggests that Levi died intestate and Evoline only had dower's rights. No records show if she received the pension, but it is unlikely because Levi had not completed his term of service.
On 19 Mar 1918 Evoline died of pneumonia and, according to her death certificate, was buried in "the family cemetery on the farm." She was 77-years-old.
Newspaper Clipping of Levi McCarter's Obituary
Levi Hickman McCarter was born on Elk Creek, Grayson county, Va., July 18, 1836 departed this life Feb. 3rd, 1908 at his home in Rye Valley, Va., age 71 years, 6 mos. and 15 days. He was first married to Nancy Hale, to whom was born one son - Willie - who, soon after his mother's death died when but five years old. After going with his parents to Helton, N.C. he married Mrs. Evaline Greer Hackler to whom were born four sons and three daughters [sic], three of which preceded him to "the home of the soul."
He was a faithful soldier in the late civil war being enlisted in the Dare Devil Company; the first to go out from Grayson, during which time he escaped many dangers.
He was one of the "most aged" prominent and highly esteemed citizens of Rye Valley while during his life he, as most of us, was by no means perfect yet his sympathy for those in need was great, caring for and visiting the widows in their afflictions, and we trust he is new and "safe in the arms of Jesus."
He seemed to be warned of his approaching death as he realized the importance of and spoke of his trust being in Jesus the Great Physician who only can heal our sin-sick souls.
During his last days he became calm, patient, praying daily, and humble as a little child, the which if we are not like we "cannot enter the kingdom of God."
May He who came to heal the brokenhearted bind up the wounds and gash made by the grave diggers spade and at last make us a reunited family above as his father "in the long ago" so often prayed.

Sources:
Ancestry.com. Alabama, Texas and Virginia, Confederate Pensions, 1884-1958 [database on-line]. Provo, UT, USA: Ancestry.com Operations, Inc., 2010.

Ancestry.com. U.S., Appointments of U. S. Postmasters, 1832-1971 [database on-line]. Provo, UT, USA: Ancestry.com Operations, Inc., 2010.

Ancestry.com. U.S., Register of Civil, Military, and Naval Service, 1863-1959 [database on-line]. Provo, UT, USA: Ancestry.com Operations, Inc., 2014.

Ancestry.com. Virginia, Death Records, 1912-2014 [database on-line]. Provo, UT, USA: Ancestry.com Operations, Inc., 2015.

Ancestry.com. Virginia, Select Marriages, 1785-1940 [database on-line]. Provo, UT, USA: Ancestry.com Operations, Inc, 2014.

McCarter Cemetery (Sugar Grove, Smyth County, Virginia) Evoline McCarter Headstone, photographed by Patrick McCarter 1999.

McCarter Cemetery (Sugar Grove, Smyth County, Virginia) Levi H. McCarter Headstone, photographed by Patrick McCarter 1999.

McCarter Cemetery (Sugar Grove, Smyth County, Virginia) Shady McCarter Headstone, photographed by Patrick McCarter 1999.

Census Year: 1850; Census Place: District 19, Grayson, Virginia; Roll: M432_947; Page: 169B; Image: 27.

Census Year: 1850; Census Place: District 19, Grayson, Virginia; Roll: M432_947; Page: 185A; Image: 58.

Census Year: 1860; Census Place: Grayson, Virginia; Roll: M653_1348; Page: 21; Family History Library Film: 805348.

Census Year: 1860; Census Place: Grayson, Virginia; Roll: M653_1348; Page: 24; Family History Library Film: 805348.

Census Year: 1860; Census Place: Grayson, Virginia; Roll: M653_1348; Page: 11; Family History Library Film: 805348.

Census Year: 1870; Census Place: Wilson Creek, Grayson, Virginia; Roll: M593_1649; Page: 240B; Image: 263272; Family History Library Film: 553148.

Census Year: 1880; Census Place: Saint Clair, Smyth, Virginia; Archive Collection Number: T1132; Roll: 29; Page: 703; Line: 3; Schedule Type: Agriculture.

Census Year: 1880; Census Place: Saint Clair, Smyth, Virginia; Roll: 1390; Family History Film: 1255390; Page: 126B; Enumeration District: 085.

Census Year:Year: 1900; Census Place: Williams, Smyth, Virginia; Roll: 1728; Page: 1B; Enumeration District: 0087; FHL microfilm: 1241728.

Census Year: 1910; Census Place: St Clair, Smyth, Virginia; Roll: T624_1649; Page: 2B; Enumeration District: 0092; FHL microfilm: 1375662.

Certificate of Death for Levi Hickman McCarter, 3 February 1908, Virginia Department of Health, Vital Records Section, copy in the possession of editor.

Compiled Service Records of Confederate Soldiers Who Served in Organizations from the State of Virginia. Database. Fold3.com.

Grayson County, Virginia Death Register 1853 -1870, compiled by Jeff Weaver and Ginger Ballard. Database. Newrivernotes.com.

Historical Architectural Survey of Smyth County, Virginia, Hill Studio P.C., 120 West Campbell Ave., Roanoke, Virginia 24011 Prepared by Alison S. Blanton, Rebecca L. Ballard, and Mary A. Zirkle, 1995.

Non-population Census Schedules for Virginia, 1850-1880; Archive Collection: T1132; Archive Roll Number: 19; Census Year: 1879; Census Place: St Clair, Smyth, Virginia; Page: 1423.

North Carolina Reports: Cases Argued and Determined in the Supreme Court of North Carolina, Volume 89, p. 234, 1884.

Wills and Estate Papers (Ashe County), 1663-1978; Author: North Carolina. Division of Archives and History (Raleigh, North Carolina); Probate Place: Ashe, North Carolina.