Obituary of Andrew Cole McCarter
January 25, 1911
Washington County, Virginia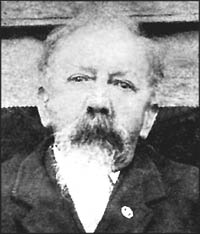 Andrew Cole McCarter
Andrew Cole McCarter, son of Philander and Theresa (Thurza) McCarter, was born January 2, 1840; died January 25, 1911; age 71 years 23 days. He was born at Elk Creek, Grayson County, Virginia, which was his home until after the war.
He fought in the war as only brave men fight, having offered his services while he was yet too young to serve his country in such a capacity. But when the time came that his beloved state called forth her stalwart young sons, he was quick to hear and heed her call. After the war his father moved to Helton, N.C. There at the Helton church he professed faith in Christ and was baptized by Rev. James Weaver.
On January 25, 1872, he was married to Huldah J. Weiss, daughter of Austin and Synthia Weiss. To this union were born five children, all of which survive to mourn their loss -- J.E. McCarter and Mrs. Minnie Widener, of Cole, Virginia, Mrs. Nolar Dinkins, of Chilhowie, Virginia, Charles McCarter of Salem, Oregon and Emmett McCarter of Springville, California. His wife and two children, Charles and Minnie, were around his bed when he passed into the great beyond.
In 1877, he moved to Washington County, Virginia, where by good management and the favor of a kind Providence, he succeeded in accumulating a reasonable portion of this world's goods. He aided in building a good church and school near his home, and in both he felt a very deep interest. He was a faithful steward in his church for many years, and even during the last years of his life, a member of his Sunday School class, having taught a class until a year or two before his death.
His great love for children, his ever readiness to hear their stories and share their every joy and sorrow kept his heart young, even after hoary hairs had claimed him for their own. During his last illness he said, "If it be the Lord's will to take me away, all is well." Blessed are the dead who die in the Lord. May the great Comforter be near his Worthy Companion to the sunset of life, and to his sorrowing children who keenly feel their loss as only those can who have had the blessing of one of the earth's greatest gifts.
The funeral services were conducted by his pastor, G.A. Maiden, and his body was laid to rest in the family cemetery at his home church, Lebanon, near Cole, Virginia.