Children of Thomas and Martha May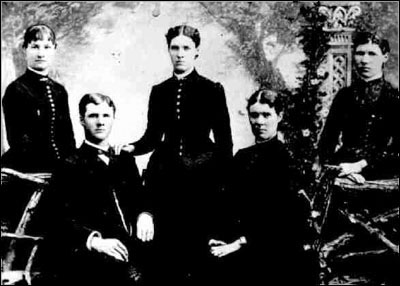 Seated are Hugh Delos May and Gennette May.
Standing (l to r) Mary, Roxy, and Byra May

Roxy May, the oldest, was born September 27, 1861. On March 30, 1882, she married Henry J. Young. They had five children - Glenn, Eva, Wade, Beade, and Thomas.
My great grandmother, Genette May, was born December 4, 1862. On June 5, 1888 she married Arthur Thorpe at her parent's home in Thorn Hollow. They had five children - Earl, Mattie, Arthur, Ray, and Mary.
Hugh Delos May was born July 14, 1864. When he was 20, Delos married Ava Elder. They had six children – Grace, Nina, Nita, Mayme, Delbert, and little Dale who died as a toddler at the home of his grandparents. Delos and Ava divorced in 1907, and he married Ruby Eleanor Rowley of Roseburg, Oregon. They had two daughters, Eleanor and Helen.
Byra May was born April 23, 1866 and was 18 when she married Edwin J. Elder on September 24, 1884. They had at least two children. One son, Wayne, was born in 1888, and Byra was just 35 when she died in 1901 after giving birth to their last child, also a boy.
Mary L. May was born on March 24, 1868. On July 30, 1893, she married Robert M. Hester and they had two children, Walton and Hester May Hester. When her daughter Hester died of a heart condition in 1928, Mary also raised her two grandsons, Maurice and Pat.