Maud May Magness Longcor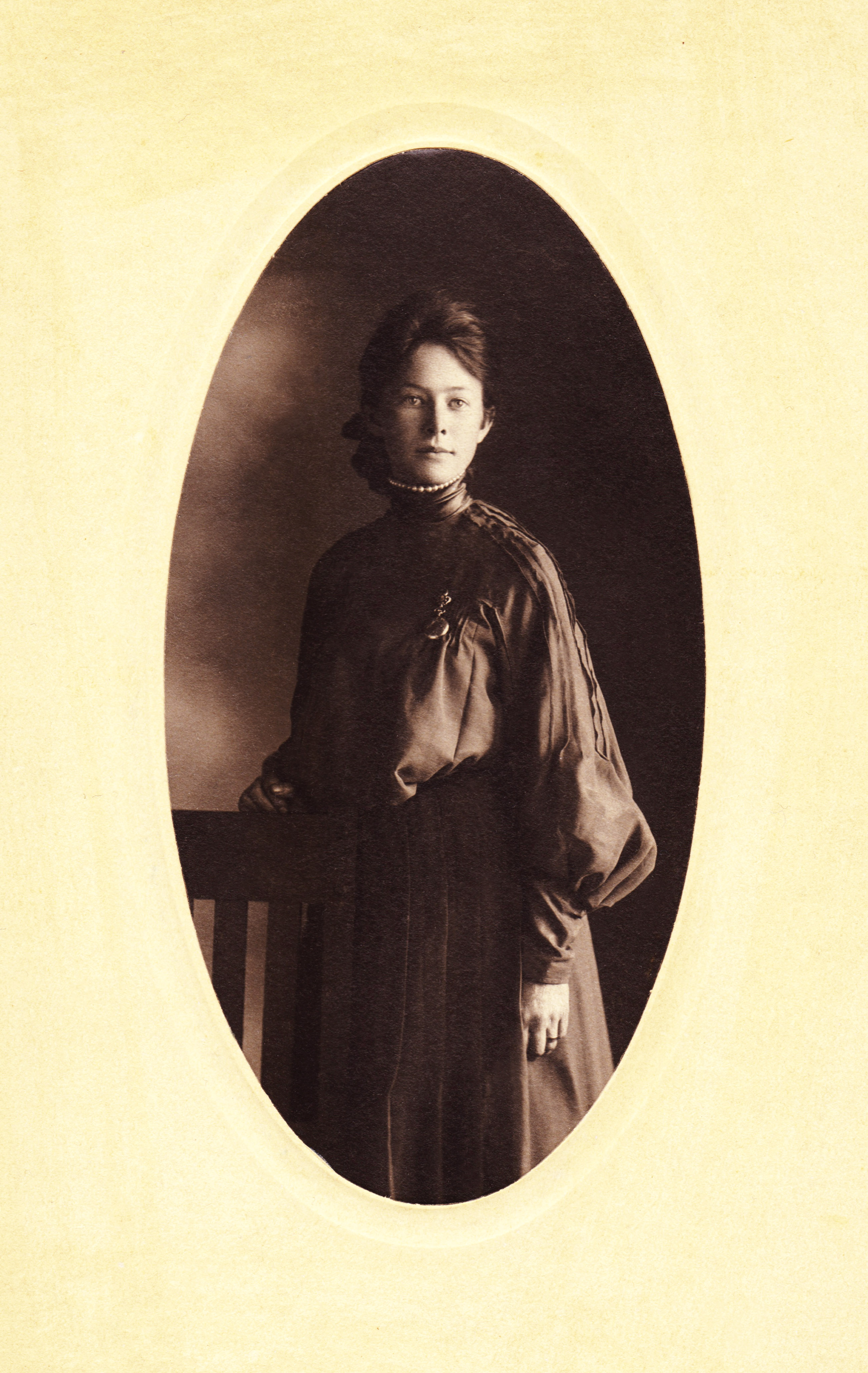 Purchased
Antique Store
Montavilla Neighborhood
Portland, Oregon
Type
Modern Photo
circa 1905

Studio
Lucerne Studio
Dekum Bldg.
Portland, Oregon

Notations
Maud Magness Longcor
June 1905
Oct. 2, 1883
Aug. 27, 1978

Maud appears to be wearing a wedding or engagement ring, so the photo might date a bit later.
Research
Maud May (Magness) Langcor was born 2 Oct 1883 in Wheatland, Yamhill Co., Oregon and died 27 Aug 1978 in Portland, Oregon just a few days shy of her 95th birthday.
Parents
(1853-1941) Mary Amelia (Davidson) Magness
(1847-1931) Andrew Porter Magness

Siblings
(1874-1947) David Austin Magness
(1877-1952) Gertrude (Magness) Dryden
(1881-1935) William Byrd Magness
(1886-1971) Porter Clay Magness
(1890-1967) Edna Florence Magness
(1892-1937) John Magness

Spouse
(1883-1858) Jasper Willard Longcor. They were married on 24 Dec 1907.
Her husband's WWII Draft Card describes him as 6'3" and 182 pounds with hazel eyes, brown hair, and a ruddy complexion. According to census records he worked as a sales manager for an auto company.
Children
Jasper Willard Longcor Jr. (1918-1999)
Janet Amelia (Longcor) Putnam (1920-2005)

Addresses
1909: 385 Liberty, Salem, Oregon
1910: 594 5th, Portland, Oregon
1911-18: 250 E. 41st, Portland, Oregon
1920-34: 229 Mixter, Portland, Oregon
1940-42: 4131 S.E. Grant, Portland, Oregon

Obituary

Oregonian Newspaper, Wednesday, August 30, 1978
Maud Magness Longor of Portland, a former teacher and a daughter of a pioneer family, died Sunday in a nursing home.
Private family funeral will be at 10:30 a.m. Thursday in Lincoln Park Cemetery Chapel. Interment will be in Lincoln Memorial Park Mausoleum.
Mrs. Longcor was born Oct. 2, 1883 in Wheatland and had lived in Southeast Portland since 1910. A 1902 graduate of Willamette University, she taught school in Wheatland, Grande Rounde, St. Paul, and Bay City.
She was the last surviving child of Andrew Porter Magness and Mary Amelia Magness.
Mrs. Longcor was involved in numerous civic and school activities in Portland and throughout the state.
Surviving are a daughter, Janet L. Putnam, and a son, J.W. Longcor, both of Portland; five grandchildren, and one great-grandchild.
The family suggests remembrances be contributions to the Diabetic Children's Camp Foundation, care of Trust Department, U. S. National Bank of Oregon, Portland.

Sources

Year: 1900; Census Place: Willamette, Yamhill, Oregon; Roll: 1353; Page: 2A; Enumeration District: 0160; FHL microfilm: 1241353.
Year: 1920; Census Place: Portland, Multnomah, Oregon; Roll: T625_1500; Page: 7A; Enumeration District: 70; Image: 625.
Year: 1930; Census Place: Portland, Multnomah, Oregon; Roll: 1951; Page: 3A; Enumeration District: 185; Image: 211.0; FHL microfilm: 2341685.
Ancestry.com. Oregon, Death Index, 1898-2008 [database on-line]. Provo, UT, USA: Ancestry.com Operations Inc, 2000.
Ancestry.com. U.S., World War II Draft Registration Cards, 1942 [database on-line]. Provo, UT, USA: Ancestry.com Operations, Inc., 2010.
Findagrave.com

Contact
This photo has been placed with a family member. If you'd like a high resolution scan, just "right click" on the image and select "Save Image As" to save to your computer.

Back to Orphan Photos