Lottie Moore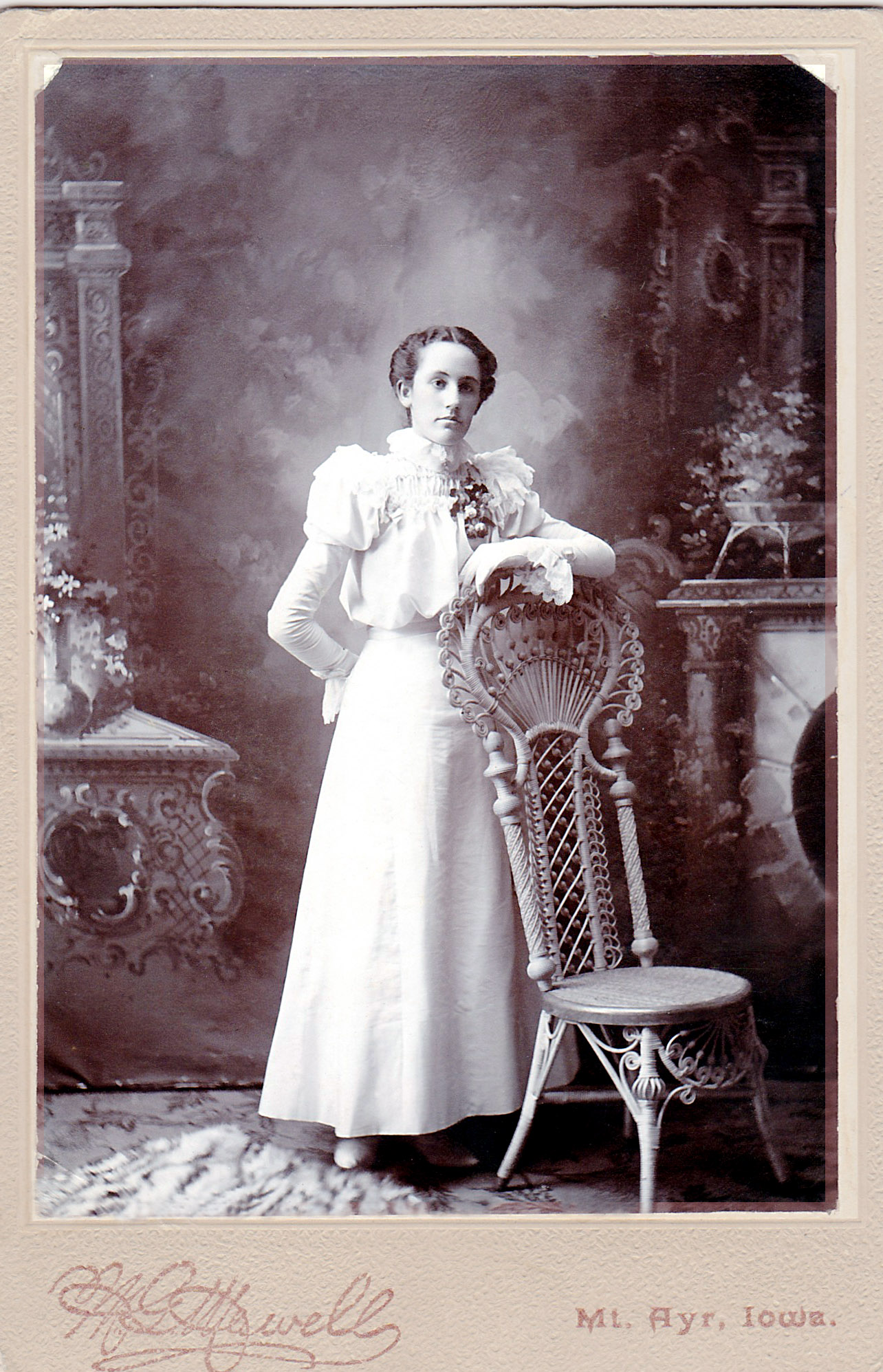 Purchased
Antique Store
Montavilla Neighborhood
Portland, Oregon
Type
Cabinet Card
circa 1898
(based on the dress)

Studio
M. G. Maxwell
Mt. Ayr, Iowa
(Ringgold County)

Notations
Miss Lottie Moore
Not a relative

Research
Most likely the Lottie Beatrice Moore born 8 Jul 1881 in Illinois and died 30 Apr 1903 in Kellerton, Ringgold, Iowa at age 21.
Parents
Anna Mary Doran b. Mar 1854 Ohio
Charles Moore b. Jun 1854 in Maryland
Siblings
Georgia I. Moore b. Jun 1879
Charley R. Moore b. Dec 1885
Mary E. Moore b. Nov 1888

Spouse
William Jackson (1878-1951). They were married on 28 Nov 1900 probably making this her wedding photo.
Children
Cyrus Lowell Jackson, born 10 Jun 1902 in Kellerton, Ringgold, Iowa.
Sources
Year: 1900; Census Place: Athens, Ringgold, Iowa; Roll: 457;  Page: 6A; Enumeration District: 0100; FHL microfilm: 1240457.
"Iowa, County Marriages, 1838-1934," index, FamilySearch (https://familysearch.org/pal:/MM9.1.1/XJKP-HJ8 : accessed 29 Dec 2012), William Jackson and Lottie B. Moore, 1900.
Grave Marker
Contact
Please e-mail us if you'd like to claim this family photo for $4.00. If you'd prefer a high resolution scan, just "right click" on the image and select "Save Image As" to save to your computer.

Back to Orphan Photos