Albert McCulloch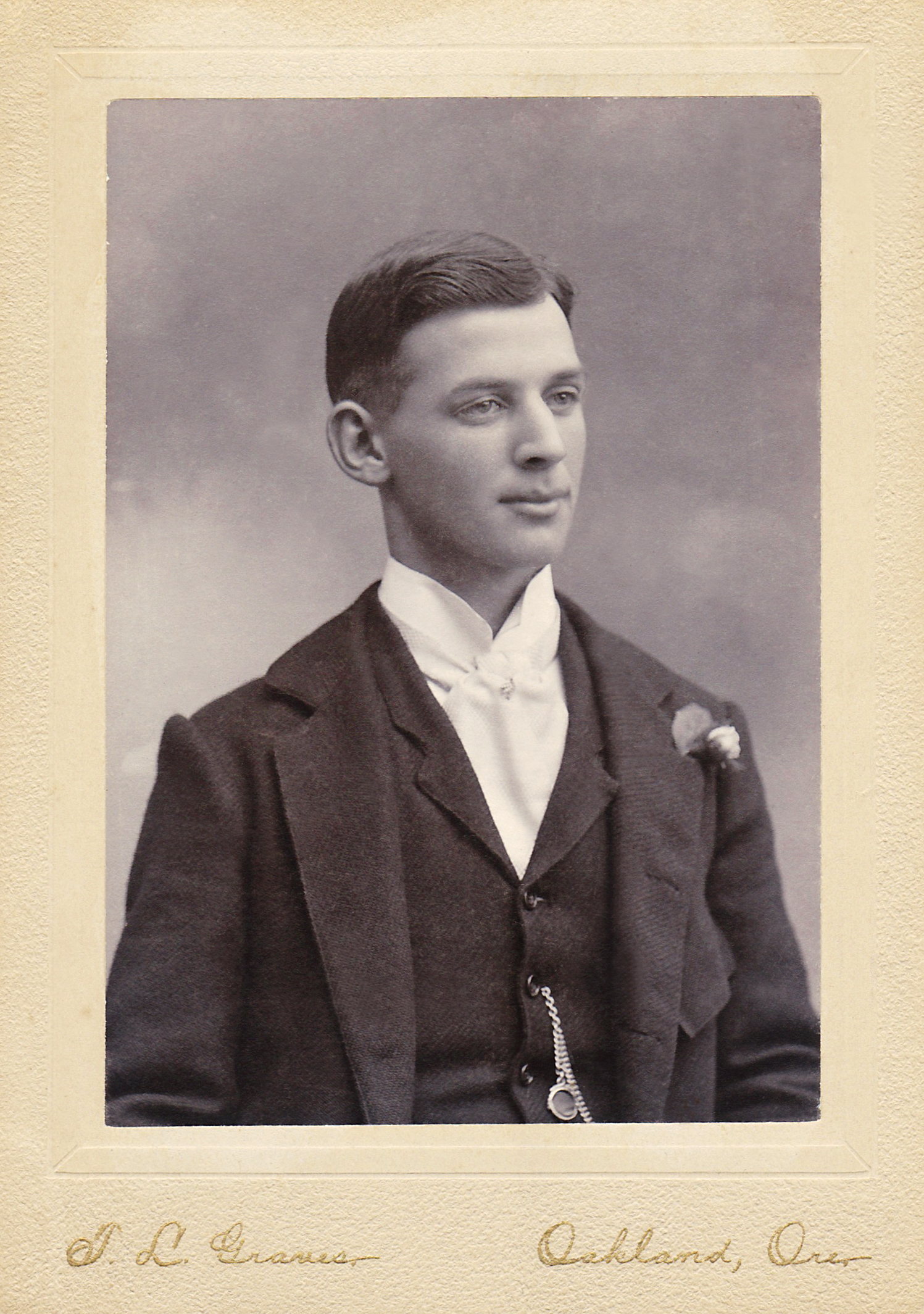 Purchased
Antique Store
Montavilla Neighborhood
Portland, Oregon
Type
Cabinet Card
(circa 1866 - 1906)

Studio
T. L. Graves
Oakland, Oregon

Notations
Albert McCulloch
Cousin of my mother
V. L.

Research
The most likely candidate for this photo appears to be Albert Presley McCulloch who was born near Fair Oaks, Oregon on August 30, 1878 to William T. and Cena McCulloch.
Obituary of Albert P. McCullouch
Funeral services were held in the Oakland Community church Monday afternoon for Albert Presley McCulloch, 60, who passed away December 29, at San Francisco, Cal., from pneumonia. Rev. Thomas Robinson, pastor of the church, conducted the service and appropriate hymns were sung by a quartet, Mrs. T. B. Garrison, Mrs. C. W. Hartley, Frank Grubbe and Harvey Mahoney, accompanied by Mrs. John Hakanson. Arrangements were made by H. C. Stearns of the Stearns Mortuary of this city. Interment was in the family plot in the Fair Oaks cemetery.
Among out-of-town folks at the funeral were Mrs. Kate Wells and Miss Kathryn Wells of Ashland, Mrs. Anna Briggs of Trail and Dr. and Mrs. E. J. Wainscott of Roseburg.
Albert Presley McCulloch as born near Fair Oaks August 30, 1878. He was married to Miss Blanche Quant October 4, 1905. He was in business in Oakland for a time and then in Portland where he was employed with the Pacific Fruit Express Co., later moving to California where he lived until the time of his death, December 29, 1938. He was ill only a short time, but had a severe attack of pneumonia two years ago from which he never fully recovered.
Besides his widow, he is survived by a sister, Mrs. Margery Pike, Portland, and two brothers, Geo. McCulloch, Seattle, and Lester McCulloch, Condon, Ore. He was a member of the Methodist Episcopal church.
Always cheerful and ready with a friendly handshake, and a wish to do for others, he will be greatly missed among his Oakland friends and relatives as each summer he and Mrs. McCulloch spent their vacation with her mother, Mrs. Luella Quant, and Mr. and Mrs. H. E. Mahoney.

Sources
Year: 1880; Census Place: Calapooia, Douglas, Oregon;  Roll: 1081; Family History Film: 1255081; Page: 468D;  Enumeration District: 039; Image: 0075.
Findagrave.com

Contact
Please e-mail us if you'd like to claim this family photo for $5.00. If you'd prefer a high resolution scan, just "right click" on the image and select "Save Image As" to save to your computer.

Back to Orphan Photos