Love Letters of Edna C. Griffin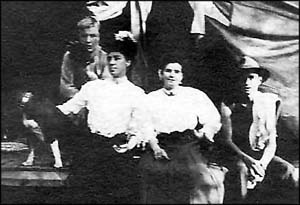 The poodle, Walter Scott, me, Lilly Lowell, who
was staying with me, Ralph Boothby. These are
two of my boys. They were camping out at Peaks
Island near our cottage.
In the fall of 1909, Edna C. Griffin of Portland, Maine began corresponding with Oscar G. Small of Portland, Oregon. Although she and Oscar had never met, they fell in love through their letters and were married on June 22, 1911.
We purchased these 40 love letters from an antique store in the Sellwood District of Portland, Oregon in 1992. The original set must have contained over 100 letters, but Oscar apparently didn't begin saving them until the fall of 1910, after their relationship became more serious.
Edna was born August 20, 1868, so was 41 when they began their correspondence. She lived with her parents at 25 Fore Street* in Portland, Maine, and worked as a bookkeeper at the store of C.M. and H.T. Plummer at 38 Union Street. In the summer the family moved out to Edna's cottage on Peaks Island and used the ferry to get back and forth to town.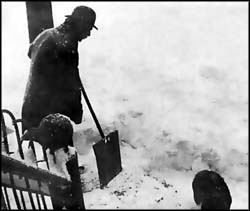 Father shoveling snow at the house
and the poodle.
Edna didn't give her parent's names, but the 1870 census of Portland, Maine shows that they were John B. and Annie P. Griffin. Edna was just two-years-old and listed as "Carrie E." Her family was living with her grandparents Joseph and Sarah J. Griffin and her aunt, Mary A. Griffin. Her father and grandfather were working as stevedores, loading and unloading ships in port. Her aunt was working as a dressmaker. Edna mentions that her father, who was born in Maine, was the grandson of Mary Ludwig Hays McCauly (better known as Molly Pitcher) of Revolutionary War fame. Edna's mother was English, having immigrated in 1857.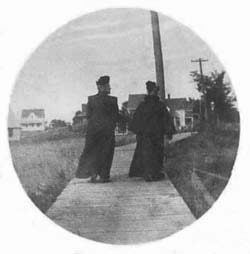 Mother and Mrs. Gee. I snapped them
walking down Island Avenue when they
didn't know it.
Oscar, who was a couple of years older than Edna, lived at 528 Kenilworth Ave. in Portland, Oregon with his brother Custer, and possibly his parents. The Oregon Death Index lists a Custer F. Small (spouse Mercy) who died in Portland on August 12, 1961 at the age of 85, making him eight years younger than Oscar. The 1920 census lists a William H. Small at 6820 SE 52nd Avenue who was two years younger than Oscar, and likely his brother, as they were both born in Missouri and had a father born in New Hampshire and a mother born in Missouri. During this census, William was living with his wife, Ellie, and stepdaughter Esther Hart. A William H. Small (spouse Effie?) died in Portland on August 25, 1953.
After they wed in Maine, Edna and Oscar returned to Oregon and lived at 439 41st Street. At first glance this appears to be in the Laurelhurst neighborhood, but at the time was probably in Woodstock because Portland's streets and house numbers were reorganized in the 1930s.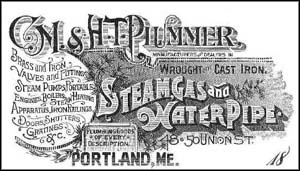 Letterhead from Edna's Place of Employment
During the 1920 census, Edna and Oscar were living at 6821 SE 43rd Avenue (now 6821 SE Cora). They had no children, but Edna's father had died, and her mother, Annie, was living with them. They were both working for the "daily paper," likely the Oregonian as Edna mentions Oscar subscribing to "his Oregonian" for her. Edna was a bookkeeper and Oscar a collector. Years later, Edna worked in the mail room of the Oregon Journal.
Oscar and Edna were married for 30 years, until his death on October 4, 1941. Edna died on November 16, 1968, at the age of 100.
Her obituary read: SMALL - Nov. 16, Edna G. of Portland; aunt of Lillian Skudstad, Addison R. Loomis. Friends invited to services Tuesday, 3 pm, Chapel of Mt. Scott Funeral Home, Foster Rd. at SE 59th. Private Interment Lincoln Memorial Park.
Other names mentioned in these letters are: Baldwin, Boothby, Bradsett, Brant, Bryant, Chamberlin, Cobb, Fisk, Gee, Harmon, Hillman, Hilton, Jason, Kellerman, Libby, Looke, Loviett, Lowell, Mathews, Mitchell, Parker, Plummer, Ramie, Rounds, Scott, Shepherd, Spry, Steele, and Wallace.
* The Griffin's former three-story home, with a view of Casco Bay and the islands, was gutted and converted into high-priced condos in 2001, despite protests from Munjoy Hill residents.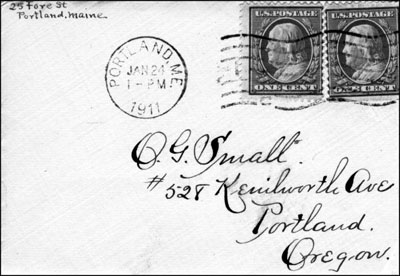 August 1910

August 23, 1910
Your cards just received. My but you hit hard don't you? I've almost a mind to take back that "Dear" if I didn't think you really didn't mean what you say - or - that I don't understand it as you intended. Never mind O.G. I guess I shall have to have some cards printed to order. I can't seem to find any that fits your case - but I haven't given up trying. Guess I won't send only nice ones - thereby heap coats of fire on your head. Hope that it burns you hair all off. Then you'll look fine - won't you?
Well I'm sorry you had an accident when you were young. It doesn't show any in your photo. But there - that makes no difference with me. A friend is a friend - no matter what happens or has happened. To tell you the honest truth - I incline towards those that I think need help - not that I think you do. Please don't take me wrong - because I can see where two or three meanings can be drawn from my words and you do pick me to pieces so I hardly know what I did say - you twist things around so.
But now see here Sir! What do you mean by saying "Well End a G." Did you or did you not spell my name wrong on purpose? Did you mean that was the end of me? Well I guess not. I have shown no white flag as yet. I may be simple in construction - but you will find me efficient in operation - easy to manipulate - and practically noiseless. I'll never give in. I'll find some cards somewhere if it takes a hundred years. There! I'm awful after you have given me that lovely book - never mind Oh Gee. I'll get even with you next April 18th, 1911. I'll not forget you - not a little bit.
Dear me when did you grow to be as tall as I? You had no right to grow - and - I weigh 120. You see I am reaching out after 126. No - what did you promise? Something nice I hope to make up for all the dreadful things you have already said.
Me flirting? Goodness!! I don't know how - and I never did. That's honest. Well neither am I much to look at. If you saw me you'd run a mile before you'd stop to get breath to run another mile. I am not deformed in any way - only just down-right homely. I can't help it. It's all the face I've got. Therefore I am partial to people who are also homely. I have always found them to be the very nicest - at heart - not always fussing about how they look and they always make good and lasting friends. I don't make many friends. I am very distant. Perhaps I don't seem so to you as I'm writing to you - but really if you had met me first you'd been frozen solid.
So you will take a slice of blueberry pie and another cup of coffee with plenty of sugar?
Oh - but you are sweet. All right - all right - but know you that the blueberries are all gone. I could get nothing but blackberries last night. I picked three quarts for supper. Like them? Lapping good - have some. Help yourself. Have some more coffee and sugar and another slice of sponge cake. Then of course you'll have some ice cream. I made it myself in that glass freezer - just like cream. Yum. Yum - good ain't it? I can plainly see you have a sweet tooth - well - so have I. I made some walnut creams last Saturday and fudge.
Oh - I must tell you about the crowd at our cottage Saturday - 16 girls - came down. All belong to the St. Hilda's Guild - a society of our church. We had supper out on the piazza and just had the loveliest time imaginable. Then in the evening I lit the piazza all up with Japanese Lanterns. There we looked fine and just laughed and talked.
Well you have been so kind as to tell me about some of your girls. I'll tell you about my Italian Count. This is honest - no fooling - and it's only about 4 months ago. He was bound he was going to have me anyway. I thought differently. I told him I was not wealthy - that I worked for a living and had my father and mother dependent on me. Well of all things - he offered to settle $10,000 on each and give me an annual dividend for life if I would marry him. I declined with thanks. He showed me his credentials etc. but - no go. I didn't want a foreigner. Plain American is good enough for me. Although the last thing he said was if I ever changed my mind to please let him know. Now isn't that awful? I'm sorry - but my mind was already made up. I couldn't take a foreigner - money or no money - title or no title. Now here is a chance for you to make fun of me. Perhaps I deserve it. I certainly gave no encouragement whatever - not even one Dear.
Please don't be too severe because really it was quite serious while it lasted and I felt like a deep dyed villain. I didn't start in to tell you this - but when you spoke about your "Countess" why it put me in mind of my Italian. He's not here in Portland - but in New York - and I haven't heard from him since.
My mother is English and my father is American. His grandmother was Molly Pitcher. You have probably heard of her in the Revolution. She is the only woman with the title of Sergeant Major in the Army - taking the gun and working it after her husband was killed. I could belong to the Daughters of the American Revolution if I wanted to - but never cared to join.
What Ho!! Young Lochinvan, you give me warning do you? Well you're welcome to run off with Lady Heron - but me thinks thou hast a great undertaking on they hands. I wish you success. I'm glad you are not "Marmian." I don't like Marmian but I do like Lochinvan - a little.
No - I do not think you have anything more to learn in the game. You know it all now.
There again you are clever - but certainly you couldn't expect many Dears from someone you had never seen or knew nothing about. No - I did not realize it had been over a year since we fist began to write - but I guess it is if you say so. Really I'm glad we began writing because I think we've found real nice friends - I have at least - one who likes fun as well as myself.
Now sonny I guess I'll stop. You must be tired. I've made several bites at this letter - but here I am at the last. Wishing you good luck and again thanking you for your lovely book and your kindness in sending it - I remain.
Always Your Friend
End a
November 1910

November 21, 1910

Dear Oscar,

Your photos arrived this Monday morning and do you know the end was all open? I don't think anything fell out - the elastic held it together. Say - but I think you are splendid. What did you make me think you were something terrible for? Oh! But I'll get even for that - never fear - guess I have already.

I've been waiting to have you tell me my snapshots were fading - they hung on longer than I expected. I only printed them on Gold Arista paper and never fixed them on purpose just to see what you'd say. Well it was mean in me wasn't it? I'm sorry I did it now - and to repay it all I'll send you some good ones all fixed and that won't fade.
Your #1 snap "What's the use of me anyhow." Wish I'd been just behind you for a minute. Then your others at the desk. They were all right - bags and all. Don't try to tell me anymore about yourself. I can plainly see that you are too sensitive altogether. Yes the dog was all right and your mother is a dear - but you are dearer - feet and all.
I know all about cameras. I've taken lots and lots of pictures - and developed them and printed them myself. This is not in answer to your letter - but just to let you know I disregarded all instructions and opened the sealed envelope in the day time and I didn't faint. I was very much pleased with them. Now what do you think? I like you better than ever. I like that laughing one - like them all.
Thank you ever and ever so much for sending them - and I won't "chuck the whole thing." So there - go ahead and get even - who cares - bet I can get even. There - Dear - don't fret anymore about yourself. You're all right and if I think so - what do you care what other people think? I'm sure I don't. I'm satisfied - more than satisfied - and I wish it wasn't quite so far as 3,000 miles - say 2,999 - for instance. Never mind. Some day things may look brighter. I'm sure they look pretty bright to me now. What do you think?
Well - dearie - I'm writing this just before going to bed and I'm about frozen solid now. So I will say - good night - pleasant dreams to my nightmare.
Yours only

November 28, 1910
Oscar Dear

Do you know I think I dated my last letter to you wrong. It should have been Nov. 24th because it was written Thanksgiving Day and I remembered afterwards that I said November 23rd - never mind. I must have been rattled.
Received your Nov. 22nd letter this morning - Monday. I do just love to get a letter Monday - seems as if everything will go all right for the rest of the week. So you were disappointed too? I didn't know you would be and I'm sorry - but glad you did get a letter after waiting up for one.
I think I have the postman down fine and every time he went by and I didn't get a letter I wondered - Why? Had Oscar grown tired of my nonsense? Wasn't he going to write anymore? I wished I had all my letters back so I could burn them up and not let everybody read them. But when I did get a letter and all in a bunch three or four at a time - things looked different and I felt contented and happy. I imagine you were the same. What nonsense for us to feel that way. Everything is all right - of course - even if we didn't happen to hear right on the second. I'll see to it that you won't miss any more sleep. So cheer up - the worst is yet to come.

Well - Florence is back to her job as bookkeeper and is doing fine. Her mother takes care of the baby which is 8 months old. She is my God child and the dearest little baby you ever saw.

Mr. Looke is an engineer at Panama. He has the Malaria very bad. He gets $150 a month and sends Florence $125. She lives high and sleeps in the attic. Well - she had no knack of saving when she had the chance. Now Mr. Looke can't work. He's in the hospital down in Panama - no money coming in and Florence had to go to work. It will probably teach her a lesson. Mr. Looke is getting better and will probably be all right in the short time.

Earning my own money has made me saving. I stop and think - can I afford this or that - and half the time go without rather than buy something I don't need. Why I haven't been to the theater but twice in a year.

Once at Peaks Island with father - we went to the "Gem." Then the next time was with Mrs. Rounds and the two children. I haven't been anywhere since except to church and the Hilda's meeting every two weeks - and choir rehearsals Saturday nights from 7:30 to 9:00 P.M. Now you can see how much I go anywhere. I don't care anything about going - just as soon stay home. I'm doing a lot of burnt woodwork just at present for Christmas presents, etc.

Thank you dear for taking the egg and milk. Do you know if you will follow that up every day you won't know yourself in about three months. My but you ask me a hard question to answer - and still it isn't hard. Only hard to tell you. And I don't want to tell you or - rather - write it on paper. It will sound so foolish and silly and perhaps you may think I'm wicked. Well here goes - but please tear this up- burn it - or something. Don't ever let me see it again or let anyone else read it. Oh - I know you won't. I just had to say that.

You ask why did you succeed while all others failed to get me? I've got to go back a bit. My mother never has been well since I came into the world. She has always told me to beware of men until I got so frightened of them - why - I'd go out of my way rather than pass one on the street. I grew up that way. I thought the were all villains. Then I went to work at the office. Of course there are all kinds of men down there. That didn't tend to make me think any differently. The talk I hear - everything combined to make me more bitter. Then Mr. Plummer frightened me - but Mr. Steele stopped him. I honestly think that Charles Steele is a good man - but I don't care for him. I respect him - that's all.
I don't know whether you can understand me or not - what I am saying - I think you do. Then you wrote that I didn't care for you and stopped writing. You wrote again - were so cute in sending cards etc. that I became interested. I liked to get your cards and you had nice sayings - witty and bright - that attracted me. I rather liked the look of your photos you sent and your letters were fine. I was wishing you lived in Portland. I'd like to know you. I thought you'd make a dandy friend - and before I knew it I liked you better than I ought to. I fought against it - made up my mind I must drop you - no use I wouldn't like you. I got frightened of you - of myself. Then you told me of your accident. That finished me. I gave in entirely. It was your accident that won me.

Now - will it be any sacrifice on my part to take you? No - it will be a sacrifice to have to give you up. You say you might refuse me - after asking me? Don't you think that rather cruel? I want you Oscar. I want to feel your arms about me and your kisses on my lips - but I wouldn't let you touch me. I don't think I would - not at first anyway. I want to but I won't let you. Can you understand that contradiction? I can hardly understand it myself - but I love you Oscar. Is that enough? Does that satisfy you?

With Love
Edna
December 1910

December 6, 1910
My Dear Oscar

Your letter received this A.M. and I am answering parts of that - as well as parts of another I received yesterday. Will answer some more of it shortly. So - you were not going to write any more for a while. You've made a good beginning. Hope you don't stop cause if you do - I'll do so too. I'll keep up with you or drop behind either one.

Oh Oscar Dear - please - please - don't send me any money. I know you mean all right and I thank you from the bottom of my heart - but I can't take your money - not yet - wait and perhaps you won't want to. Maybe later on I'll have to ask you for a cent to get weighed - like the picture you sent - but dear - not now.

These chocolates will keep. You and I can have a good time eating them together. As for Christmas - I was going to say no - but if you really will feel better about it - why - some little thing not to cost over 50 cents at the most. Even then I don't think you should. I'd like you to get all squared up first. All I want is you - just you - your own dear self. That's all.

Tonight Florence and I are going to a church supper at the Y.W.C.A. Hall - St. Paul's Church supper given by the Girls Friendly Society. Will tell you what we had good to eat in my next letter.

I've been wondering what you mean - what you wrote about fallen girls? No I don't take it personal and you have a right to ask me about it. If I was a man I should not care to have for my wife one of these girls. You see I'm not so forgiving in this respect as you are - but Oscar - I can look you straight in the eye and say honestly and truly that I am not one of these girls and I come to you pure. Is that what you wanted to ask and hardly dared to right out? I don't blame you one bit. I'd want to know the same thing myself - but you have already told me about yourself when you said there was no girl who could think of you in sorrow - for which I thank God. Now that's settled isn't it?

Excuse the pencil. Me - stingy? Goodness - didn't you get any subs in my last letter? Forgive me dear and I won't do it again. I think of it anyway even if I don't say so.

Well you've made me catch my breath this time. I didn't lose it - but caught it. You told your folks. Oh - well I suppose it had to be done sometime - but it just kind of took hold of me for a minute or so. If you'd been near you'd seen my face red as a beet. Oh that isn't the first time I've gone red over our letters - but this was the worst attack. I hope they will like me. I'm prepared to like them all if they will let me - but you are the one and only for me.

No - I don't think you foolish. I hope you will always be as foolish and not get tired of me - that would kill me. I'd rather you'd refuse me now than to grow tired. I also want it for keeps and there will be no divorce as far as I am concerned. I do not believe in divorce - be sure first - as I feel I am sure and as I believe you to be sure. If there is any question - let's talk it over now.

I'm so pleased you are saving - but dear don't go without things you need. You will be surprised how much the little savings - no matter how small - will amount to. I have tried it and know.

I am glad to know you still are keeping up the egg and milk diet. I know it will do you good and I want to hear you say very soon that you weigh more already.

Well - dearest - how's that for being stingy? I must close and go to dinner - am at the office.

Yours Only
Edna

December 11, 1910
My Dear Oscar

It's still awfully cold here and not a bit of snow yet. I've turned into ice and I don't dare bend - afraid I'll break off. Brrrrr - but its cold. I think I'll take half a dozen hot bricks tonight. I'll need them to keep me warm.

Have been singing up to the Old Ladies home this P.M. Mr. Shepherd held services up there and the choir went up to sing. After the services the old ladies had us singing - I guess fifteen hymns. They were awfully pleased. At the St. Paul's Church Supper Mrs. Shepherd had a white elephant table. What was that? Why a table of things for sale donated by people who had things too good to throw away but things they didn't want - regular White Elephants on their hands. So Mrs. Shepherd asked that they be given to her and she'd pass them along at 5 or 10 cents or more.
She borrowed eight of my elephants to put on the table - not for sale - just for show and to emphasize the fact. Me - got elephants - sure - 30 or more of them all colors and sizes. The ones she borrowed were white. How did I get so many? Well of course you must know.

About five or six years ago there was a circus in town and I went up to the head of the street to see the procession go by. When I got back to the office Charles Steele asked me what kind of a procession it was. I said -"Oh they had some lovely elephants. I wish I had one." I had never been to a circus and he knew it - so he said if I would go up to his sister's - Mrs. Chamberlin's - he'd take Hattie and I to the circus. I said I'd go if only to see the elephants.
Well we went and I had some peanuts and I had the loveliest time feeding those elephants. I never noticed that they had all gone off and left me and they supposed I was right behind them - nothing of the sort. I wasn't lost - I simply stood still while they went on into some sort of show. After a long time Mr. Steele found me still feeding elephants. Hattie was having a fit thinking I had got lost - but I wasn't. Well I never heard the last of elephants and ever once in awhile I get an elephant from Hattie or Charles and even Mr. Looke has sent me several from Panama - but for Heaven's sake - don't you send me any. They think it a good joke on me - but I can't see it do you?

Finished at the office - Monday morning. Say do you know you are getting me into awful bad habits? I actually looked for a letter this morning - even after I had received one Saturday and Friday and Thursday. Guess I want letters all the time. Oh - say - I beg your pardon for sending one letter to your office - but you said you hadn't had a letter for a week and I had written several. I thought perhaps someone else was getting your mail and I was having a fit - but I see you received the letter I was thinking of - a horrible letter. I won't do so anymore.

Now dearest never mind the kinks in you. I shan't take one of them out of you - so have no fear. I want all the kinks left in you. I can't see but what you are all right. You may need a good shaking or something but I'll attend to that and ask no help.
No dear - I don't feel afraid of you one bit. It's funny - really - because I've been afraid of everyone - not exactly that either - but I've felt as if I've wanted to keep everyone at a distance. Now I have you - at a distance all right - but I want you nearer. Dear me - I suppose we are foolish - but only between ourselves - that's all. I'm just as cool to everybody as I ever was and no one knows anything about you. It will be rather a surprise to everyone cause "I won't look at a man."
Mother does not know all - but I think she suspects something. She has seen your photo and knows I write to you. I've told her some things about you - your accident for one thing. She said "Oh the poor fellow - but that's nothing against him if he is only good. That's the main thing." I said I thought you were all right as far as I could see.
She asked if I was sure you didn't have a wife already. I said you had never been married. Then I said, "Suppose I should go to Oregon to live. What would you do?" You should have seen the funny look she gave me. "Was you thinking of going?" she asked. I said, "I don't know. I might possibly."
She said that if I went they would sell out here and would also live in Oregon. Nothing has been said since. I suppose she's wondering - but I haven't mentioned it. You know my mother and father eloped when they got married. You see I've got them there. It might be hereditary even if I am old enough to know better.

Here it is 12 noon and I'm as hungry as a bear - could eat an ox. Well - dear - must close and will write some more in a day or so. You're the dearest boy I know of and the best of it all is you belong to me. I can hardly realize it yet.

With Love
Edna

December 14, 1910
My Dearest Oscar
Say! Do you realize that you are getting a letter every day? Now isn't that dreadful?
You'll be getting tired of so much of me. Suppose I stop writing for awhile and give you a rest? You spoke of giving me a rest but couldn't seem to and I'm just as bad as you are. I can't seem to give you the deserved rest. Oh yes - and it's all my fault - of course you don't want to write but you don't like to get letters and not answer them. Received a letter from you yesterday P.M. First time I ever received one after dinner. I had given up looking for a letter when lo and behold about 2 P.M. along comes a letter and of course I have to answer it.

Glad you received the white flag all right. Just for fun you know. Oh you dreadful boy. I can see where I'm going to have an awful job with you. I'm going to buy a bottle of "Nervine" just before the affair comes off and drink the whole of it at once - then look out for yourself. I don't know what will happen. I certainly shall need something if you are half as awful as you write but - here's when I shock myself again - I don't want you to be anything but what you are. I'm perfectly satisfied. I can't for the life of me see how you can understand me - for honestly I have hardly understood myself at times. I was for you and against you all in the same breath until I didn't know which predominated. Oh - I know now - but I mean before. I didn't really know myself and you seemed to know me all the time.

Why of course I will be delighted to go with you anywhere. I love to go and anytime you want to go - just say so - and I'll be ready and awaiting provided we can afford it. I love to go to theaters and would go more than I do only I have to go alone or ask some girl to go with me. Then I have to pay her way as well as my own and I can't afford to do that - so I stay home. Father is just as bad if I ask him to go. I have to pay his way - so there you are.
Oh - say now. I'm not going to stand for one thing - no sir!! That is calling yourself a cripple. I wouldn't stand for anyone else saying that. Why should I for you? Honestly that hurt when you said that is what I loved you for. No - now understand me. I love you because you are you and your accident had nothing to do with it. I know I said something about it - but dear you don't understand one thing. I won't explain until some time when I see you and then maybe I won't. Oh it's nothing to worry you - not the least - you'll only laugh and that's why I won't tell you see?

I know just how you feel about people telling you things for your own good and giving you advice. They mean all right I suppose - but it just makes me crazy on the inside and feel like telling them to mind their own business and I'll attend to mine. Makes me feel like going out and kicking the dog or cat to get even and then advice only does you harm. I'm just the same and I don't like it any more than you do but there is a difference with you. I just want you to boss me and I shall be only too happy to have you. It makes all the difference in the world who does the advising doesn't it?

I haven't written for two days and I am expecting a letter from you saying you haven't heard from me for a week. How can you say that when you received a letter every day last week - enough to last you for a month?

Oh say - father is putting in a telephone at the house today. I don't know the number - but you can be at one end of the phone while I am at the other even if we can't talk.

Thanks ever so much for the curly lock. Your hair is just about the color of mine only yours is curly and mine isn't. Now you needn't have it shaved off because I just love a nice head of hair and that's one thing you have got. About the moustache - you can suit yourself about that. You won't have to curl it or shave that off.

Well dear heart - dinner time - so here's a sub - quick - cause I got go.

With lots and lots of love.
Edna

December 15, 1910
My Dear

Your letter received today dated Dec 9th (excuse pencil but its so cold upstairs where the ink is). We are having the first snow storm of the season tonight. Hear how the wind blows - and the sound of the snow against the window. My but it's cold and my brick is waiting quietly on the stove for me.

Why dear there's nothing in what you make me say - only I thought it didn't sound just nice. Oh! What are you going to make me say that's worse. I won't say it whatever it is - so there. How do you know I have heart disease? How can I when I distinctly remember having told you I had only a gizzard. Well - I don't know you might tear up that one letter anyway. Well I don't care - keep it and I'll forget I wrote it.

Say - the telephone number of my house is 1691-12. Wish you were a little bit nearer so I could talk direct with you. I'd ask you "When that 5 o'clock car starts out - do you suppose it stops anywhere" and oh a whole lot of things. Then after I got you good and mad I'd say - Oh - never mind. Sorry I have caused you any trouble. This is only a gizzard talking and hang up before you came to your senses as to who it really was. All right - here's a sub.

Well - we came pretty near having a ten acre lot at Peaks Island. Father owns 3 acres and I myself individually personally own one acre and I paid for it myself. The cottage is built on my acre and I paid for one half of the cottage and it's in my name - although only one half is really mine. Now don't get crazy over that. I wasn't going to tell you anything about it - but here I am - can't keep anything to myself.

Anyway it don't help out any cause it's way down here in Maine instead of being where it ought to be in Oregon. No - I was not coaxing you to live in Maine. Just a folder we had in the office and I shipped it in your letter. I think I'd rather go to Oregon where it isn't so cold. I'm tired of this kind of weather - one second you roast to death - then you freeze to death. I don't know which is the worst.

I'd like to have blooded chickens all right. Think we could do fine with them - don't you? I can look after them - feed them and give them water and whitewash the hen house and scrape down the roosts and anything else there is to do. See if I can't. I never saw anything yet but what I thought I could do it - whether I could or not.

I just burned a leather book for Mr. Rounds. He wanted me to print on it "Our Annual Hunt in the Maine Woods - Season 1910 - D.W.R. from F.H.R." making it of snap shots of their trip and a deer skin cover about 10" x 12." I put a double line about an inch from the edge all around the book and put the lettering in the center. Everybody said I couldn't do it. I said I could and I did. Mr. Rounds is making it for his brother - Dan - who was with him on the trip. Grace said she wouldn't undertake the job. Well everyone was surprised the next morning when I brought it down to the office. They all had to acknowledge it was great and I did a good job. I don't mean to praise myself.

Glad you are still taking the eggs. Don't let up on it and I'll bet you'll weigh your 25 lbs more. Gaining any yet?

Now dear $800 is more than enough for anyone when I can get along on $10 per week. I pay $5 a week for board and I also pay the gas bill every month - besides dressing myself. I have no help from anyone whatever. I have everything I want and can save all the way from $2.00 to $4.00 every week. What under the sun can I do with $800? Why I'd have money to burn. I also buy my mother some clothes. Last summer I bought her an $18.00 silk coat - not very expensive as silk coats go - but nice enough. My choice would be just as you say - start small in a few rooms and gradually work up. It will be such fun to save for a cottage. I wish we were beginning now - and I'm afraid if I was in Oregon instead of way off here I should say - etc. etc. etc. etc. etc. Now read those if you can.

Don't ever measure anything by money where I am concerned. I'd rather you got a dollar a day and loved me than had a million dollars and didn't - and I don't care what anyone wears. It can be plain and neat and you're all right. I told you the inside of the man is what counts to me. I'm no fashion plate. I only want something plain. I am wearing last Winter's coat - a long black one. It is good and just in style so why a new one? Then I have a set of black fox furs. I had these last winter and they are just as good as new. My last Winter's hat is doing me this winter. I don't need anything more. I wouldn't buy anything new if I had oceans of money. Can't you see that money does not count with me? I want you for yourself alone and glad of the chance to work up with your help. I'm just as anxious as you are and would act at once too - only - I haven't heard of any 5 cent car fares between the Pacific and the Atlantic or does your 5 o'clock car run to Maine?

No - dear - I won't ask for more pay. Mr. P. is not a real nice man. Although I have no fault to find. I would not be under any obligations to him for the world. Last summer I was going to the dentist's for a few times having some teeth filled. He wanted to pay for having them. I said no - I'd pay my own bills or go without. I'm pretty stiff about some things myself - money for instance. Never can I be bought. I could have had another job about 5 years ago at $18.00 - but I refused. It was from 7 a.m. to 6 p.m. and Saturdays until 11 p.m. Now here it is 8:30 a.m. to 5 p.m. all the year around with nearly 2 hours at noon.

Yes - mother means all right I suppose - but she's too serious. I'd like to know how to play chess. I like to play cards and do once in a great while when I am where someone plays - not in our house mind you. Oh no mother would have a fit. Why I have to ask if I want to go out and they will sit up for me until I get back. I know it is perfectly lovely in them to do it - but I feel as if I'd like to have someone to swear for me. Some more wickedness coming out. You'll think I'm a terror if I keep on. Well I said I wasn't a saint by any means.
Now that's one thing I want to say right here. If at any time you want to go out of an evening alone - for heaven's sake go. I shall say "Do it Small! I'll hold your bonnet." I positively refuse to sit up until you get home. There! I intend you shall do just as you are used to doing now - and any friend of yours you want to bring home with you is perfectly welcome - and I shall do my best to make them feel at home. I want you to feel free and not tied down to me. I shall always be happy to have you stay at home with me or be more than pleased to go out anywhere with you - but some men like a night off and so long as you don't drink and I'm the only one why go ahead.

Well I'm sure your very good to offer to take our mothers. It isn't everyone that would be willing to do that. I'm sure I'm willing but I hope we can be by ourselves for a little while anyway.

What would you do if you could get hold of me? I know - yes - subs if you got the chance - but would I give you the chance? You'd have to get me unawares and I'd be watching all the time that you didn't get a chance. So now - what then - too bad for you poor boy. Well here's a couple to keep your spirits up - but the real ones I wouldn't be so handy at giving so many. It's all well enough for me to say - here - here's a sub - cause you're not here to get it. Ah but you won't hear me say anything about it when I do see you. I'll be as mum as a clam. Never heard of such a thing as subs - what do they mean? You certainly are talking in riddles Mr. Small. I prefer the U.S. language - and I'll skip out before you have a chance to explain. You don't know what you are running up against - a regular iceberg frozen up solid with never a glimmer that I understand what you are talking about.

All right dearest. Here's 20 subs - good big ones - get them all. Good night and sweet dreams of our home and you and me.
With love
Edna

[Clipping insert with her comments written on the back.]

Dear Hilda Guilder: -

At a regular meeting of the Guild last week it was voted to hold a sale at the Rectory on Tuesday evening, December 20th at half after seven and to serve tea and cakes at the same time to our friends. By calling up Mrs. Shepherd you can ascertain what is needed for the tea.

Yours sincerely,

Florence P. Looke

Just received this by mail this A.M. from Florence. We are to have a sale Dec. 20th. She says "cough up." Well we already have. I gave 25 cents towards refreshments and also gave a burnt wood box for the sale. Also helped to make some shoe bags and laundry bags. The dues of the Hilda's is only 5 cents a month. I also give in an envelope 15 cents every Sunday and sing in the choir for nothing. The men get paid. Mrs. Shepherd, Florence and I serve Christmas week - that would be Dec. 27th. We shall have a salad - plain bread and butter - olives - cream pie - whipped cream - hot chocolate - and Christmas candy. A Christmas tree with only 10 cent presents on it - no one allowed to put any thing over 10 cents on the tree. Then each plate has a number and the corresponding number on the tree is what you can have. Only about 2 inches of snow this A.M.

[Another clipping she included from a newspaper]

When Love Takes Wings
by Laura Jean Libbey

There is no moment in a woman's life more tragic than the one in which she is brought face to face with the cruel truth, that the one upon whom she has bestowed her love does not love her in return. There are many pains one can endure, but none which can bring such a sting to the heart. The whole world seems to change and life does not seem worth the living.
The heart that has never known love is like a flower growing in a cavern. It needs love's sunshine to ripen it into beauteous perfection. The heart craves love as the flower craves the dew, and the warm, glad, golden light. The root of love strikes deep into the fertile soil of woman's heart, puts forth its tendrils, winding itself so closely about it that the heart could not throw it off, if it would. Woman's love idealizes its object, raises it to the highest pinnacle within its portals and worships it. The despair of death sweeps over her heart when she finds her idol is but common clay.

A woman always has faith that her love will redeem the heart beloved, if it has fallen into evil ways or strayed from its allegiance. Love is to a woman what it is to a maiden, a sweet dream, whose dazzling radiance blinds her. The one prayer ever uppermost in her thoughts is that she may be loved as she loves. May heaven pity the woman who believes she has imprisoned this beautiful bird in her gilded heart-cage, only to find that it has taken wing, soared so far beyond her reach that she can never hope to grasp it again. There are women who give up completely when they realize their loss.
There are others whose hearts rise phoenix-like out of the dead ashes of despair, greater and nobler for the sorrow which it has endured, and lived through. Love returned makes the world a paradise of love; slighted, turns it into a torturing hades in which there is no spot where one can find the priceless gem of peace.

He weeps over hearts wrenched apart, each wandering their separate ways. When one heart grows weary of the other, and longs to break the rose-chain which binds it, the other heart cannot hope to keep it captive long. It is best to look at the inevitable bravely, and bear the heavy cross, to the end, unflinchingly. One cannot fetter a sunbeam that crosses one's path. No more can one fetter love. The woman who has known the bitterness of misplaced love must find solace in her usefulness to the world.
A lifetime of grieving and longing will never recapture a love-bird that has flown. Dissatisfied once, dissatisfied always. A warm heart need not be always tenantless because one love refused to make its home there. Another, and yet another, may flutter past it, ere the one love which heaven intended for it makes its home there.

True love knows no change. The heart may know many drifting fancies, but only one heaven-sent love. It is wisest and best never to brood over a love which has taken wings. Bury it among the dead roses-leaves of the past. The lost bird-note of yester year. Love's sweet messenger would bring joy to the heart, never pain, or the sorrowful pangs of regret. Then the pitiless storm dashes the rose from the stem that nurtured and loved it into being. The branch does not wither and die, but bravely turns to the sunshine, hoping for another flower, to take its place. Do any of my readers know such a woe, or a love which has taken wings?
January 1911

January 16, 1911

My Dear Oscar

Well just think of it - you just answering my #8 with your #20. Look at all the letters on the way both ways. Well my last letter or two have not been so very nice for you - but I felt as if I had better tell you about it then that would be off my mind. Now I am free to love you all you want me to. You can say anything. I don't mind and I shall not take you down a peg. I know you are only in fun with a kindness back of it. So dear - let people talk all they want to. We understand and that's all that is necessary.

Yes it will take until Spring to sell out all around - if I have good luck. No one is looking for any land now. It's too cold to breath twice without having your breath freeze while you are talking. I see by the papers you had two flakes of snow fall in your Portland and it was awfully cold and you are having a big sale of furs. Gee but it must be cold. I'd like to have a bit of Maine weather strike them once. Then I guess they'd think they were having summer weather - but speaking of buying in Oregon.
Yes. Your plan is all right and that's what we will do - have a bungalow. I'd rather have something not quite so expensive and be happy than all the money in the world. I wouldn't own an automobile even if I could afford one. A small bungalow with elbow room for land would suit me to a T. As for society - no thanks - my husband's company is all I should ask and my own home would be the only thing on earth. I don't make friends very easily - not at all - and I don't know as I should care to make any real friends. I expect you will be all I can manage at one time and a third party would simply be in the way.

Oh yes to be sure I'm stingy - didn't give you any subs at all - never mind here is one big one and all you want when I see you - that is when you have the right. I don't intend you shall have any if I can help it - until then - and I can feel as if it was all right for you to help yourself. Just see that I'm worse than you thought. Possibly I might let you have one if you were real good because I do love you. I don't suppose I could refuse you no matter how much I might want to. But you are a dear anyway and I'm not going to make you wait a year - can't anyway - 2 months have gone already.

By the way Oscar - I see you have gone and subscribed to another month of your Oregonian. It's now marked Feb 21. You're a darling but I do wish you wouldn't go to so much expense. Now please let that be the end of it. Don't subscribe for any more. I don't suppose there is any use talking to you for you have that bit between your teeth. Whoa - I say. Well if he isn't running away. What shall I do? I know - come here dear and I'll give you a sub - honest. There will that stop you? Why silly - you can't have a million. I'd be dead. So would you.

Yes dear - I believe in your love - believe it to be true and the one thing that I never expected to find. I don't know how I know it - but I do somehow. I would stake my life on you and be sure of winning. Intuition I guess. Why lots of time you answer letters that I have just written and you have not yet received. Have you noticed it? I have lots of times and I wondered how you knew what I was going to say. Is there such a thing as mind-reading do you think? I guess you can read my mind.

With 3 subs and all my love.
Edna

January 15, 1911
My Dear Oscar

Have been to church and Sunday School and so this P.M. I am devoting to my Oscar.
You want me to be foolish - silly do you. I thought I was - awfully silly - but you don't seem to mind it at bit - but ask for more. You dear boy - just wait awhile and you can have this silly girl - football right man - peanuts - elephants and all. Then whatever will you do with me? You will have to get down on your knees and beg of me to go away and leave in peace. Wait until I get a going as you say.
It makes no difference to me what my mother or anyone else thinks of you or your looks. They haven't got to have you - to live with you. I guess I'll take my chances. Yes I'll be just as loveable as you could wish - if I know how. I know I've been held back all my life until it is a regular habit with me to hold back - but I don't think I have with you lately. I rather think my mother will be shocked at me - but I'm not going to show off before company - thank you - the cozy corner with the lights out will be all right. We shall be by ourselves - all alone - in our own house. I hope.
Don't rule me too much for I have a disposition to obey you. Don't the ceremony say Obey? I suppose I must - but what do you have to do? Just order me around? Say that's lots of fun for you isn't it? Go ahead with your bossing. You are starting out fine. I rather like it and you'll have enough of it to do.
Think we are going to fight? Not much. You will have to do all the fighting and not more than two cross words can you say before I'll stop you with two subs and you'll be down and out. I know how to steer clear of quarrels. I wonder does a man want to be told? I had an idea he was past all foolishness and he was so superior to woman that he wouldn't listen to silly words. Now here you are wanting to be told just like a girl. All right I'll tell you that I think you are the dearest sweetheart a girl ever had and I shall be deeply interested in all you do. Think nothing of myself. It will be all you.
Oh by the way - has the raw eggs and milk really helped you? Do you weigh any more? I hope so. I'd like to see you get fat and you will too. I'll fed you on oysters - eggs - cream - milk - olive oil - and anything else I can thing of that's fattening. So look out for me. I'll get even some how. Perhaps you'd better take Grace. She'd be easier on you than I would. I shan't take any bluffs - see?
Am I stingy? I didn't know I was - don't mean to be. Well here's a sub right now. There. I only said one. Well isn't that just like you anyway. Me tormenting? Well the idea! In mais Je'amis vows and mi amas vi. Turkey tracks!! Just as easy to read as falling off a log. Go ahead even up. You have quite a few coming to you yet. I'm not even by any means. Don't know how I can get even either - but never mind. My time will come. "Beware" the engines of War. Revenge is about to be let loose.
Very well dear. We - you and I - will pick out a place for ourselves if you'd rather not do it by yourself. It will be great fun too won't it? Let me see - yes - that's a nice place but isn't it too far away from your work? Let's look around some more. There that's just right. Isn't that fine and only four or five rooms. Great. I think we'd better take it don't you? How did you ever find such a nice place. Well you're certainly clever all right - knew about this all the time but wanted to see what I thought. Oh you dear - if we wasn't right out in plain sight I'd hug you for this.
You needn't be looking for a letter. You'll get it for I have written every day this year. Sundays as well - no stops. I'm not going to have another call down from you - not if I know it.

Jan 6th. Frozen solid don't dare to move - afraid I'll break off somewhere. Wish I was in Oregon where it's warm. Awfully cold getting down to the office. I lost two ears and a nose. Gee! but they felt as if they were gone anyway.
Was looking for a letter this Monday morning - even if I did only get three letters Friday and another one Saturday. Just as bad as you - always looking for more like Oliver Twist - but I shall never never be satisfied until I get the one who writes the letters. I am looking for - no names mentioned you can guess who it is - just a dear little boy who lives in Oregon. There now - isn't that foolish enough to satisfy the most fastidious? Then mix this all up with subs and hugs and cozy corners etc. and there I am just as silly as you could possibly wish. You will probably say or think "Goodness I thought she was a little bit sensible. How I have been taken in. She's horrible. Why I wish I'd known this all before. I never would have asked her to come to Oregon but now -well- I suppose I must make the best of it."
Say, but how can I tell when you are fooling and when you are not? You say you were teasing me about Mrs. Shepherd and other things. How do I know but the whole thing is just you fooling and you don't mean a thing you have said only just jollying me to see what I'd say? Then when - Oh Oscar - forgive me. I didn't mean to say that and I was just saying things I didn't think. I won't do so anymore. Come don't be mad. You know it's all so strange to me anyway. I don't really know how to act yet. Perhaps I'll get used to it all after you get hold of me as you say - but you've got a lot to explain and my hands are cold and my feet too. I shall need about a ton of hot bricks to keep me from shivering. Say I'm sorry for you getting such a numskull as I am. I think I have the best of the bargain. Well never mind.
With subs and love all to you
Edna
[Newspaper clipping enclosed with letter.]

It requires nerve to handle a lion but diplomacy and more nerve is needed to wisely handle a woman.

January 17, 1911
My Dear Oscar
Dear me Oscar - you do so frighten me with your presentment of automobiles. Just get them out of your mind and please don't be so dreaming as to forget to look where you are going when you cross the street. Whatever am I going to do with you anyway? Don't you know that if anything should happen to you now I should never get over it. No never. So be careful for my sake at least or I shall - I don't know what.
Just struck 10. Yes - I always write you at night after everybody else has gone to bed. Then I can be alone and not have a lot of questions to answer. Am sending you an Esperanto Book. You can see how easy it is. I have one just like it so any questions you want to ask - just ask them. Let's try and start in and try to write it. That's one way to learn. Begin easy at first. Just a little and increase as we go on.
I nearly got cold feet today. Tell you how it was. The telephone is on my desk. I answer it a good deal - so it rang and I said hello. Someone said, "Is this Plummers on Union Street." I said, "Yes." "Well this is your old honey bunch talking." I said, "Who?" He said it again with a lot more sweetness to it. I said, "Well I'm sure I don't know who this is." "Oh yes you do, just think who loves you Gee, etc." Well I came near dropping the whole thing. I know I got red and wobbly and at last I said. "Well who do you think you are talking to" and he said. "Why Grace Reollin." "Oh excuse me. I'm not Grace but I'll call her."
It was for Grace and all I could think of was that it might be you. I didn't know how - but no one else would talk like that to me. His name is Grant and that accounts for the "G" and I don't think Grace will have anything more to say about Mr. Green Ink. Joke on her all right - and also on me - but no one knows that. I've laughed every time I've thought of it. Goodness but I should hope you wouldn't talk like that over the phone and let Central hear everything that was said. I'd choke you and that would be worse than getting run over. Do be careful dear. I shall be worrying over you all the time. You must be careful - have your senses about you. I can't lose you now. Do you hear?
Am going again to the lecture on Browning with Mrs. Shepherd tomorrow night.

Wednesday.
Well you have a lot of cheek to say June and to tell Custer so. Do you think I can be ready by that time? I'm ready now - with nothing - and there is so much I want to do. I want to make a lot of sheets and pillow slips - towels, etc. Oh there are a hundred and one things to be seen to. Well all right. Call it June 30th.
I am not going to let anyone or very few know where I am going when I do start west. Just a few of my real friends. The others can guess or not as they choose. I shall have no cards or any announcements of "At Homes" for I shall only be at home to you. I don't care for any company. Guess I shan't be bothered much as all my friends live here in Maine. My mother and father will be near so I can see them any time I want to and that will be about all I care for.
So your mother don't like smoking. Well neither does my mother - but I don't care. Father don't smoke but chews and spits all over everything. Mother scolds about it and I say - let him alone - if he don't do anything worse than chew tobacco he is all right. I shall say the same of you. If that is all you do - I shan't object. I don't object to the smell of tobacco smoke and anyone that don't like it - well - they needn't come near us. WE are going to do as we please and be comfy and if my husband wants to smoke he's going to smoke all he wants to in any part of the house he wants to and nothing will be said against it.
Oh but its awful cold here. Seems to me I feel it worse than ever today and it was only 6 below zero. I guess I got to thinking about Oregon and it seemed as if I couldn't stand it another minute.
The idea of you having your mail delivered to you in bed. They don't wake you up do they? That's too bad. You poor child - just to read one of my trashy letters. By the way - someone is going to jump on me for not giving any subs in this letter - nearly forgot it. You see I'm not used to them and must be forgiven if I forget - but never mind - you'll have all you want very soon. Here are twenty to begin with as a sample. If they are good come back for more.
Me trying to flirt with you from the "Imperial?" I guess not. I'll wait until after that 5 o'clock car is safe and not be responsible for that. Then I'll telephone you I'm here. Gee! but I must stop.
With all my love and subs
Edna
Your rolling pin came this morning or at least that is what it looked like when I first saw it. I was just going to use it good and hard when I discovered it to be some lovely views of Portland and I forgave you on the spot. You are a dear darling boy and an extra hug and quite a number of extra subs. Thank you so much and your lot looks pretty good. Why isn't that all right - but I suppose you have other plans in your head. All right dear. Anything you say.
With all my love to you.
Edna

January 20, 1911
Oscar Dearest

#24 received tonight when I got home. Folks were looking for me to read it to them - but I just took it and put it in my bag until some time after they had gone to bed. I'd rather read it by myself and not have everybody looking at me. The trouble is that all letters I have ever received they have always read. Except yours. So I suppose they think that I should read yours to them also. I will tell them parts of it - but I can't give away any of the love part. That's mine and isn't to be shared by anyone - never.
I don't like the idea of you being "kept down" and "under control" and "tolerated" and only as long as you are of any good to anyone. Who does that? That would make me mad in a minute and I should fly at anyone like a ton of bricks if anyone dared to say anything to me about you. I hope they never will - whoever it is. You have more brains than they have - a fine and more sensitive nature - one to be encouraged not thrown down. Gee but I can fight for you as well as you fight for me. I just won't stand any slurring about you. No Sirree. Well dear - never mind what anyone says. I'm the one to be the judge and the only one to be satisfied. So who cares what others say? We will just laugh and be happy in spite of them all.
Yes dear - I don't care where you buy the acre or less. So long as you like it I shall. Buy it on top of Mount Hood or way down in the lowest valley. It's all right.
Oscar - you are all to me and if I can't have you - I don't want anyone. There is none "Just as good." There is only one and that's you. Just see what I'm writing - enough to shock you isn't it? Well it's true and you may as well know it now as later when I should surely tell you.
Must close and retire. I'm thinking of what I have got to have in the way of clothes and furnishings. I shan't have only a blue dress to be married in. What's the use of a white one only worn once then put away.
All my love and subs
Edna

January 22, 1911
Oscar Dear

Have a few minutes before going to church this evening and - well - I must write to Oscar. Have been reading the Sunday Oregonian this P.M. and have been looking at acres and land for sale and have got beautifully all twisted up double. I guess it's up to you to do the picking out and buying.

Oh say - got a new job - no money in it but still a new job drilling the boys and girls of the Sunday School to sing for a vested choir in church. We are to have our first rehearsal Friday night next. One rehearsal at 5 P.M. for the small children and another at 7:30 P.M. for the larger boys and girls. I am to teach them the hymns and chants. Besides this the quartet have their rehearsal Saturday night. The chorus is to fill in with hymns. Dandy job don't you think? Still I don't mind. I like singing all right and it won't be for long anyway. All this will stop when this microbe gets to Oregon - n'est pas?
Well - Honey Bunch (not Grace's) have you a desk? A roll top? What I was going to say is that I belong to a Larkin's soap club and my premium I have not selected as yet. I have two ten dollar orders and I thought I'd take a roll top if you did not already have one. You are seated at one in your photo - still that may be Custer's. I can put this off and select at any time I wish. Mrs. Shepherd is planning a trip to Boston to the "World at Boston" between April 24 and May 20 and I think I'll go and see it with her. Just go up one day and back the next. Will send you some reading matter on it.
January 23rd at the office. Grace says, "You didn't get any letter this morning from Mr. Green Ink and you haven't had one for three or four days." I said, "Goodness! is that so? Oh well - guess he's forgotten me." Just my luck they notice when I don't get any letter. We'll keep them guessing.
Yes dear - I give you my word that I shall not start out without I have someone with me. I've heard Mrs. Shepherd and Florence tell about traveling in a sleeper and there was a man in the bunk above them. He came down and dressed right before them. I don't think that's nice at all. I should have a fit. I never knew that was the way people traveled in sleepers before. I never went in a sleeper - but you see my folks will be with me. So we will be all by ourselves - father, mother and I. Then when I see you - there will be you too. Gee with three to look after me guess I couldn't get lost if I wanted to. I don't want to get lost. I want to get found by you.
All my love - subs - everything yours.
Edna

January 23, 1911
My Dearest Oscar
How quickly you can clear things away. Why after reading #26 everything looked different and - Oh - but I do not want to give you up. I couldn't honest - I couldn't no matter how hard I tried - not now. Don't ask me to - it would kill me. I think - I suppose I'd get over it in time - but I don't want to try any such hard thing as that.
Yes - I guess you have made me over completely. I am different and still I am not different only that you have made me own up to loving you when I didn't want to. Yes - I did want to but would not own up to it. Yes - I do want someone I can turn to - someone to tell me what to do - what is best. I feel as if I could go to you when I would hold back from either my mother or father. Neither of them understand me at all.
Mother says - and will tell you - I am not affectionate and that anything like love making would disgust me. She is wondering how you will ever get me to love you as I should. All the answer she gets from me is "I guess he's all right. I think I could love him as well as anyone and I'm sure I do not love anyone else. Just wait until I see him." Mother calls me cold. I am - my feet are cold just now - wonder how she knows. Well honey - don't you worry about my loving you. I - if - that is when - Oh - you know - I don't know how to talk - but it will be all right and you will have no complaint coming.
All right - letter every day it is. I like them all right. I could write more if I had the time and would. I guess the mailman must wonder what's up. I don't care. You know I thought at first that one year was such a short time - now that you have cut it down to five months it seems an awful ways off. Surely Oscar I am getting worse instead of better and I'm glad we are to please ourselves instead of outsiders.
Great Scott!! What do you know about corsets and things? Guess I did sit up and take notice. I haven't many hips - only two - and I happen to be slim. What are you going to do about it? I don't lace. If I did you'd never be able to find me. I haven't anything that needs supporting. Don't wear any hobble skirts. Well the rest you find out for yourself - smarty.
Glad you changed the subject to cozy corners. Let's see what can we have to furnish that cozy corner with - a nice little chess table with two chairs. You are to show me how to play chess. Won't that be fun and every time you beat me you can have one sub and every time I beat you, you don't get any. Is that it? Then we'll have to have good lights to play - but you might put them out sometimes. Yes - I am tired of this old life and so are you and if I was only in Oregon now. I'd begin on a new life as soon as you'd have me.
Don't Oscar - talk that way about you being a coward. No no you are not. You are very brave more so than I. I am the coward. You think I will despise you? Oscar how that hurts me - but I forgive it. You don't know me - had I better tell you? I can love but once and the weaker the more reaching out you were - the deeper would be my love. You would be strong in that - nothing could change me. I love you with all my heart. I have let myself for the first and only time - and must I turn back? Would you have me do so?
Could I? Even if you wanted me to - please, please Oscar don't let's talk about that. Let's be happy in just loving and looking forward to what is going to be. How you do draw me out. I didn't mean to say one word of what I've written. I guess no one understands me as you do - make me say things I said I wouldn't say.
Oh dear Oscar - I'm yours that's all. That tells the whole story. Your love is more to me than millions - an honest love - something I never believed existed on earth and to loose that after I have found it - never if I can help it. Now can you doubt me anymore? I don't care if you never get fat. Yes - I do - but I mean it would make no difference to me. It's you Oscar. The inside of you - your soul I love. Don't you see. Oh I must close or you'll think I'm crazy.
All Yours
Edna

January 24, 1911
Oscar Dear

This is an answer to nothing. Didn't get a letter today but just to show you I'll write anyway. I haven't got enough of your letters yet and I'm not tired of them and never could get tired of them.
It's 11 o'clock and I have just returned home from the Hilda's. We had salmon salad which I did not eat - don't like it - bread and butter and tea and fancy crackers. Very good. They are talking about another church supper - which means a lot more work for all of us - to come off sometime the last of February for the benefit of the parish. Mr. Shepherd is going to build a parish house in the Spring. He is collecting money for it now. It will take five thousand dollars and he has three thousand already. He expects it will be all ready by next Fall and I don't suppose I shall be here will I? It's for you to say.
Now Dearie - I hope you are all right. I think so because the papers didn't come today either. So I guess the mail got held up somewhere.
How I do wish I could see you tonight for a few minutes. We could have a good chat - one or two subs if you were real good. Never mind it won't be long now - will it? This month is about gone. With all my love - my dear - dearest.
Yours
Edna
February 1911

February 9, 1911
Dearest Oscar
Am waiting to hear that you are all well again and wondering if any of my letters have reached you. Received Feb 1st paper today together with the Feb. 4th edition. It's a dandy - haven't looked it all over yet just a glance.
Say - do you know father had a man up looking at our house today - this noon - both houses and he is going to make him an offer in a few days. Goodness - that means we will have to get out if he sells and I have not had any chance at the Island yet and haven't heard from the Railroad.
I haven't seen the plans for the "Den" yet - but I like that 4 room cottage. It's fine - if - Oh if we could only have that. Well - we will have it - if I can only get rid of some of this Peaks Island land and cottage - that is ½ cottage only belongs to me. But I have eight lots at the Island all my own that ought to average $200.00 each anyway. Don't I wish I could sell. How long would it take to build that 4 room house? Be sure and don't buy any furniture or we won't know what to do with so much stuff as we shall have.
Mother says that you must be a very strong magnet to draw me away out in Oregon. She is puzzled to know how you know you love me when you have never seen me. She says to tell you you've got to be awful good to me. I said, "Oh Oscar is all right. I'm not afraid but he will be good and kind."
Well - do you know your letter to Father and Mother - I had to read to them aloud. I didn't want to, said I'd rather not - but father said, "Yes - you can read his writing better than I can." So poor me had to sit there with them both looking at me and read your letter. Oh! Oh! Oh! I just wished I didn't have to but - no go. Talk about your Gatling gun. I'd rather face that or sink through the floor. I couldn't do either so read along not knowing what was coming next.
After it was all read Mother says, "Well he appears honest at least but is sickly and will he live long?" I said you were not sickly only of course not as strong as anyone who had never had any lye - that you never had tried to get fat - but that now you were taking milk and raw eggs that you would be all right. Well father said, "I like the tone of his letter - it suites me all right and I guess I'll let you answer the letter to suit yourself. I'm willing to accept him for a son." Mother said she was to if I was satisfied - but she did hope you would look after your health. She is very much interested in you - likes your looks. Say I must give you something nourishing to eat and look out for your health.
Hurry up sweetheart and get all well and tell me you are feeling all right again. You dear boy to feel so mean and then not even a letter to cheer you when there were lots of them due you that you should have. Never mind Oscar. I'll make it all up to you. Mine Own.
Your Edna

February 10, 1910
Oscar Dear
Just a line to let you know I am all right and I'm just waiting to hear from you that you are all right. I received so many letters all at once on Thursday - not one of them are after the telegram and I am still wondering how you are and if you have received my letters. It's hard to have patience and wait. I suppose everything is all right by this time and I shall hear today. Please do not telegraph again. It costs too much and I can wait. Dear one I hope you are all well and feeling all right. I am feeling all right also but want my Oscar so much. You dear boy.
Your own
Edna
XXXX subs

Feb 11, 1911
Oscar Dear

I'm just getting your reaction of your not getting my letters. I didn't receive any for 3 days last week then got 5 all at once. Now I haven't received any for 3 days more - nothing since your telegram. All the letters I received were dated before and asking why I didn't write. Why dear I haven't missed a day and sometimes two in one day. I know it's the mail of course - but Oh - how badly it makes you feel not to get a letter. If I only knew you were well and not sick I should feel better - but the last thing I heard Feb. 4 was that you had the grippe. Dear Oscar please look out for yourself for my sake.

Oh will we ever get straightened out again? Its all on account of the storm. We have had such a dreadful one - two in fact and another storm coming. I am expecting a letter this P.M. I do so hope I get one - but I shall write just the same because I know it isn't you. You are just the same.
No use Oscar we can't seem to get along apart. First one is worrying then the other is wondering and there it is. Am in hopes the mail gets through to you. I am receiving the papers all right the 4th - 5th and 6th - and if there had been a letter I should have received that also - but dear I don't blame you. It only it makes me think you are sick. I don't know what I shall do if I don't get a letter Monday. Oh but I guess I will. I was so disappointed this noon. Mother said no letter - guess he's tired of writing. I said - Oh no the storm has delayed the mail that's all. Will all my love and subs make you write? Then you have them.
Yours only
Edna

February 14, 1910
Dearest Valentine
Your valentine and postal received - also #45 and 46 all in one envelope. You are a dear - awfully dear to me and like you say - are a great comfort. I found out that I should be very unhappy without you by not receiving any letters for 4 or 5 days. Although I felt sure it was the mails not you - but it was enough to tell me how much I really did care - more I know than I have any idea of.
Why dear what more can I say than I have already said? I can't imagine anything worse only the telling you to your face instead of the easy way of writing it. Oh but I shall want you to make me say anything you want me to. Now don't take exception to the "make." Probably I shall want to say things - only I wouldn't without you to kind of make me. I shouldn't want to say anything at all by myself. I wouldn't go near you if left to myself. You will have to start and I will go "ditto."
I ought not to tell you this much should I - but you know I want you and write you so but couldn't tell you so. I'd be tongue tied - don't believe I'd have anything to say at first. Oh but don't be frightened. I shall be all right to you in our own home - all you would want me to be - have no fear - just a bit backward at first but that will wear off very soon.
I received Miss Cobbs picture O.K. Will return it sometime. I think she's all right. No I did not receive the letter you speak of meeting a girl on your visit to your father. That must be one of the letters I did not receive 34 or 35. I received both plans of houses. Dear me - why can't we get our own letters? Well dearest with all my love and subs to burn. You are all to me - my one great comfort and I can't get along without you.
Your Own
Edna
By the way I guess it would be better to keep your Rose City lot if that is the way of it. Perhaps after my father and mother come they might buy your brother's lot provided he wishes to sell or can buy somewhere near. They can go into a rent until they see what can be done and until the furniture comes.
All right - you can get the stoves if you want to - but mother says she will bring her own range. If we have a car we might as well fill it up as not. There will be lots of things we will not bring - only the best.
You ask if I think the rooms in our plan are large enough. Well I don't know. I should think they would be. I suppose they are rather small. Our rooms here at home most of them are 15 x 15 and my room is 16 x 18. I have an extra large room. Our parlor is 15 x 15 and a bay window in front which makes it longer than 15 foot that way - but nearly all our rooms are large. I don't mind - 12 x12 or 13 is plenty large enough. I don't or wouldn't care if they were 8 x 9 and was all our own. It makes a difference don't it if we were hiring or owning?
Goodness will it take as long as that for freight to go? Suppose we sent it on ahead then come afterwards.
Oh yes #44 came today. I guess I have #28 all right - the only ones that seem to be missing are #31 first part and #34 and #35. Goodness I hope no one else gets them. I'd be ready to run but then what do we care? It's all right they'd only be jealous because they didn't have somebody they could love and who loved them and so make fun. What do we care about a few letters only - well - I'd just as soon no one read them.
I've been looking over your 50th year edition of the Oregonian. Say Portland is a large city isn't it? My I had no idea it was so nice - but I hope you can get near enough to your work so as not to be a couple of hours getting to it. That's too much altogether. I can't spare you that long - bad enough to have you gone all night and me and the poodle all alone.
Say are there lots of tramps out there? I shall be scared blue if anyone knocks at the door - but the dog will bark and drive them away.
Go ahead and wonder if you will be any more crazy than I am or will be when we meet - only I won't show it - not before anyone - only to you when no one is looking. Outsiders will think I'm cold just the same as they do here - but you will know differently that's all I care about knowing anything - let the rest guess all they want to. We don't care what they think.
Didn't get a letter yesterday but I don't mind one day. Don't like two days. Three days is worse. Four days is worser and five days is worserest and after that its all off - we're crazy. I expect a letter this noon when I go home for dinner and I'm going home late too about 1 o'clock - so I won't get your letter until afterwards and I'll be thinking of it all the time.
Lillian Hillman and I are on the committee to pick out pins for the Hilda's and we are going up town this noon to see about them so to report at the next meeting Tuesday night Feb 21. Then at 5 P.M. right from the office I have 16 little girls to drill in singing for Easter for an hour. Then I stay to supper with Mrs. Shepherd and in the evening she and I are going to the Grigg lecture on Browning. There is only one more lecture after this one next Wednesday evening. Mother says I'm over with Mrs. Shepherd all the time - about 5 nights in the week I guess. Well it won't be for much longer. You see I have two classes of girls to drill and now the boys want to come in and they won't come when the girls do. I suppose I'll have to take them some other night. Oh but I will be glad when it is all over with and I can do as I please and I can say, "No I can't go. My husband does not wish me to." But anyway everyone will be strangers to me in Oregon - not that I don't like Mrs. Shepherd - I think she is lovely.
Edna's Plan of Her Peaks Island Cottage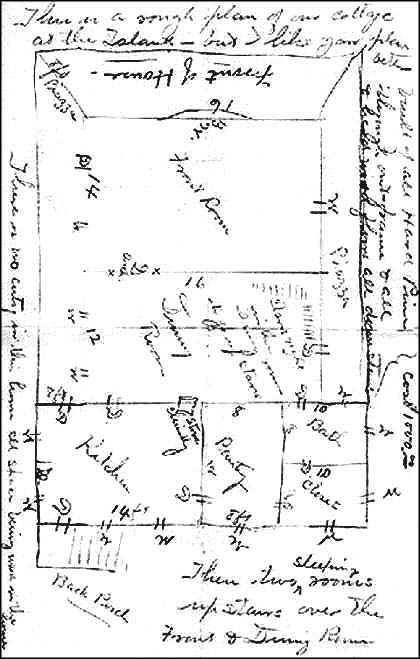 February 15, 1911
Dearest Oscar Mine
Have just returned from the lecture. Eleven P.M. and sure enough I find a letter 46 at noon and here I am home to another letter 47. You're simply a dear all right.
What! Me give you up? Guess again - not while I have my senses and I hope to have them as long as I live. Why dear I may as well own up to it first as last. I have longed for love of the right sort - but did not think it possible. No one suited me. There was always something I couldn't find and I'd turn away and think just as you did "What's the use - there is no such thing as love - it's only in books you read." Now You. I haven't seen you ever and had no thought of you at first and I did not tremble as to what you were up to. Honestly I didn't - that's true. I knew you wrote nicely and said some nice things - but somehow you gradually crept in when I wasn't looking and I cared a great deal more than I would acknowledge to myself. I thought, "Oh - he is only fooling. He don't mean what he says. I'll pay attention to him and when he gets tired he'll stop and that will be the end of it." But he didn't stop - he kept right on and the first thing I knew I had found the one I had been looking for for so long. Well you know the rest. It would just kill me now to give you up. I just won't. I refuse absolutely.
And 1950 Goodness!!! Well that seems to be about as long as June 1911 don't it? But say whenever I do come - I can't tell just when - but when I do I'll marry you the same day or next one anyway if you want to. We can be sweethearts and get acquainted after. I'm tired of this all and want you. There now - what do you know about all that? Oh. I'm saying things ain't I? Can't help it.
Oh no - really I don't think my folks took those letters at all. I've told them there were two missing and that they were all numbered so I could keep track of them and they said it was a good idea. No. No. I don't think they took them but the office - I don't know. I hate to think they would but Harmon did open one letter. It was all opened when I got there - but I believed him when he said he did not take it out of the envelope. The fact remains that I have not received 34 or 35 nor the 1st part of 32 - I think it was.
Now dear don't kill yourself running all over town looking for acres. Just shut your eyes and grab the first thing you come to. I should like you to get as near your work as you can. Say that plan with the Den is fine - great. You should have been an architect - designer - or something like that. Never mind about father and mother. They will look for themselves and get as near to us as they can. You look after ourselves.
Well my own - I must go to bed it's late and I'm dead sleepy but I had to write to my Oscar just a line to let him know I'm still here. Wish I was there.
You poor darling. I just kind of knew you couldn't eat hard stuff. You won't have too. I'll look out for that. I'll eat all the hard and you eat the soft - so between us we'll lick the platter clean. See? You won't have to cook either - only you may show me how to cook some of the things you like. I like all kinds of soups and stews and things - so you can't have the whole of it. I want some - pig. I get to have my snoot in too. You and I will get along fine and I'll have all I want too as well as you.
Oh Oscar you don't know how much I think of you! You are always in my thoughts. My own - my Oscar. Just to think that someone loves you. I don't know what to say - tell me.
Your Own
Edna

February 16, 1911
Oscar Dear
Please don't feel bad over what I wrote last night. I wouldn't hurt your feelings for the world - but it is all so strange and new to me. I don't know just what to say. It will be all right in the end and who knows but your vision may come true. I hope so for your sake. Will not say any more now - but I am not too old as you fear.
These letters are all asking why I don't write. Not much to answer in them now that we are all straightened out again. We will do better next time and not jump at conclusions.
Father telephoned down to the Grand Trunk Railroad to see what the charges for a whole car would be and they told him $250.00 direct to Oregon. Well that's cheaper than selling everything for nothing and giving away what you can't sell.
Well you are having a time finding a place - but please don't wear yourself all out looking for a home - anything will do for now. Later on -why- we can change if you wish to. I'm willing to do anything for the best. Hope to be able to sell soon.
Received 48 tonight. I don't know what to say or how to answer. Guess I'll wait until I get to it first. Oh it's all right. I don't mean that - but - yes - I know Mother spoke about it but I wouldn't listen and walked off. Guess she thinks I'm hopeless. Perhaps I am. I don't know. I didn't know what to say - please. I won't say anything - not now anyway. I don't know but I'm afraid after all. Perhaps I won't be. I guess you'll have to talk to me personally. I'll listen to you. With love.
Your Edna

February 18, 1911
My Dearest Oscar
This morning was awfully slippery coming down to the office - just one glare of ice. It's a little better now I can see from the office window that the sun is melting it some. I'm glad of it for it has been so cold. Am looking for my other two letters this noon - that is #49 and the special. You know I told you I had received #50 - the last one you wrote of the three.
Yes - I do like white and I nearly always wear a white shirt waist with a black or a navy blue skirt. I like pink very much but always had an idea that I didn't look good in pink - that is not so well as I did in blue. Perhaps this is all an idea and you can tell me what you think when you see me. I want to please you in everything I do or wear. If you are pleased - I don't care what others think or say. I always wear white underclothes. I know some of the girls wear black silk shirts but I don't - just common plain white 25 or 50 cent shirts is the highest price I pay - plenty good enough too. I'm not very extravagant in anything.

3 P.M. 2/18/11 at the office. Well I did get #49 and the special this noon. 49 was postmarked Feb 12 - P.M. and the special Feb 12 - 3 P.M. #50 that I received yesterday was marked Feb 12 - 6:30 P.M. Funny isn't it that the last came first?
Oh about acres - just as soon as I can sell I'll send you five hundred anyway and maybe more. This will be for you to get a cottage or build one. I'd rather have a brand new one like the 4 room one you planned. I wish it might be a permanent home for us as I think I should like to live where we first go to housekeeping.
Father don't think you haven't any money. He thinks you have enough to buy a place all right - let him think so. I rather he did. Father said all by himself last night - and I didn't say anything about it to him either - that he thought of letting you get him some land in Portland, Ore. and to write and ask you if you would buy him some - he to send you the money. I said yes I guess you would. I'd said I'd ask you - but I knew you would. Now he probably will give me five hundred to send you to close a bargain on some land for him. That is he will take half or quarter of what you buy and will pay you for it. See? Whatever he buys will be ours in the end if we live longer than they do. You can have the cottage in my name if you so wish. I don't mind that - just as you say - it will belong to both of us.
#34 and 35 and the 1st part of 32 have not arrived yet. They probably will go back to you. I hope so. I don't want anyone else to get them and you always have your address on the corner. I like to think you made a mistake and put Oregon instead of Maine and that they went to the dead letter office. Surely no one would take them. I don't like to think that. If they don't show up I don't know what to think - but anyway it won't hurt us any. We really don't care and if they can do anyone any good they are welcome to them so long as I have the original and you have the original also. Your letters are all right coming to the house. Mother watches for them and gets them right away so they won't be taken out of the box.
Today is awfully cold. Zero this morning. Really zero seems colder than 10 below. It's just penetrating. Oh - you talking of lovely Spring weather with birds singing. How I wish I was there with you to hear the birds sing but really to hear your voice. I want to hear you speak. I'm glad you have a medium voice. Father has a medium tone - mine is alto. Still I'm not deep spoken or high pitched either - medium too I guess.
Mr. Steele and Grace is it? Well I don't know. It looks more like Mr. Rounds and Grace. I'm sorry to say. I wish it was Mr. Steele and Grace or Mr. Bryant or Mr. Harmon - neither of these last three are married and Mr. R is very cool to me now.
All right - the roll top desk is yours - but it don't come for a couple of weeks yet from New York. How would it do to have it shipped direct to you or should it come here and go to the car? We will only bring one car of goods. My piano cost $1,000 - so I don't want to part with it. I'd never get another so good as that one - so it won't cost much more to take the whole car and bring what we can get into it and sell and give away the rest.
No one will know why we are going. What is going to happen when we get to Oregon will be told later when I get time to write back East. I shan't have much time from what I've heard tell or can gather from letters I've received from Oregon. When will there be time for chess? You know I must breath once in awhile. I'm going to be awfully busy tending to you. Oh but it will be a pleasure - all mine - no - all ours. You can have half. Oh but dear you won't want to go to sleep and never wake up. What would I do? You must wake up. You're mine now and I won't let you sleep for good.
Say dear - do you suffer with your throat now or has it all got well? Please tell me. Does it ache or hurt you when you eat? You poor dear. I wish I could take it all away or have half of it myself. I'd be more than willing to take it all so you could be free from pain.
Mother says - "Whatever do you two find to write about so often? I should think once a week or twice a week would be enough." Oh I said you know we've got to see about acres or a lot and home etc. and there's lots of talk about the weather for instance.
Mother said she would be glad to get where it is warmer. Nearly every morning we are all frozen up solid. The water pipes have to be thawed out before we can get any water - especially if the fire happens to go out over night and sometimes when it don't go out.
That's all right about you writing to Miss Cobb or anyone else you choose. Just tell me about it - that's all. I'm not jealous so long as nothing is done underhanded. I have perfect faith in you and want you to have the same in me. I know you do. You are the only man I write to. I did write to two others but I have dropped them. One in New York - Charles Brant and one in Denver, Colo. - H.E. Baldwin. Nothing to any of them - oh - yes and that Spry thing. I'd forgotten him. The others were decent alongside of him as far as I know. Baldwin was a widower with 4 children looking for #2. Excuse me - but I guess he was all right. Made good pay - $6.00 per day and owned a lot of property. I wasn't interested. The other was a Batch or so he said. Spry said the same thing and he wasn't. Haven't heard from any of them since.
#51 and the "Oli" special received last night. Only 4 letters yesterday. I started them at the office but was sick last night. Had a headache so didn't write any. Am all right this A.M. and will write this P.M. and mail them on my way to church. Dearest honey bunch - mine.
Edna

February 18, 1911
Oscar Dear
Your magazine story - read it last night. What makes you call that a case like ours? Why dear you are far ahead of that hero and I am nothing so beautiful as the heroine. I wish I was for your sake. Never mind. They loved each other which is the only thing after all - nothing else counts or matters. I could see where you had underlined it and it did not spoil it for me. I looked for the marks and it was more interesting on account of it.
So dear you see I'm looking for you in everything. If you are not there it's dull and not interesting. Really Oscar you have got me so wrapped up in you - in what you would say - in what you would think - that I just want to turn around and ask you things but I can't find you - you're not to be found. Where are you? Oh yes - I know - waiting for me in Oregon. I'm coming dear. Can't you hear my footsteps in the hall? I'll soon be with you.
Let me tell you what I have already - 4 sheets - 4 pillow slips - 1 dozen dish towels - 3 bath towels and a dandy pair of lovely white towels from Mother - great large ones. Lots more to be made but that is what is finished up.
Goodness gracious Oscar Small - have you taken leave of your senses? Just think what people would say if they ever saw your last two or three letters. But they are not going to see them. Don't worry about that - but my ain't you a terror though. Well I don't care. The worse you are the better I like it - so - do your worst. You might as well so as to calm down a bit so I can talk to you sensible. Mother said yesterday - "Four letters! He must be clean gone. What does he find to talk about? Well I do hope he won't cool off after he gets you. Hope he will always be as considerate of you as he is now." I said I think he will only more so.
Mother said that the ones who were so crazy at first generally didn't last. "Oh" I said "this is different. We'll last all right." But Mother said, "You haven't seen each other. That may make a lot of difference." No, said I - not a bit. I don't care for looks and neither does Oscar. We are both satisfied.
It makes Mother mad for me to say I'm homely. She says I'm not - but you know she's partial and has seen me for so long she's got used to looking at me. Still I'm not so awfully bad looking. I guess you'll like me and not half try.
Well dearest it is 7 P.M. and I must get ready for church. I will finish this after I come back tonight. You're a dear little darling boy - all mine.
Just found out that today is Feb. 19 instead of 18th as I wrote it. Just returned from church 9:30 p.m. No - 35 and 34 have not shown up yet. No - I'm not worrying over them. I have all I can tend to in answering what letters I have received - and some I didn't received. I write just the same whether I hear or not. Sure I'm glad I can be a comfort to you and you are the same to me. You dear.
Yes - I'd rather we should be alone in our own house. If there is no house for father and mother when we come they will get a rent until a home can be built for them. Oh by the way - have you decided on that four room bungalow with the den? I was going to say would you mind having the four rooms a little larger say 12 ½ x 12 ½ for instance? I was into our other home yesterday where the rooms are 12 x 13 and they seemed just about right. Ours here in the large home are 15 x 18 and some - my room - 16 x 18. Awfully large rooms but I'm afraid that 10 x 11 ½ will be rather small. I'm not kicking, but while you are building a few feet won't cost so very much more - will it? Anyway I'd rather pay the difference.
I am happy and contented. Will that suit you sweetheart? Oh but say - my turkey tracks are not so bad as all that! I'd just as soon tell you what I said - but I guess I won't. I'm not hiding behind anything. So now.
Oh that Gould girl? Why I read about it - but I didn't think much about it. She smokes and I thought I guess she isn't any better than he. I should not be surprised to hear of a divorce in a year or so. Yes, I think you and I are entirely different - both of us. I don't care for rank without love. I'd rather have my own Oscar than all the kings - dukes - or lords in the world. You're mine and I'm content. Oh!!!!! to the very depths of my heart. You are all to me now. Don't seem as if I could love you any more than I do - for I do honestly love you dear. I can't get along without you and I want we should always be sweethearts - forever.
I don't think we will have any disputes. We understand each other too well for that. All we want is love and trust. If we get that everything else don't count. You are boss - I am boss. We are both boss. It makes no difference. All right honey I won't talk any more and will take your 123 subs. That's right. I counted them.
Now why did you stop there? Here give me two more subs and make it 125. There that's good. Now see that - you give me 123 and I haven't enough - so have to ask for two more. Hurry up and breathe so I can have some more. Oh, but if they were only real ones. Well they will be some day soon and then perhaps I won't be asking for extra ones. Well I shall want them even if I haven't the nerve to ask for them. Oh you dare me do you? What for? You dare me to dare you? I dare you! Now what? You can't be any worse than you have been.
Your Own
Edna

Washington's Birth Day February 22, 1911

Way Down East in Maine
Sunny - cold - and lonely. Ran into the postman this A.M. on my way to the office and he handed me a letter with a grin. I didn't look at him - just said "thank you" and hurried on. Didn't intend to meet him - but he was earlier this A.M. than usual. It was your special about buying 5-10-15 acres just outside the city about a 30 minute ride or so. Well dear I don't mind. If you like it. My folks will like anything I like and will take 1 acre of what you buy anyway. I haven't seen them about it yet but I know that it will be all right.
Mr. Ramie (the one who has our cottage for the winter) was at the house last night to see about buying the cottage and two lots. He offered $1,200 for the whole thing and then only wanted to pay $200.00 down with a balance mortgage at 6%. I said no. I'd rather keep it. The house is brand new last summer and cost near enough to $1,000.00. I was offered $400 last summer for one lot. I wouldn't sell it. I want cash right down. It isn't time yet to make any good sales. Guess I was trying to rush things so to get to Oregon. I'll be a little bit more patient. Hard isn't it honey? Awful hard. Well it won't be so very long - but how long it does seem. Wish I could fly. I'd be there in two seconds.
Had to work all day today - Washington's Birthday. I believe they would keep open and work Sundays if it wasn't against the law. Oh - by the way - Grace has it all figured out about you. Today she said to me "My Lands! Why under the sun don't you get any more letters from Mr. Green Ink?"
"Who?" said I.
"Why that fellow out on Oregon you know the one that uses green ink."
"Let me see. I wonder which one you mean."
"Oh you know who I mean. The address is Portland, Oregon - some Avenue."
"Oh I guess I know who you mean. Mrs. Baker. Oh she's stopped writing."
"Oh I don't think it was a woman - was it really? Oh I don't believe it - no woman would write so often and send you such a nice back comb for Christmas. Why don't you wear it?"
"Now Grace don't talk foolish - you know we have this stock to get out and have you got all your copy ready?"
We went to work when she spoke out again "Oh I know why you don't hear. He's coming here to Portland, Maine and I'll bet you go back with him."
"Very well said I, now that you have it all settled we will get to work."
Say I'm getting fat - weigh 127 lbs. Just think of that! Hurry up sonny - don't let me beat you. Just got weighed. I was a wondering if Winter clothes had anything to do with it.

[missing page]

February 23, 1911
My Dear
Received your special. This is in answer to it. Will answer 49 later tomorrow. I should very much like that country home if you think it all right. I like to have elbow room and not have the next door neighbor build so near you that you can't breathe. I also like a nice garden - vegetable and flowers - and chickens. I like them all. So anything you get will suit me to a 'T' and the folks will also like it. Father said he would take half of what you bought if you wanted to sell. Suit yourself and you will suit me. But I'd keep that Rose City lot if I were you and settle with Custer later. You may be able to sell enough lots to more than pay for everything. I believe I'll send this pen to you and let you see what you can do with it. I can't do anything with it.
Well Honey Bunch - trying to tire my Oscar all out racing him around town. You won't get a bit of flesh on you if you don't stop. Be sure you dress warm enough. I don't like the idea of you going without things. You shan't do it after I get hold of you. If you can't have things then I don't want them either. I don't want to be selfish. We shall have alike - then I shall feel satisfied. Otherwise I'll kick (the football I mean). Now Deary here's some subs and good night.
Just returned from the last Browning lecture 11 P.M. Dead tired and sleepy and I want my Oscar.
All my love
Edna

February 24, 1911
Oscar Mine
Didn't meet the postman this A.M. - was afraid to. No I wasn't either. I want your letters bad enough to stand anything. I look for one every day and - like you - feel disappointed if I do not receive word.
Snowing this morning - but has stopped now - but it's awfully cold. Tonight is the church supper at the Y.W.C.A. Hall. They are all going here at the office. Mrs. Shepherd was down to the office and sold eight tickets. Florence and I and all the Hilda's are to wait on tables. I have got to look after my office crowd for I suppose it was on my account they all bought tickets. Guess I shall have my hands full - shall be glad when its over. There is to be baked beans - brown bread - cold sliced ham - salad - pickles - hot rolls - assorted cake and pies - coffee. Not so bad for 25 cents. I gave a dollar towards it and also bought a ticket for the privilege of eating what I had given. I never could see the sense of that anyway. We get all tired out waiting on tables - but it's for the church - so I say nothing. They all do the same. We don't get to our supper until its all over and nothing left to eat.
Its snowed several times today and now the sun shines. Guess we will have a good night for the supper after all. By the way - I didn't get any letter this noon. I looked for one no matter how many I get one day I'm always looking for another the next day. Now I'm looking for one tonight after I get home from the supper. I always look under my plate at the table. That is where Mother puts them.
Say - do you know that yours are the first letters I have ever received that my folks didn't open and read before I did? I put my foot down before I allowed you to write to the house. That was one reason why my mail came to the office. I told them. So now they don' touch it. You'd think I was a kid - 6 years old or so. You're right - people make you do underhanded things by not trusting you. Now don't you worry one bit over your letters to me at the house. They won't take them or look at them. Haven't they given their consent and haven't I a right to receive all you send? I hope Oscar that if we should happen to have any children that they will have some rights of their own and not be kept down and made miserable. Oh but let's change the subject and talk about something pleasant and sweet - coffee with 17 lumps of sugar in it. Bet that's too sweet for you.
Thank you dear very much for not sending me that card to the office. I know it was only fun and I should have taken it as such - but I'd just as soon not have them poking fun at me. I don't know. I don't like to think Harmon opened your letter on purpose - you see what you think of this. Yesterday P.M. Grace and Harmon were standing near my desk and Grace said all at once "You don't get any more letters from Oregon since Harmon and I opened your letters." I made no answer - but I've been a thinking ever since and a wondering perhaps if you were right after all.
I'm waiting to hear more. I'm slow, but sure. Never mind dear - I'm getting out of here very soon. It won't do me any harm - or you either. Yes dear you are right in your views of men and women in general. I have found it so and I don't know which is the worst - the man or the woman. I am thankful that we are different. I want to be different and want you to be different - just plain you and me. I'm satisfied with pure love. No Lord or Lady love in mind. I don't want money - automobiles - grand houses - horses - clothes or servants. Just a plain four roomed bungalow with a Den is all I ask. Oh yes, there is something more. You. If you are not there the bungalow counts for nothing.
Just returned from the supper and had a beautiful time. Nine in my crowd - Mr. Rounds - Mr. Harmon - Grace - Mr. Steele - Minnie Bradsett came with Mr. Steele. Grace brought a Miss Libby and a Miss Hilton. The Helen Steele and her cousin Mill Loviett - making nine I had to look after and all came on my account.
10 P.M. found your letter under my plate - #55. Say dearest - just buy wherever you want to. I'll be satisfied anywhere - but I want you to be as near as possible to your work so you won't have to be gone a couple of hours ahead of time to get there and to come home. You see I'm looking after myself as well as you. I would like to have you home nights instead of days but of course I'm not kicking whatever - you can get more wages and whatever is easier for you to do and something you like. This job you have now. You like it do you not? So keep it by all means. I really don't mind being left alone. It will only be from 11 P.M. to 9 A.M. Nine hours.
Oh - I'm glad you are not Custer. I don't believe I shall like him at all. Yes - I will too for your sake - but isn't that just the way with most people? Grab all they can get - selfish. No don't buy his lot. Neither do you sell or give him ours. Keep it. I wish I was there and could go out with you - but I am perfectly satisfied with what you do and what you will do for I know it is for our good. Everybody else keep their hands off.
There is one thing about my father - he never would take advantage of you. Rather he'd give or sell for less than he bought - would not try to make anything out of you. I see you are the same. How glad I am that you are and how lucky I am to get such a fine disposition in a man.
Oscar you're a darling - yes you are - and all mine too. That's the best part of it. Yes, we have both learned our lesson well and there are few like us. Self praise you say? Yes - but isn't it so? How many would give their last cent to help a friend and go without themselves? Very few. You are a man to be proud. You are worth your weight in gold. Oh! Gee! I'm lucky to get you - that's all.
Now dearie I must close - sleepy and tired. Wouldn't want to wait on tables all the time - but we had lots of fun - Florence and I and the rest of the Hilda's. Oyster supper next Tuesday. Mr. Shepherd is going to give it to us - come on sonny - Oyster stew. Neat enough for you. Well now I'd leave them all this minute for you - all my friends - everything for you. Don't care whether I ever see them again or not - so long as I can have you. Florence filled up tonight when I told her I really was going - by June anyway. She says I'm the only friend she's got. Poor Florence. I love her too - but you first my Oscar. Mine only.
Your Edna

[First and last page appear to be missing but envelope is postmarked Feb. 26, 1911]
Oh!! You!!!! You are bound to get even some how. I notice you have extended that paper again - when I told you not to - but you are a dear anyway. Thank you so much. Why I know a whole lot about Oregon now what with your papers and maps. I started this at the office - now finishing at home with your pen - dreadful pen - don't write good at all.

Received 56 tonight all about lots and homes and etc. Yes - you are right and have decided just right by the lot you want. I will send you a check for five hundred just as soon as I can - perhaps next month or very soon anyway. Well say - when the house really starts building I shall feel as if I was coming right along in a few days. Have you decided on the Den house? I like that very much - only please have the main floor rooms at least 12 ½ x 12 ½ or 13 just as you please - but don't have them any smaller than 12½ ft. I know it will cost extra but I don't care - have them large enough.
All right dear I'm not afraid of tramps or anything if you are around - but I was thinking of when I should be alone nights. I'm afraid I don't know much about a revolver and I'd be scared to use one - but we'll get along all right some how.
You speak of Miss Mitchell. Do you know I haven't heard from her since that last postal I sent. The Miss Alice Mitchell I spoke of is a friend of mine who lives here in Portland, Maine and not the little Savannah girl. Aren't you sorry to drop all your nice girls and correspondence for a microbe way down East? Oh but I have done the same - dropped everybody I knew for a microbe way out West. So we are even.
Say - do you know I forgot to put a number on my letter I mailed you today. How do you ever read such a jumble of sheets? I don't even number them - let you guess which comes next.
The idea of you having lovely warm weather when we are freezing! Gee but I wish I was there.
I'm working on that infernal corporation tax again at the office. Got to get it off by March 1st. Well I'm glad that is the end of it and I shan't have it another year.
Well - I guess you should go right to bed like a good little boy and not stay up all night writing letters to me. Oh - but you wouldn't have to if I was there - my dearest. Want to know and learn how to keep my feet and hands warm? Will send you a hot water bottle to practice on. Fill it with hot water - if the water is too hot it melts the rubber and leaks. If the water isn't hot it isn't any good and you freeze. You can practice all by yourself.
March 1911

March 2, 1911
My Dear
Just think of all the letters we have written - a little million. I was looking at the whole bunch last night. I guess there is over a hundred. I have received 60 straight numbers to say nothing of duplicates and specials and ones not numbered before we began numbering. I should not want anyone else to get hold of them would you? Say what will we ever do with them all? I want to keep them and still hide them away for all eyes - mine too. You have just as many of mine. How foolish we are - but I don't care.
I'm happy over it and should be miserable not to receive any letters - same as I was in the beginning. I can say with you that nothing else counts - so long as I can get a letter from you I am perfectly contented. Then I'm all in when I don't hear for a couple of days. I can stand one day all right - but not much longer without getting crazy.
No use dear - neither of us will be wholly contented until we can be married and it isn't very long off now.
Say dear it's just lovely of you to try and surprise me with that six room cottage and - say - it's all right. Go ahead and have that. I know I shall like it. Oh dear why don't it come Spring? But it will soon and then we can sell here. I wouldn't go over the $2,500.00 house. That will be all right if I can sell - can pay for the whole of it right down or nearly so - but I'll let you regulate that to suit yourself. You know how.
Have you decided on the acre yet? Tell me where to find it on the map. Wherever you go it will be all right and father says he will take a couple of lots. I didn't' ask him how much he wanted to pay - but I guess $500.00 would be all right for the land. I'll find out about what he wants to do - but anyway we will look after ourselves. As mother says - they can hire a rent until they build a house. So that will be all right for them.
I'm just crazy to get in our home. By the way - send me a plan of it so I can see about the curtains - shades - etc. Why - dear - what did you buy for furniture? Never mind. I'll bet its something we need anyway. Do mind telling me. Too bad you spent any money. Perhaps it was a stove - if so - why that was all right as I haven't any. Mother has a range I gave her. She will bring that - but the other stoves she will not bring - not being worth it.
All right honey - big bath towels it is. Do you like the wooly kind with knobs on it or smooth ones? I believe they call the rough ones Turkish. Will send you a sample. Please don't return it. Keep it - but tell me if that is the kind you like or not.
They do keep Gents hose? Now - see here - what size do you wear and what color and what kind and particular make? Don't send any money and I'll make you a birthday present of a dozen pair. Oh say now please. I can get them at wholesale. What size shirts?
Will write again tonight. Haven't had much time to myself to write to you - but never mind dear. I'll make it all up to you sometime. All you want.
Your Own
Edna
All my subs

March 3, 1911
My Dear
Just returned from Miss Dorothy's Birthday Party. Had a lovely time. For supper we had grapefruit with cherries - roast beef - baked potatoes - bread & butter - tea - angel cake and ice cream. The cake was frosted with pink frosting and one pink candle burning in the middle. She had one lovely white rose with a few greens to show it off. A pair of white silk mittens - a set of baby pins in gold - a dainty little white dress from Mrs. Shepherd and I gave her a gold dollar. Also sent her a birthday card. Miss Dorothy was just as sweet as she could be. So much for the party.
Received #61 tonight. Me - scold you? I guess not - not for worlds. You are a dear all right - all mine. I'm so glad - so thankful - you belong to me. I don't know what to do or why - but you won't find me lacking. I shall be all you could wish for. Really I don't know what to say or how to say it - but whatever it is - it's all yours - every bit - not a speck for anyone else. I'm crazy too - crazy to get into our own home - to have you near me - to love me. Oh Oscar - can't you see I do love you? Love you with all my heart. Just want to feel your arms and kisses.
No I don't dress in Lavender - but in blue. They are something alike. Mother is large but not tall. I'm a whole head over her. I think she's rather nice-looking. I have some snaps I'm going to send us so you can see the difference.
Mrs. Parker (Florence's Mother) and Florence were both talking to me to change my mind about us all moving out West. I said I guess we'd go all right - that father had had one man up to look over our house already and he hasn't yet heard from him. He has also seen a broker about selling in the Spring - but there is at least 6 to 10 inches of ice in our streets yet. Although it is beginning to melt slowly when the sun shines directly upon it.
Mrs. Parker said "Perhaps you'll get married out West. You don't seem to find anyone to suit you here." "What me? Well that would be funny wouldn't it." Mrs. Parker said she had known of such things happening when no one would do around where they live - go away - and the first thing you know they are married. "Oh very well" I said. "I'll send you an invitation when I get married." They laughed - thought it a good joke and we proceeded to talk of something else. Now - how much truth was there to it all? Won't some people sit up and take notice.
"My but she got married awfully quick! She hadn't any more than got out there before she was married. Who is he anyway. Did you ever see him? Ever hear her speak of him? Wonder if she didn't know it all the time and that is what she went out for. Well of all things. That's the limit. I never expected Edna Griffin would ever marry. She didn't like the men at all."
Don't you worry dear. I shall have plenty of clothes to wear. I'm going to venture a light pink dress too. Mother says I look good in it - gives me just the color I need. It will be your own dress - especially for you. Oh yes dear. I like light colors all right - but I got in such a habit of wearing dark blue and black so that I feel rather queer in light colors - but if my husband likes me in white or light - white it is - pink - anything. See I want to please you - my only dear.
Oh do you mean to measure in our stocking feet how tall we are? I did - 6' - I mean 5' - 6 3/4" boots and all. I'll see how much I am in stocking feet. Well - I guess I am 5'-6 ½ even then - but I'm not more than ½" taller than you anyway. Oh but I don't care do you? That don't count.
You know I didn't get your #61 until after I got home from the party. This morning - March 4th - at breakfast mother said, "Did you get your letter last night?" I said "Oh yes." "Well" said mother "how is my son-in-law?" Just see how I catch it? But I don't care. I don't catch it outside my folks for no one else knows anything about it.
The idea of me telling you by your back hair - why I can't see it. I can only see your front hair and it's pretty too - dandy hair. I think I could tell you anyway. Your looks - eyes - hair. I think I could feel that you was you because I should and do love you so much that -well - I'd know.
Now it's not very long to wait sweetheart - March - going right along. Oh dear I won't be half ready. If I could only sell so I could send you $500.00 to start that house. I think by the last of this month something will be doing at the Island anyway. If I could only sell the house - the two lots could go with the Real Estate brokers to sell later - but never mind dear. We will have our cottage and no never mind if it isn't finished. We can finish it afterwards. Just get the shell up and we will look after the rest at our convenience. I'd like hardwood floors in the kitchen anyway. Suite yourself about the rest of the floors and have the rooms 12 ½ or 13 x 12 ½ anyway. That 6 rooms will be fine.
I see the freight rate from Pittsburgh, Pa. to Portland, Ore. is 5 cents a hundred and 18 cents a hundred from Pittsburgh to Portland, Me.
Well honey my dearest. I must close and go to work - writing this at the office between times. My Only own - mi amas vi - ditto to all you say, think, and feel.
Your Very own
Edna
X one good sub

March 6, 1911
My Dear Oscar
Still snowing and you "planting taters!" By the way - will it be too late for us to have "taters" and a few vegetables planted. Oh say - can I have a rose bush - a white one and a pink one? I love roses. Lovely to have some near our house. I love flowers - do you?
Don't you fret about Mr. Bryant having his hands on me. No sir!! He don't and shan't. I guess though he means all right - only a little cracked over girls measurements. He has Annita Kellerman's measurements who is supposed to be a perfect woman. He wants to see how near Grace and I come to it if he can. This Miss Kellerman was at Keith's theater for a week. I guess he went every night. Then her measurements were printed in the paper. He cut it out and has it pinned up over his desk. Now he wants to find someone to measure. Well dearest you - and you only - shall see whether I fulfill those measurements or not. I don't care whether I'm a Kellerman or not. If I suit you that's all I care about - but dear I won't give you any measurements either - find out for yourself. But I - can - say that I can beat you on your 12". Ho much? Oh - that's for you to find out.
This noon received your #63 and 64. I notice you say you didn't received any letters.
Dear me - hope there isn't going to be a mix up again. Dear don't get upset (hear me preach now) because there are plenty of letters on the road if you will only have patience. Why don't I practice what I preach? Oh that's different. Really I do feel bad when you don't get any letters because I have written every day. I even sent you a hot water bottle to warm your hands with. I see it's no use. We are bound to be mixed up.
No fair having all the dreams. Why can't I have at least one? I've tried and tried - no go - don't dream nothin. It isn't because I don't think of you because I'm think of you most of the time.
Horrid old blizzard raging today - bet it held up some of my letters to you. Don't you mind sonny. Your folks shan't ridicule you - not one bit.
You say it will take two months to build? Well you shall have one thousand dollars by the first week in April or second week anyway. Never mind if the house is not entirely finished. It can be finished later after I come. If it is only begun and $1,000.00 paid down on it - the balance will be met later. No don't borrow any money. I shall have enough without you going into debt. Say - could I transfer a savings bank account to you through the bank? Of course I know I can't draw checks on it. I shall have to have it transferred anyway from Maine to Oregon. Do you know how or shall I have to find out here? I guess I can manage to raise one thousand without selling anything. I didn't want to touch the money in the Savings Bank but - if worse comes to worse - I have the money now. Oh don't say anything. I know you didn't know it - but what's the use? You would know it later. So go ahead and brag all you want to. I'm as independent as you wish. We'll have the house anyway. God willing.
Took your breath away? Oh well catch it again because I'd like some subs if you don't mind. Money is all very well - but love is more to me than money.
I'd like to sell instead of using what I have. So if you don't mind waiting until about the middle of April we will have the Savings Account all to the good - see? Never mind if the house is a little late in being built. Am looking for the book of plans now and will return the book as soon as I look it over.
Oh I don't know. I guess we will come out on top in spite of your brothers. By the way. I don't want one of them to kiss me after I'm married - or before either. I shall just refuse.
Did intend to write more but haven't a chance its so cold and I wish I was there. Never mind Honey Bunch. I'll soon be there and then ---------------------------------------------- read between the lines.
Your Own
Edna

[Enclosed clippings]
All things come round to him who will but wait. Henry W. Longfellow.
Charm strikes the sight, but merit wins the soul. Alexander Pope
How bitter a thing it is to look into happiness through another man's eyes. Shakespeare

March 7, 1911
My Dearest
A beautiful day today - sunshine and 8 degrees above zero - getting real warm now. If it will only hold this way and not go below zero for awhile - I shall have some hopes of Spring coming. Spring is supposed to begin March 21st but it don't always start on time. Here I was reading in your paper about Rose Day - planting rose slips - and I was thinking about the poor roses being planted here. They wouldn't live over night.
Don't worry over not making me happy. You can do that and not half try. If you are just kind - that's all I ask. Oh but I feel sure you will be more than kind. I have no fear of that. We will be the most loving couple that ever was to ourselves - only not before people. What other people don't know won't hurt them any. Yes - I'd rather be alone to do just as we please without any advice from either family. If you want to smoke in the parlor I will not have anyone say you ought not to smoke in here. If I want to I'll throw over something or shovel dirt all over the floor. I don't care. I don't want anyone there to say Why! That is not right! Oh you can't do this or that! I rather think you and I have already had all the bossing we can stand. I know I have and with all good intentions too - still it jars on me and I want to get away from it all and be my own boss for once. Ditto - you.
Now you understand that I'm not finding fault or that I would do any of these things. I wouldn't - but you understand. We both understand each other. Crazy? Yes we are both crazy and I'm glad of it. I don't want to be sane anymore. I'd rather be crazy than as sane as I have always been - but I'll wait to go clean crazy until I reach you. Then you can just kind of look after me and see that I'm harmless to all outsiders and that I won't bite. Now if this isn't crazy talk what is? Don't be afraid. I'm not half so crazy as I sound and I can be real nice if I try. Yes - I received your letter where you said you danced on the roof after reading my letters. So there are others as crazy as I. Glad I have the company.
Having their annual meeting today - C.M. & H.J. Plummer - talking of giving Grace a couple of dollars more for week. Nothing said about me - but I don't care. Perhaps they will think I left because I didn't get a raise. They can think what they please. I've broken my neck for them for the last time with their old corporation tax and annual meeting. I'm glad it is all over. I shall get through about the middle of May. I have mentioned the fact that my father is thinking of moving away and of course I shall go with them. I'll throw them off the scent if I can. I guess I can now that that "green ink" fellow has stopped writing.
Dear I'm so sorry you didn't get my letters. Please don't get all busted up over it. Just remember I'm here loving you just the same - writing every day and that there is a letter somewhere on the road for you. Oh that I was there to comfort you in person! But dear me what's this you are saying. I kissed and hugged you? Impossible. I wouldn't do such a thing. You must have been a dreaming. You were! Of course - I know - but some day it won't be a dream it will be a real nightmare and Oscar will be hollering blue murder wishing he could wake up and know it was only a dream.
So!! Passe' isn't going down into the cellar? Well - if it must be hung up I request it be turned to the wall. I don't want to look at it.
Well dear I have a lot of your letters to answer - but don't get a chance to read them over at the office. I'll have to answer them later at house and when I get a chance. So if some things remain unanswered it's because I don't dare read your letter at the office where I am writing this between times answering the phone - posting - entering cash - etc. Will write again tonight and with all my subs - love - hugs - all yours mi amas vi. The French for the same thing is J'aimez vous. You know the English. Oh I wish what - I don't know - but I wish just the same. I am not going to cry. I'll be too happy loving you my dear - my own darling Oscar.
Your Own
Edna

March 11, 1911
Sonny Dear
Do you know mother reminded me this morning that there was only ten weeks more until June? Say it gave me a start. I didn't realize it was so near and I'm not half ready. Goodness but I will have to hustle. Oh dear I wish someone would come along and buy out everything I have. What do you think - had I better transfer what I have in the bank to Oregon or wait until I sell? It probably won't be until April or the first part of May anyway. Then if I don't sell I'll be all broke for money and can't come to Oregon - will have to stay here until I can sell. Well I suppose a few months more won't make much difference.
And you are getting your suit ready and I haven't begun on mine yet. I don't know what I shall get or how I shall have it made. I think I shall get white or cream veiling. And say dear - I'll make you a four-in-hand out of the same goods that my dress is made of. Would you like it or isn't it proper to wear a four-in-hands? Should it be a string tie? Well I'll make both and you can suit yourself which you will wear.
You have a pen that is always bothering too. Well - well - I haven't used mine for some time. It got so awful - wouldn't write at all. Just like you. You are getting awful too - but never you mind. Just wait until that Mrs. O. G. gets hold of you. Then perhaps you will behave or someone will get their ears pulled or hair pulled. If you just won't behave why I guess a sub will bring you to order. The idea of you saying we had got over being sweethearts. I didn't notice it - hadn't noticed anything of the sort - only that you were worse. If that is any sign - then I guess you have got over it and have an attack of something worse. Goodness - I'm getting scared I'll get killed first thing before I get a chance to say yes or breathe twice. Well honey dear - I'm not a bit afraid - so go ahead.
Say - does everybody talk the same way to each other as we do? Does everyone who is engaged receive such letters as I do? I don't believe so - do you? I don't know - but you certainly are gone some. Oh don't stop. I don't mean that. Yes dear - it is just what I have always wanted but didn't know it. It must come from you to make any impression on me and now. I'm all gone - clean gone - but still I hold back and I guess I will until after the event.
Didn't get a letter tonight. Looked for one this noon but thought sure I'd get it tonight.
Now I've got to wait over Sunday to Monday. Dear me. You'll have to write two to make up for it. Of course I know there is one on the way - but I want it now. That will be making me wait three days. I suppose I'll get two Monday. Well I suppose I can wait - but I'll be glad when the waiting is all over.
Oh I do hope we shall be always like this all broke up when we don't hear from the other. I don't want to grow tired of each other. I won't and I don't think you will. I want to be different from other people. I want it to always last.

I got me some new waists tonight to wear after I get to Oregon. Will not wear them here. It is somewhat warmer here today - about 25 degrees - quite warm. Hope it soon will be warmer and that people will begin to move to Peaks again. They generally start in April - those that own houses down there.
Dearest hope you are all right. Of course I know you are but I can't help thinking about you all the time. It's always Oscar - always - no one else.

Had a wedding invitation from a friend of mine today - Maud Fisk. She is to be married March 23 to Geo. Jason. I know him too. He works in the bank. Maud's grandfather was our shipper at Plummers for 40 years I believe. Jack Fisk we called him. He died about 5 years ago and Maud always came to see me. She's a nice little girl. Hope she does well. Jason isn't much - I don't think. He's ever so much shorter than she. Maude is taller than I and Jason is about 5'-4" I should think for a given. Oh well - I suppose its all right if they are satisfied. Now I've got to give her something. I don't know what.
Sunday A.M. - Good morning Sweetheart. Just going to church dear and I'll mail this on my way. Wish I could have had a letter - but I'm looking forward to two tomorrow and if I get one I'll be all right. Anyway I'll know you are all right.
Snowing today and cold. Brrrrrrrrrrrrrr - shivering. Is it nice and warm and in Oregon? Wish I as there with my honey bunch. Never mind - I will be in just a few weeks - then happiness and contentment and no more looking for letters.
Your Own
Edna

March 12, 1911
My Dear Oscar
Hail - thunder and lightening this P.M. - a sure sign of Spring - but still so cold.
About that roll top - I can have it shipped direct from Illinois thereby saving a lot of freight - so that is what I shall do. Will let you know when so you can have an eye after it.
Dear me how I did wish for letter today but got to wait until tomorrow noon without. I can get up courage enough to meet the postman in the morning . Have you found a place to suit you yet for acreage?
Well say - I'd look fine sitting on your lap and you feeding me. I guess not! I can eat all right - only I guess you can beat me on oysters. I don't want but one or two at the most. I like the broth. I always push the oysters to one side. I can eat about one raw oyster - not more. I guess 1 pint will be plenty for both of us and you can have them all but one. Well yes you can have that one too if you want it - so long as I can have the stew part of it. Yes - I wish I was with you riding around looking for lots. "Who under the sun is that lady with Mr. Small? I never have seen her before and she's always with him now. Funny. What! His wife? Great Scott - when did he get married. I didn't hear of it."
You say you will stand up and get shot for me. Now see here! I don't want you shot. Would you mind just living for me - be my own dear Oscar - all mine - and I'll be perfectly happy. Nothing else matters so long as I can have you. Now isn't that funny for me to say that when I don't like any of the men at all? I wonder why I like you so much - but you are different to me - someone who love me - cares for me and one I care for and so it's mutual. Just see how the time is going - fast - faster - fastest. I won't be anywhere near ready with things I wanted to make and do. I guess you're right - 1950 would give us a bit more time.
Yes dear you needn't send the Oregonian anymore after this runs out. I like it all right and you are very kind - but I'm afraid its too much for you and just save the money and send me yourself. I know a lot about Portland, Oregon now. You know the paper comes to the office and I have to hunt for it. They don't mind about giving it to me and throw it to one side. If I don't watch out it will get thrown away - nothing but a paper they think.
Now honey - my own - all my love - kisses all yours.
Your Own
Edna

March 13, 1911
Friend O.G.
Gee!! but I bet your sitting up and taking notice of this heading. Well I just wrote it to see how it looked. I used to write that way. What I mean now is - My Own Dear Oscar - how does that suit you? Any better? Yes - sure I want to be your friend - more than friend - so just laugh over this heading and forget it.
Received your 69 and 70 this noon. Got them in the box at the door. Mother said she didn't hear the bell and didn't know they had come. Dear me Oscar you are mixing me up in great shape. First I feel as if I could rely on you and you are going to be perfectly lovely. Then again your 69 and 70 have got me all twisted again. I don't know. I'm getting afraid again and I thought I wasn't. Whatever you can do to straighten me out and I won't let anyone tell me anything. There - never mind - don't say any more. I have promised and I'll keep my promise. I'm getting ready now and I'll let you do all the straightening out after we are married. I won't listen to anyone else. I can't - honest - I can't. Why can't things be different and not so twisting? Please Oscar - don't laugh.
What do you think about this war scare in Mexico? People here are quite worked up over it and lots and lots of our soldiers from our forts - of which we have quite a number - have been ordered to Mexico and have marched through our streets to the Union Station. It has excited the people and everyone thinks there will be war with Japan. If there is going to be war you'd better come here. Of course I'd rather go to Oregon. You see we have eight forts in our harbor and stacks of men.
Am looking for a letter honey this noon. Why its been three days since I heard from you. Oh dear I don't know how I feel. Guess my hands are cold and my feet too. Get that hot water bottle all ready.
Today is clear and pleasant and cold - but the ice is melting some and I see the water beginning to run down the street. Mother is beginning to tell everyone she knows that she thinks of going away for her health. I say nothing of course. If she goes - I go too. That's all there is to that. Oh how I do wish it was all over with. Sometimes I don't know. I can't realize it and I don't suppose I really will until I see you face to face. Then perhaps I may.
They were talking this morning in the office about reading books - asked me if I had read "The Rosary" and its companion piece. I said - no I hadn't. "Oh well" Mr. Bryant says. "Edna don't believe in love anyway. She wouldn't let anyone love her if they wanted to." I don't know? How about that? Do you know?
Oscar my own. Excuse this short letter. I had one all written then tore it up and burned it. I didn't like it after I had written it. Didn't want you to see or read what a silly foolish thing I was - so haven't time to write another. But I still love you my dear - always - forever- never anyone else - only one.
Your Own
Edna

March 14, 1911
My Oscar
Real nice day today - getting along towards spring. The ice is melting and I guess the sleighing is gone for the year. Some are on runners and some on wheels.
Glad I needn't answer your letters. I mean parts of them. I wouldn't know how. I'd make an awful bungling job of it - so I'll say nothing - only that four rooms is plenty large enough for us thank you.
Hilda's tonight. We are working for a fair to be given after Easter and during Lent. We don't have any lunches - just a glass of water and a toothpick.
By the way I am going to send you a prayer book with the marriage service marked. You asked to be put wise and what to say. This gives you the whole information you want. This is an Episcopal prayer book - same as we use in our church - same as I use to sing and chant out of Sundays.
Yes that's so. I would no more dare or think of calling you by your first name when I first wrote. Oh no! It was Mr. Small or Friend C.C.C. or O.G. and goodness I had an awful time with that first "Dear Friend." I felt forward and wondered whatever you'd think of me. If you had let me alone and not said anymore - I should have dropped back to Friend O.G. and eventually dropped out of sight and stopped writing. But Friend O.G. didn't stop and Dear Friend - My Dear Friend - Dear Oscar - My Dear Oscar - Oscar Dear - My Dear - My Own Dear Oscar - Dearest Mine. It's getting stronger and stronger until I'm at a loss how to get it sweet enough. I can't think of anything sweeter to say without I can give you a real sub with both arms around your neck. Would you like that? It's yours for the asking - that's all. I mean when we are married - not before. I might want to - but I'd be afraid to.
Honey Dearest - I haven't time to write any more - but will try and write you a nice long letter tomorrow. Your Edna loves you dearly. All yours only. Subs - XXX.
Edna

March 15, 1911
Dearest
#71 at hand. Funny how I do look for your letters every day and sometimes get two at once. Mother says "Is that all Oscar has to do - to write to you?" She had rather expected you to stop writing so much long before this. She did not believe you would hold out so long and hopes you will always be as attentive as you are now. She does not think that the young men of today are like my father for instance.
Mother wonders if you will like me and if I will like you. I told her I didn't care how homely you were. I didn't like a nice-looking man anyway. If you were good - that's all that counted with me and I knew and felt you were good and would be kind to me. I was satisfied and that settled it. I was the one who had to live with you - no one else had to - and there you are.
Oh yes dear - I want to be in our own house and looking forward to you coming home from work and just be comfy at last. Oscar all mine - I shall be so glad - never expected to have anyone who really cared for me and never expected to care for anyone enough to marry them and give up everything.
Say that was a good deal to get a corner lot. Why isn't it all right for us? What do you say - don't you like Rose City? I'll like anywhere if you are there too. I don't mind. I think it would be all right. After I come we can look around if we don't happen to like it and sell if you want to - but I think I should like to live at Rose City Park. Sounds pretty and would save you a lot of money and time looking further. Never mind my folks. They can find a place - an acre - after they come. Perhaps we can have some chickens on their place if there is room enough or we could by half of what they got to plant etc. They will get a rent at first and let us look out for ourselves.
How large is this new corner lot? So glad it's a corner one. It will give us lots of light. I expect by April to send you at least five hundred. Oh I can send it all now - but I'd rather not take it out of the bank as that will break me. If I can't sell by April I will send it anyway. Then I will wait until I sell before coming to Oregon so I have money enough to buy my ticket. Now tell me what you think I had better do? I'd like to get the house started anyway before I come. If I have to I will walk from Maine to Oregon. Come on! The walking's fine.
Company came in and kept me up late. I was going to write a nice long letter. Will try again tonight honey - my dear.
Only Yours Forever
Edna

March 17, 1911
Dearest
Oh go on. Violet - blue - lilac - lavender - heliotrope - purple - sure it wasn't red? You know blue and red mixed make all shades of purple - lavender - etc. With a little white added - or if you are color blind I'll bet it was green cause lots of people can't tell the difference between green and blue. How was it anyway? Sure it was me? Bet you didn't know whether it was me or some other microbe of a violet tinge.
Too bad to make fun of you - but you make fun of me and I've got to keep even some how. There's that fat woman for instance. Oh there are a lot of things too numerous to mention all gathering interest at 100% compound.
A nice day today - but cold. Dreadful out yesterday - wind howling and snow blizzarding in great shape. Never knew Spring was anywhere near. Today the snow is replaced and people are back on runners again. It won't last if it will come off warm a bit.
Mr. Steele has just returned from a trip to Boston and I found six more elephants on my desk. Of course no one knows where they came from - but I claim all the elephants in sight. So six more and added to my collection and I guess I have 50 or more now. What are you going to do with them? Better build a stable to keep them in. I have them all up on top of my piano - but when that gets full - I've got to get another piano for the rest of them...
You could tease worse could you? Goodness Gracious - don't try to. I have so much to get even for now that it will take me all the rest of my life to even up. Don't fret - I can and I'm looking around now to see what I can find.
I told mother what you said about hardwood floors and she said you were just right not to have them - less work. She had scrubbed hardwood floors at her home before she was married and hoped I never would have to. So dear have just what you like and I shall like it to. I only ask about it because we had them at the Island. They looked pretty and only have to be wiped up like oil cloth - but I don't really care. Don't let me change your plans. They are all right. Yes - I think we think alike and have about the same tastes in nearly everything.
Intended to write a nice long letter but was so sleepy last night I just couldn't keep my eyes open after coming home from church. Now this A.M. I have just a few minutes - or rather I'm taking them before starting for the office cause I want to mail this on the way. Can't let a day go buy without a word to my sweetheart Oscar.
A big snow storm this morning again. Don't know where the Spring is - a regular blizzard. Dear me will it ever be warm again?
Dearest will write again tonight and try and answer some of your questions.
Yours Alone
Edna

[Enclosed clippings]
"They seem to take away the sun from the world who withdraw friendship from life; for we have received nothing better from the immortal gods, nothing more delightful." Cicero
Maud - So you were alarmed when Jack kissed you. I suppose you screamed. Ethel - No; It was a still alarm. Boston Transcript
April 1911

April 6, 1911
Oscar Dear
Your note just received. I'm glad there is to be no war and I think - as you do - that a house is better than a rent of course. This P.M. I shall go down and see about sending you $800 - maybe a little more - whatever the interest amounts to. Don't worry about me - use it all. I have enough to last me until I sell and to even buy my ticket even if I don't sell.
Today is a pretty nice day cool but pleasant. If we could only have some warm days so people would begin to think of the Island. I may not be in Oregon exactly on June 1st - but I hope to be some time during the first week of June.
How far out is Woodstock and is it near the cars for you and can you keep chickens? Yes don't I wish I was there to see it all with you - but never mind honey I will be soon and then . . .
Oh yes. I guess nearly everything is ready but my dress. Of course there will be lots of things I will have to get there I suppose. I don't expect I shall remember everything. I don't want to get everything here either. I want the pleasure of buying some things as Mrs. O.G. not Miss G. Am beginning to pack away my things. Going to get some large boxes and put things away as I get them finished or run across things. Just won't it be comfy? I can hardly wait now. I want to come today but - there - it won't be long anyway.
Mother said today "Well suppose we don't sell on time? What are we going to do? I hate to have you go on alone - but I suppose Oscar won't wait any longer than June." I said "Well if we don't sell I will have to go alone. Oscar will meet me someways out from Oregon and I shall be all right."
You see it rather surprised me to hear her say I would have to go alone because at first she wouldn't listen to it. You see she's coming around all right isn't she dear? Well honey boy. Will write again tonight and let this go now. With all my love - hugs - subs - all yours - Oscar mine.

Your Own
Edna

April 16, 1911
Oscar Dear
Just returned from church and everything went off fine. The singing and the vested chorus all did well and I was more than pleased with it all. The church was crowded and the flowers were lovely. I'm glad it's over now. This P.M. I go over to church at 3:30 for Florence's baby and tonight at 7:30 another service and Easter Sunday will be finished.
I haven't much color in my face - so much so that Mrs. Shepherd asked me if I was sick this morning. I wasn't. I felt all right. I never have very much color - only when I used to meet the postman - that's all.
Oh now see here! It is my duty to furnish the house and then - without me saying anything - Mother told me to tell you not to buy any furniture. So that is all there is to it. The house itself is ours - yours and mine. What I have is yours and what you a have is mine. We are equal and I'll have you understand you are no imbecile. Oh Oscar whatever made you say that? I shall make you take that back every word if it - not now - but later when I have the right to. Yes that's it - you fell asleep and wrote that in your sleep. I knew there was some explanation if it somewhere. Well you'd waked up sooner than that had I been near enough. I'd have tipped you over - made you beg for mercy and would not let up until you promised not to talk so anymore.
Oh you are even all right. Just you wait. I don't ask Florence anything - not so you'd notice it. That's a job for you to see to. I don't want to get stage fright until I have to. No I should not want you to leave me like Will Looke does Florence. I'd go too. I wouldn't stay home for home would be where you were.
Thank you dear - but I do not anticipate any trouble with your folks. I am prepared to love them all and I'm sure you will have no trouble with my folks for they are prepared to love you too. Am looking forward to the snaps you said you would send.
Gee! I'm glad you can cook. You must give me lessons in cooking. I haven't got my hand in very good. No - I never eat any more for breakfast. I never used to eat the egg - only lately. Just the toast and tea. That's all I care for in the morning. To eat any more makes me sick for all day - but I can eat a good dinner and a better supper.
Call your letters tame? Well I don't know. I've read some love stories and love letters and they don't begin to come up to a few I know of and could easily reach. What do you think? I never read any - only what was in print - never any real ones until I received a few myself.
Oh very well - you can tell me what I said between the lines when you get the 18" - only you have the 18" already and don't know it. Woke up yet or have I got to tell you? Ain't you slow though? Better sit up and take notice.
All right dear. I have made up my mind that our love shall last the same at the end as at the beginning and grow stronger every day. Yes - how well you know me. I would rather not have love and loose it. If I can't keep it I should wish not to have it at all. Oh - but Oscar - we want and love each other. I do not feel afraid of losing your love and you need not be afraid of losing mine. No I am not fighting you now. I have given completely in am only waiting for the time when I can come to you to be your wife and live happy ever after. That's the way stories end up and so shall our story. Us. We. Ours. Oscar and Edna. All my love subs, hugs and kisses.
All Yours
Edna

April 18, 1911
Oscar Dear
A telegram first thing this morning. I was afraid at first something had happened to you. I could hardly open it. When I read what it said I was relieved and I had to laugh in spite of it all. Mother was as anxious as I was and stood around waiting for me to say what was the trouble. Then I handed it over to her to read. She said, "Well that boy is clean crazy." I said, "He is all right." They think it a good joke on me.
Now dear - I did not mean to scare you and didn't think about you getting frightened and telegraphing. I'm sorry - but honey I'm all right and don't you worry over me. My finger is all well or nearly so. I did have quite a time with it for two nights - kept me awake paining - but as soon as I got the splinter out it very soon got better. My blood is pretty good - heals up quickly.
Don't you worry - but dear it touched me to have you so thoughtful and anxious for me. I could have cried but laughed instead. You dear darling boy to love me so much as that. Oh but I have some things to pay you back for and mother said, "Well I hope he will always think as much of you as he does now. I'll bet he won't allow you to look at another man." I answered and said I hoped you wouldn't as I didn't want to look at any other man.
Somebody's birthday today and I didn't send you a thing but a birthday card. Never mind honey I have something for you but I didn't send it. I'll give it to you myself personally. Want to know what it is? Well it is a dozen hose - ½ slate color and ½ dozen tan. Mother said not to send them - not to give you any clothes because it was bad luck. I am not superstitious but mother is awfully so. So my Oscar got cheated out of his birthday gift. Well dearest - you can have me for your Birthday, Christmas, or New Years present all in one. All yours.
I don't see but I'll have to hurry up and come to you so you won't be all twisted up sending telegrams to find out how I am. Let me see. Seems to me I heard of a little boy about your size (12") saying he wasn't going to send any more telegrams and here you are at the first chance sending again. Oh but you are forgiven. I love you dear.
Well Dearest - here is your letter 106 just received. Am glad you received my Special delivery all right. I have been waiting to hear from that. Now dear don't you think anything about it at all. It's all yours to do with as you please and think best and no questions will be asked about it at all - not one. I trust you fully and know you are fully capable to look after our affairs without anyone's help or suggestion. You needn't save any of it. I have another two hundred - about two hundred and fifty odd - plenty enough for all my wants and to pay my fare besides. Then if I can only sell - why we will be all right - but it will need a little warm weather to sell something. We haven't had any yet but I am in hopes by next month - May- we will have no trouble selling the whole thing and getting out.
If you won't have a job unpacking the trash I have packed away! Everything you can think of from a penny whistle up and an elephant down. Everything I have ever owned or had been given to me for ages.
Dear me I wish you wouldn't talk so about yourself. You are all right. I am satisfied. I don't want money. I want love - your love - no one else's will do. Do not think about that draft only as ours - not mine. Please dear. In have all faith in you - full trust. I know dear you do feel bad over it - but please don't. Just say ours because it is for us both. You'd have to take that with me anyway - even after we were married. So what's the difference of getting our house now instead of afterwards? Don't dear. Don't please don't feel bad. Come give me a kiss and call it square and be my own dear Oscar once more. It hurts me to have you sad. If I were only near enough to comfort you now so I could tell you not to mind - not to care - not to worry. All I want is you. Just you alone.
Say that Woodstock lot is all right isn't it? I know I shall like it and sure - of course - sell it if you get a good chance and can make a profit. Do anything you please. I shall think it all right and just what I should have done if I had been there. Glad we can have a garden and chickens.
Now dear - go ahead and tease and jolly all you want to - please don't be sad anymore. I wish I could put my arms around your neck and have your kisses and hugs. Oh I know we are going to be so happy! We just can't help being happy and comfy.
Your very own
Edna
May 1911

May 9, 1911
Oscar Dear
Yes dear. I was blue when I wrote that letter. Everything seemed to go wrong. Oh how I wished I could fly to you where I knew everything would be straightened out and rough places made smooth. Sometimes Mother is cranky or sick and it seems as if nothing I do is right. She's pretty good in general - only she says I make a mess around. She don't want me to do any cooking and I'd like to do a little to get my hand in - but never mind. I can follow the cook book or you can show me. I'm almost afraid to try - but with your help I'll tackle anything. I guess we can manage somehow. Anyway I don't ask anyone for help. What you and I don't know we will find out ourselves without any outside assistance. Thank you.
Was at the Hilda's last night. We had ice cream and cake - real good. Don't you wish you had some?
Well I guess not! No one knows how you talk or write. No one sees my letters and I keep them locked up. Great Scott! What would anyone say if they could read a few? Wouldn't it be awful for me? I'd never hear the last of it - I'd elope to Oregon at once to get away from them. No thank you. You needn't leave any of your letters around for your office girls to read. I can tend to all the reading myself and it wouldn't bring me any quicker - only keep me away.
Yes dear - you have a knack of drawing me out of myself like I never thought anyone could do. I thought I was hid for good and here I am all out of myself looking for you. I'm half afraid - but still wanting you to take me - not content until you do - but ready to crawl back into myself at the first sign that you don't want me. But dear you haven't given me that chance yet. I do want it. I want to come to you be your wife without any high board fence. Just free to love you as I wish and you to love me as you wish. Now isn't that just the way? Here you can dream of me and I can't even have a nightmare.
Never mind dear - we probably can find something for a bungalow later on. I suppose things will come out all right somehow when they get good and ready - but dear isn't it an awful long time waiting? Seems as if it is harder to wait now than it was two or three months ago. I don't mind a rent at first and all the time if it is necessary. Anything - I don't care what it - so long as I have you my Oscar - all mine.
Oh - I knew you'd be all right dear. Thank you ever and ever so much. I don't care what anyone says now. They can talk all they please - it won't affect me in the least so long as I know my Oscar thinks I'm all right. I don't care for anyone. No dear - I never shall have any secrets from you. You shall know everything. I want someone to tell things to. Something I never could do until you.
Right here I want to tell you one thing before I forget it or don't have a chance to tell you and you get crazy and I get crazy too. We may be in quarantine and not allowed out of the house. It's this way - Mrs. Wallace's father works out to the Life Saving Station at Cape Elizabeth and they telephoned in today that he had been sick for ten days with a very bad sore throat and they were going to bring him in to his daughter's tomorrow and have the doctor. Now if the doctor decides he has the Diphtheria - why - we will all be shut up for five or six weeks and I will not be allowed to write you - although I can receive letters. Dear me. I hope the man will be all right - but I just write this to let you know that - should you not hear from me - that is the cause and I still love you with all my heart. Now dear don't telegraph. I shall be all right.
Ain't you the limit with your high board fence! I shan't wait until the second night to make kindling wood of it. I'll do that before we start in at all. On second thought perhaps it would be a wise plan as you suggest to make you behave. Be sure and have my side blue - light blue. I like that best.
Smarty - you've lost your two dollars. Let's see how much does that make you owe me?
I must keep account and make you anti up with a sub for every cent you lose. How am I going to get any hugs with that fence in the way - or subs - either? No I'm not naturally cold or indifferent. I only appear so to outsiders. In shan't be so with you - for haven't you a right and haven't I a right to love just as I wish? You will be my husband and to use your own words "The rest of the world can go hang." If I have you it's all I want - someone I can love and do love and one who loves me. It's too good to be true and I have a hard job to realize that it is so and not a dream.
Dear me - and the little boy hasn't found out that 18" yet? Oh yes - I guess you have now - but 127 didn't know. Oh you anyway. Couldn't give you the dimensions of the thigh as I haven't a piece of ribbon large enough! Honey you must have something to find out for yourself. You don't want me to tell you all.
Well! What do you know about this. You will dress or undress me as you please? Now dear I don't need a ladies maid at all. I can get along very nicely without one. So I will excuse you from that duty or talk and you can tend to dressing yourself. Thank you. I guess Miss Griffin don't dictate very much what Edna G. writes now.
You say you "could tell me a few things I don't dream you know." Well for the lands sakes! I don't think I've said anything to you that you could know much except that 18" - that's all that I can think of - but I don't care. You'll know it all very soon now as you can find out for yourself - if you have a chance for that fence.
How nearly done is that fence anyway? Better make it good and strong and braced so it won't fall over. Seeing as there is a barrier between us you can't have any subs or hugs or wools or anything. So sorry for you of course. I don't mind myself. It was you I was thinking of - but of course that fence is all right and will meet the approval of both of our families no doubt. You might get a patent on fences to be sold at a great profit. Had you thought of that?
Oh but dearest - there won't be any fence or barrier between us. I shall want to feel your arms and kisses the first - second - and every night or day. I want my Oscar close to me always. He and he only. I love you so dear one. I could go to you now and not wait to get ready - not think of any present or future - just you my boy.
Your Edna

May 25, 1911
My Dear Oscar
Just received 143 - but I'll answer that later. Yes dear. Let us settle it that you are coming June 5th or 7th as you say. My last letter to you will be dated May 30 and I will mark it the last letter to be written until I see you so that you will know there will be no more. Won't your postman and my postman be disappointed. They will be sure we've had a falling out won't they?
Say where are we to live? What is the number and street or isn't it numbered yet? Where will mail reach us after we have arrived in Oregon? Ain't we going to have just the best time ever traveling around? Say it's all like a fairy's dream.
Now I'm sure I don't now wherein you do not equal to me. Money is not to be thought of for an instant. That amounts to nothing and anyone can't help accidents. You are all right and show me the one that says you are not. Now you keep still - same here. You are all to my liking and I'm all to your liking. So we are even - shake - no I mean sub.
Gee didn't I send any subs in my letter. I didn't intend leaving any out but you know they all belong to you anyway - so just help yourself. I wonder now if I will be so apt to say that when you are here. You know 3,500 miles has made quite a difference to me and my talking cause I knew you couldn't get at me to help yourself. I don't know. I'm beginning to get scared.
Oh but I'll meet you at the train all right. You come by way of the Boston and Maine don't you - not by the Grand Trunk? They have different stations. Oh yes. I know it's the Union Station not the Grand Trunk Station. Now you suit yourself about what you shall wear. Don't mind that hat. I only sent it for fun just to let you see what some folks dress in. Your black suit is my choice for a wedding and as for your other suits - you just wear anything you please. I tried to get you a necktie - something like my dress - but I couldn't so bought you a white silk tubular tie - four-in-hand. You needn't wear it if you'd rather have a string tie. I didn't make any.
Yes indeed. I do realize that June is not twelve days off. Only twelve days before you start for Maine. My goodness gracious! Gee - had I better run off and hide or what shall I do? I think your moon that you couldn't get over has struck me. I'm moon-struck or something. You hadn't any pipe and went around hunting for it and then found you had it in your mouth all the time? I'm just as bad - if not worse. I can't remember a thing. Liable to take two pieces of bread when I already have one, etc. Either way don't make any difference because I'm clean gone. Wonder I can even write to you.
I shall like to see all of the United States. I can see Washington D.C. - Niagra Falls - anything or nothing as you please. It will all please. You may wire me from Boston when you will arrive. That will be sufficient. Just wouldn't I like to meet you in Chicago or even Boston - but no - I can't. You will have to come a long way to Portland, Maine. What an awfully long trip just for me! Wonder if I'm worth it all or not?
Well. Well. Here you are again getting all twisted up. Those "Peek-a-boos" as you call them are shirt waists - what I meant was under shirts. There now you got it. That is the kind you can get for 10 cents at the 5 & 10 cents store. I never had any from there - but I have seen them.
Yes mother is beginning to be real nice to me now wondering what she is going to do when I am gone. I guess they will both follow as soon as possible. Mother thinks you are the most sensible talking fellow she has heard for some time. I have read her the parts of your letters about the bungalows for instance - but what would she think of the other parts? Not quite so sensible I'm afraid - but don't you worry. No one has seen or heard about that part of it.
Mother wants us married in church - private of course - doors locked. I'll see to that. The only ones I want there will be Mr. and Mrs. Shepherd of course. Father and Mother. Florence Looke and Bertha Gee. My Aunt Maggie Mathews and her daughter. That's all without I ask all the Hilda's. I don't know. No one knows anything yet and they won't until you come and we can talk it over. We may not have anyone at all.
I haven't noticed anything that you have not responded to. Can't remember any neglected parts and I do not feel the least disappointed. Oh you have got another imagination in your brain. Throw it out get rid of it. It isn't good for either of us and we both got imaginations and we will both throw them away won't we dear? We are just going to be all right to each other - that's all we care about. So get out with your imagination. The idea of you anyway - no good - get out. I won't listen. No - can't hear a word you say.
Yes - I think it's going to rain - looks like it anyway. "Mess of house keeping?" Sure. That's just it and worse and more if it - but I don't care. Something burning right now - what is it? Oh - I forgot I had some bread in the oven and it's all burned up. Well we don't like bread anyway do we? We'll eat cake.
Guess I'll have to close now honey bunch. Mrs. Shepherd just telephoned me to come over at 4:30 for a rehearsal. We are to have a musical evening next Sunday and I am drilling the kids individually and collectively. So will one sub be enough? Quick now. All right. I'm off.
Your Own,
Edna
All my love, all my subs and hugs, all everything.