My Yesterdays
An Autobiography

By Edith Bradley "Dollie" Neafus Simer
(a.k.a. "Kid," Aunt Dollie, and Grandma Simer)

Transcribed by granddaughter, Sharon Simer Isbell, from a handwritten manuscript written in 1978. Grandma was 91 years old when she wrote this. I have added a few names or words for clarity. Please click photos to enlarge.


The first part of the following history or records, if you can call it such, was told to me by my mother, (Cornelia Woods Neafus) when I was a girl growing up on my parents' farm in Montana. Although father time is stepping on my heels, I still have better hind sight than I do of the present. I like to remember what my ancestors were like and I want my son and his wife and my grandchildren and their children to know where my people come from and what they were like. In that way I can write about myself without any confusion.
I am sorry I cannot say there were great heroes and presidents and such. The nearest to it I had an uncle that was a Montana State Legislator for two terms. It is quite essential I take you back a few generations to my grandfather. He was about equal Scotch and Irish descent — maybe a little more Scotch. His name was Patrick Woods. Although Woods was the name he was born under, it really was not his name. According to my mother's story, it seemed my grandfather's own father fled Scotland to keep from being drafted in those never ending Scottish wars. They come to the United States and accumulated land and slaves and changed their name from Stewart to Woods. Eventually they made themselves quite well-to-do financially. Then when my grandfather inherited, he had had the good things in life.
At that time I don't think my mother said her father had slaves but they had black people working for them both in the house and farming the land. At the beginning of the Civil War my great-grandfather begun to sell off his estate, although he suffered a great loss, he still was a man of means. At the ending of the war, he and a close friend by the name of Bullard, decided to come west. They organized a wagon train and their destination was Helena, Montana.
They departed from or near St. Joseph, Missouri sometime in May and arrived in Helena sometime in September. Their crossing was very uneventful. No Indians, no bad men. My grandfather Patrick's family consisted of eight children, his wife Eliza (Terrill), and a black woman nurse. My grandmother had died some months before. My mother (Cornelia) was the oldest child, somewhere around 21 years old at that time and she and my father (William) had just been married. Mr. Bullard had a wife and mother and I never heard the number of their children. On their arrival at Helena, which wasn't't a very large city at the time, but it was the largest in the west. Mr. Bullard, being a lawyer, settled in Helena.
My grandfather was a farmer and he looked for land. For some reason my father and mother did not settle there. They went to a mining camp called Virginia City. There was plenty of work but no law. Everything was killing and robbery until the vigilantes took over and they were the judge and jury with a rope and a tree limb verdict. Those under suspicion got a number marked on their door "777" and that meant 'Get out of town, NOW!!!'
The snow was so deep the freight teams could not get through for weeks at a time to bring food. My mother said flour was $18.00 for a small sack so they rationed themselves to one biscuit a meal. Sometime after that my parents left there and homesteaded land over in the Prickly-Pear Valley out from Helena near a little settlement called Townsend. My father got himself some cattle and also a good size family. All my brothers and sisters were born here except myself.
But meanwhile back on the ranch, my grandpa had got romantic and married. He married Mr. Bullard's mother. All his children were furious, especially my mother. She snapped her eyes and sneered whenever she talked about it. She called her father's wife "the Old Lady" and she only married him for the money part and how right she was. Poor grandpa should have looked before he leaped. She would not live on the farm. She had to live in town and in style. So he had to keep two establishments. So little by little over the years she got everything he had but he never give up. He divided with her until he died. I will tell more about him later.
My Parents

This part is about my father. His name was William Harrison Neafus and was always called by his middle name. He was born in Kentucky and was left an orphan at the age of four. He was passed around from one foster home to another and never went to school a day in his life. It was only the well-to-do that educated their children then. I never asked my mother how he come to be in Missouri or about their romance or marriage, it always seemed to embarrass her.
My father was a good six feet tall and weighed around 175-80 lbs. but he always seemed slim to me. He always walked so straight with his head up. He had light hair and eyes as blue as the June sky. He was always good natured, tolerant, and honest. Notwithstanding the fact he did not have an education, you could never tell it by his talk. He could converse on most any subject and he could thank my mother for that part. He could add up figures in his head quicker than I could write with a pencil and paper.
I cannot remember of him ever laying a hand on us children, even my big brothers never talked back. I guess I was the only one that ever done that—me being the youngest and a spoilt brat. But maybe he would speak to my mother about it and believe me she would deliver me a lecture that would curl my hair. Once I remember my brothers and sisters went fishing and I insisted on going too but they said no. But I did not listen and took out after them and my father took out after me, all the while I was crying and screaming and my father took his knife out of his pocket and cut a good size pine tree and trimmed the limbs up aways and then hit the ground real hard each side of me. Believe me I took out for home!
He loved to go to circus's and baseball games, especially a circus. He always seen to it that all of us got to go too. There never was very much money but he always shot the works, side shows and all. He would go to a ball game and just walk around—never waved his hands or went crazy like the rest of us did.
On the farm there is always so much to do and he worked so hard with no modern conveniences. I remember him working so hard in the winter cutting wood especially as there was two stoves to burn it in. He used to come in for a rest and sit beside the cook stove and smoke his pipe. When I was a little girl I'd climb in his lap and find splinters in his hands and I would get a needle and "operate." Sometimes there would sore places and I'd rub on salve. After my brothers growed up and left home, the burden all fell on him. My sister Laura and I used to help some, but most of farm work girls cannot do. But he managed to keep things together and out of debt. He lived to be eighty-four years old.
I was living in Metaline, Washington, at the time. They told me he was coming through the back gate with a pail of eggs in his hand and he sit the eggs down and sank down beside them and was gone. So many, many people came to his funeral, the house was full and they were standing in the yard. My mother had the services at the house.
Now I will tell you about my mother. My son should remember her a little as he was about 10 years old when she died. He seldom got to see her as we lived so far apart. Not really so far but a mountain separated us and the roads were not very good. Her name was Cornelia Woods Neafus. Born in Missouri and educated in a girls' seminary in St. Joseph, she married my father just before they started their trip west. She was a small woman—a little on the plump side. She had dark hair and eyes and naturally rosy cheeks. She was a pretty woman, something none of her daughters inherited, especially me. Even after nine children and all that hard work, she did very well for herself when she got older.

Her tongue was a bit sharp at times when the occasion called for it but on the other hand she was kind and generous and fed all the tramps that came along the railroad track and always working for us. She was the one that dished out the punishment and kept the peace and order. When things got too much for her, she would step to the pantry door and reach up on the cupboard shelf and get a little wooden paddle she kept handy. It was very surprising how quick things quieted down. I felt that paddle a few times and it really stung when there was nothing between it and my flour sack panties. They were not called panties in those days. They were referred to as "drawers" and that word we just whispered it as we were taught not to talk about our underwear.
I felt sorry for my mother when she told about having to adjust to a new life when she come west after having servants to do her work for her. She couldn't cook or house-keep and having so many children and no conveniences. There was one thing she never would do and that was raise a garden. After all us girls left home she used to plant a few flowers. After my father died my oldest brother came home and stayed with her as he had never married. She was a very religious woman and in the late years of her life she joined the Christian Science Church and I really believed it did her good. She lived to be 94 years old. Her death was broadcast over the Missoula radio station and the newspapers wrote of her death as the passing of one of the last pioneer women. That has been forty years ago.
About Me
I have told you about my grandparents and my parents. Now I will tell you all about me and it's a very dull subject! I feel so useless and inadequate compared to my mother with her nine children and after she got them out from under foot she raised chickens and turkeys. That is not for me.
According to what my sister Mabel told me, I was born on the night of January 8th (1887). It was far below zero and a prairie wind was whistling around the corners of the house. The doctor had been sent for but did not get there in time. (That's me always hurrying things along!) A way back then women was very capable of helping in such situations. But I got there OK. The doctor (Dr. Bradley) arrived the next day when he wasn't needed but my mother gave me my middle name after him. It was the custom in those days to name the children after some relative, but my mother run out of kin when she named me so I got a brand new name all my own, "Edith." My family never called me that, it was always "Kid" or Dollie. The year I was born, my oldest sister, Dixie, died. She was already married and lived away from home. That was one sister I never saw.
I have heard folks say one cannot remember further back than four or five years of age, I can prove different from that. I can remember back when I was three or a little before. I described certain things to the folks and they said it was true. Our kitchen door was painted green and there were little pink flowers behind the house, and I ran to meet my sister Nellie coming home from school, also the hill behind the house.
My sister Laura and the twins Mabel and Richard would climb the hill to pick flowers and, of course, I would tag along. They did not want me but I went anyway. Every so often we would all stop and listen and we listened good. If we hear a bull bellowing, we drop our flowers and beat for the house. The others would grab me and half drag me down. They could always tell a range bull bellowing a long distance away. Everything was open range—no fences except around the big cattle corrals and around the garden down by the creek. Those wild bulls were dangerous.
They never come around the house but hung around the corrals where the milk cows were. My father had a way of getting rid of them. He was an expert shot and would get his hunting rifle and take a rest on a corner log of the milk house and shoot and hit their horns. All range cattle had horns as it was their means of survival. When a bullet hits or goes through their horns it sure shapes them up and they take off and don't come back. Sometimes he would have to break up the bull fights that way. But there was one exception. There was an old bull the folks called "Old Elk." He kept coming back and got so troublesome, my father had to shoot one of horns clear off. Now that is enough "Bull" for a while. Let's go back to the kids on the hill.
Our House
It was a beautiful view up there. I remember the meadow down by the creek all covered with yellow blossoms and you could look down on the roofs of our home. It was just a plain log house. No better or no worse than any of the other prairie homes. Just two large log cabins with a breeze way in between. Lumber was not so plentiful in those days and a large log house was warm in the winter and cool in the summer. I can remember pretty much how each room was furnished.
The kitchen had a big black cook stove in one corner and opposite the stove was a long dining table. Then we called them "eating tables" with bunches of chairs and back in the far corner was a big bed where my parents slept. In between the table and the bed was a door that led into what they called the "girls" room where my sisters slept and where my mother kept her nice things. It was kind of a sitting room where my folks entertained their company. The bed was excusable because everyone had beds all over the house. It was always made up real fancy, white spread and pillow shams. Underneath the bed was a trundle bed. In case you don't know what a trundle bed is, I will explain. It is a little bed with rollers on it and rolls under the big bed. It will sleep two small children and no one knows it is there.
There was a "what not" in one corner. It is a stack of shelves and it had vases of dried grasses on it and some china ornaments. Then there was the stand table with a green cover and on the table was the family album. There was also a white box that held the stereopticon viewer and a stack of pictures. There was hooked rugs on the floor and one of the rocking chairs that come across the plains with them and then something else behind that bed that was hid from view. My father called it a "thunder mug." My mother called it a "night glass" and us children called it the "chamber pot." Well, call it what you may, it sure come in handy on a cold winter night when the prairie wind was blowing -40 degrees below zero.
The other cabin across the breezeway was the boys' room but it answered two purposes. It was what we called a family room these days. There was a big heating stove and two beds but the front was all clear and the folks used to gather there and dance. The neighbors would come with a fiddle and a mouth harp and sometimes stay 'til morning. I recall how one of the neighbor men lifted me up and stood me on the floor and taught me how to waltz and I mean really waltz and I never forgot. I been dancing ever since. I also remember the Indian things my brother Bud had on the wall. A buckskin quiver filled with Indian arrows and some buffalo horns. Also some buffalo robes spread on an old chest.
The Bitterroot Valley
The summer I was between four and five years of age my folks moved again. I don't know why they moved but I think it was on account of the cattle. My father and brother Bud went over in the western part of the state in Ravalli county and found land that suited them but as there was no house on it they rented a small farm and as it was spring of that year they put in a crop and then my father come back and moved us to the Bitterroot Valley. It was a beautiful valley with a little town all around us.
I remember a few things about the move. The twins each rode a horse and helped drive a cow that was tied on to the end of the wagon. I sat with my parents up on the wagon seat and my sister sat back with the household goods. I guess maybe we looked like the people did in the "Grapes of Wrath" only they had a car; we had a wagon and team. The team was a big Bay horse and a big white mule. The place my father had rented had an old house but a nice big fireplace which we enjoyed as it was new to us. Someone give me two black and white kittens and I made a bed for them on the lounge and someone showed me how to make a doll out of a large ear of corn. I wore out several ears.
Disaster overtook me that fall. I come down with dysentery and it was touch and go for awhile. The doctor come every day for a while. He had to drive about seven miles from a town called Victor. I can remember him with his horse and buggy. He kind of put me in mind of old Doc Adams on "Gun Smoke," the TV series. I don't remember of being sick but I remember getting well as I had to learn to walk again. My brother Bud brought me some peaches from town and they smelt so good I did not want to eat them.
The folks built a two-story house over on the new land. The house already there was built of logs. The Northern Pacific Railroad tracks ran real close to the house. That was a novelty for us children as we had never seen a train before. There was four trains a day, two passenger and two freight. If my sister Laura and I was out in the yard playing, the engineer and the fireman on the freight used to wave at us. And it got so whenever we heard the freight coming we would drop everthing and run and wave. It was not long until they were throwing us off the daily morning paper from Missoula. Once in a great while there would be a little bag of candy tied to the paper. Store candy was a treat for us as we always made our candy. This went on for a number of years. I can picture two little girls standing beside the railroad track.
We were not anything alike as sisters. Laura was on the skinny side with dark hair and me, well I had blonde hair and freckles and was on the plump side, the wind blowing our hair about and our black stockings drooping over our shoe tops. Our dresses were not too clean after playing in the ditch all day making mud pies. (Yes, I made pies then, too.)

There was another nice thing about our home. It was the neighbors that lived up across the road from us. Their names was Christy and they had girls for my sisters and boys for my brothers. There were three small boys left over for my sister Laura and I. Their names were Frank, Alex, and Tommie and through all the years we lived there we were great friends. We roamed the woods and picked choke cherries and they showed us how to put pins and nails on the rail of the train track so the cars run over them and they would make the most weird things. And in awhile we went to school together. We would cut through my father's cow pasture and climb through a hole in the fence onto the main wagon road. After sister Laura and Frank quit school, Alex, Tommie, and I went on. Sometimes they played hooky but I never told on them.
The second year after moving into the new home, my father built a boat. We lived real close to the Bitter Root River. The boat was never put in the river as it was just too swift. There was a fresh water slough or bay that come from the river and that is where we had such a good time with the boat. After supper on summer evenings when the chores were done, everyone went to the boat to ride and visit and talk. The mosquitoes were awful bad at times but we would build a fire and make smoke and ever one of us come home smelling like "Setting Bull." Even the neighbors on the other farms would gather there on Sundays and ride in the boat. Tommie and I either throwed rocks or waded. He and I had one thing in common; neither of us could talk plain. We did not lisp or stutter. We understood one another. One day one of his brothers found him with some old boards and nails and hammer and asked him what he was making and he said, "A bed for him and his 'wife'." And when he was told it was too small for him and his wife, he said, "It'll do for the 'tillians'(children)." So, you see how we butchered up the English language.
I must have been around 6 years old when Tommie formed a bad habit and led me into a life of crime. It wasn't smoking, it was chewing tobacco. He would get into his father's tobacco and help hisself. But there came a time his father changed places with the goodies and Tommie was in trouble. So he asked me to get him some of my father's supply and I was willing to oblige. It was my duty as he was building furniture for our future lives. Anyway, it was easy. I just waited until everyone was out of the house and I would shove a chair up to the high cupboard in the pantry and help myself. There was even an old pocket knife laying there that my father used so I would hold it against my belly and saw away. It's a wonder I didn't cut my belly button. I would hide my loot away and sneek it to him the first chance I got.

All went well until I got greedy. I thought if it was so good I would try some of it. I don't know why I waited until just before supper. My mother had baked some elderberry pies and the warm scent was everywhere. I guess I swallowed some of it (tobacco). I just didn't make it to the open pantry window and I let fly. They hauled me back in and when they wiped me off they knew what I had been up to. I tried to make them believe it was the smell of the berry pie but it did not work. I had to tell the truth about Tommie and, through the family grapevine, he got his supply shut off.
The Country School
The bad thing about our new home was the lack of good schools. My older brothers and sisters drove four miles across the river to a little town of Corvallis. My mother thought it was too cold for me to make the long ride so I didn't attend school until I was seven. Laura and I begun to walk the two miles to our little school house that sat upon a hill. The school was small, old, and dark and stood right beside the public road. We would cut across the cow pasture and it was some closer that way. The Christy boy came that way too and by the time we got to school there was quite a crowd of us.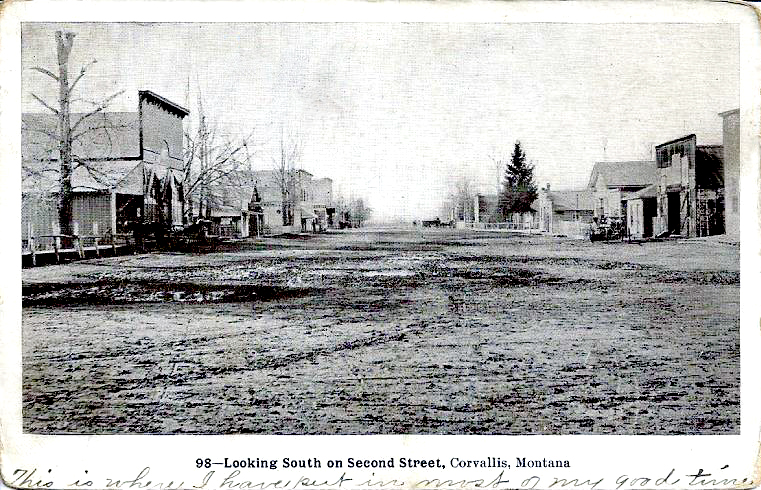 Corvallis, Montana, 1909 or earlier.
We never fought going to school but sometimes coming back. I used to feud with a boy by the name of Harry. I would hit him with my lard bucket lunch pail. He had such a big, loud mouth. Years afterward he got to be quite a successful man. Maybe I hammered some sense into him.
I had an awful embarrassing experience in that old school house. I had neglected to go to the restroom during the last recess and when we was called up to recite our lesson, I tried not to but I wet my pants. The teacher excused my sister Laura and had her take me home. I sure was a mess. But those things pass.
For two years we went to the old school house and then happy day—they built a new one! It was still on the hill, with one room but large with lots of windows, long back-boards, and even a belfry and bell. There was a large pot belly stove. The teachers always let us sit around it and dry our feet. We would also pass notes when we should have been studying. The teacher taught all eight grades and we were taught good. The boys were on one side of the room and the girls on the other. I and my Swedish girlfriend sat in a double desk all through our school years. Phoebe was her name. Years later she committed suicide.
The teacher generally read a few chapters from the Bible first in the morning and then we sang patriotic songs. It's surprising the good voices some of those country kids had. The last year I went, the teachers managed to crowd the ninth grade in and that is all the high school I ever got. But I feel and know my country education was as good as or even better than the children are taught now. I am getting ahead of my story.
My Grandfather
We will go back to when I was about seven my grandfather came to live with us. It was him and his little old wagon and white horse. I told you about him and his second wife at the first of my story. None of us children liked him very much — always so gruff and long-faced. My mother took him in and she wasn't happy about it. She still blamed him for being fooled out of his money. All my brothers and sisters were still living at home and the house was crowded.
My mother had sort of a front parlor by this time. We called it "the front room." She declared she would not put an extra bed in there as that was where my big sisters entertained their boyfriends. There was a little room off to the end of the pantry so she made him comfortable in there. I can still remember what he looked like. He must have been at least seventy years old or better but he was hale and hearty. He was rather tall with reddish hair with a short beard and no mustache. It went around his face like a half moon and met his hairline on each side of his face. He always wore pants that was a size too large and they sort of draped but they were anchored with big, broad gray suspenders. He wore high-topped boots with his pants leg stuffed in the tops.
He never noticed Laura or me except when he wanted us to bring him a dipper of water or fetch him his boots. Then it was never a please or thank you. All the summer he was there he never so much as give us a stick of gum. He rented some ground from a neighbor as my father did not have any to spare. He planted a "truck garden" as he called it. He planned to peddle vegetables around the town. He had a beautiful garden but he did not do well as most folks had their own gardens. And much to my mother's disgust, he would make up a crate of his choice stuff and express it into Helena to his wife that would not live with him. So, come fall, she sent for her youngest brother that was still single and told him to rent a small farm and make a home for their father and he did. My grandfather lived several years after that and kept on farming.
The Family
In the winter my mother used to read aloud to the whole family. We always had newspapers and books and that is how my father got his education and keep up with what was going on. She always had a special chair and would sit the lamp close and loosen her dress. We all payed attention. There was no running out for an apple or a drink. We stayed put. Sometimes in the summer she would read the morning newspaper to my father and Mr. Christy as he would come down to hear what was new. Mr. Christy was a Republican and my father a Democrat but they never disagreed. All the years they visited back and forth they never called one another by their first names. It was always "Mr."
Years after, poor Mr. Christy went ravin' crazy and my father was the only one that could do anything with him. He died in the asylum and after they sent him home for burial, my father was the one that dressed him and layed him in his casket. Although I was married and gone from home when Mrs. Christy passed away, my mother did the same for her. She washed and dressed her for her long rest. The Christy and the Neafus families were not only neighbors but true friends clear through to the end.
When I was about nine, my sister Mabel eloped and got married. It caused an awful big fuss. The folks did not care too much for him but eventually things straightened out. Soon after that my brother George come back from Kentucky where he had been going to school since he was eleven or twelve years old. He had a great sickness when he was a small child—spinal meningitis. The state of Montana had taken care of him and sent him to school. Of course I had never seen him nor he me. The reason he came back was he got his hip broke playing football and it never healed right. He come home using a cane. I forgot to say he was deaf and dumb.
He was the good looking one of the whole family. He had blond hair and dark eyes. He was in pain all of the time and it was not long until he was on crutches. He was good to me. He made me cardboard doll furniture and showed me some new games. He kept getting weaker and weaker and then took lung trouble and died just ten days after my sister Mabel's little boy was born. The night he died was the awfullest thunder and lightning storm I ever went through in all my long years. Lightning struck one tree by the house twice and the rain poured in and kept us up for hours. My brother Richard went out in all that storm and got help at the neighbors. George was the one brother I really never knew.
Three months after that my oldest sister Nellie died of brain fever. She was away from home near Haver, Montana teaching school. Two deaths so near together was sure hard on my parents. My sister was my grandmother's favorite of all the girls. A few more years went by and my brother Richard married. My brother Bud took up the carpenter trade and he was not home much.
My mother let me go to parties with the neighbor boys sometimes. Laura would occasionally come along, too. Once, Frank Christy took her and me to a dance. He had a cart and a little brown mare named Totsy. The three of us fell asleep on the way home and the little mare run the cart wheel on a bank and we all three slid out in a mud puddle. I sure was mad because the mud stains ruined my dress. When Laura was eighteen she got married. I was fourteen then. She married a man some years older than herself. But he was a nice man. We had known him a long time. He owned a hay ranch across the river. In the summertime I used to go and stay with her and help cook for the hay hands. After she left, there were just Alex and Tommie Christy and I to climb through the hole in the fence and go to school. The boys went for the next two years and then they dropped out. I went one more year and then there wasn't anything more for me. Those years in between were not very exciting.
Like all girls I had my little romances. Some of them my mother tolerated but most she disapproved of. That is where my oldest brother Bud would step in and quiet things down. He was awfully good to me. When my mother would not let me go someplace I wanted to, he would take me along with him and his girlfriend. He had lots of girls but never did marry. I remember once he gave me the thrill of my life. He took me on the train to Missoula to the Biggest Show on Earth—The Barnum and Bailey Circus. I remember exactly what I wore; a white dress and a big leghorn hat with big pink bows on it. We, of course, met other friends there and had such a good time. And that same day I had my first automobile ride. A man with a big car on the street was selling rides. We all piled in and I remember sitting on someone's lap. He took us around all over town, about 20 minutes I imagine. When I came home that night I thought I was the Queen of the May.
Stage Coach Adventure
That fall my brother Richard's wife died in child birth, she and the baby both. Richard lived in Salmon, Idaho and he brought his 3 ½ year old son Carlis back home. My mother and I took care of him. He was a jolly little fellow always laughing and always into mischief.
The winter I was twenty-two, Richard decided to get married again and he sent for me to bring Carlis to him. There was only a high mountain between us but no wagon road so I had to make it two days travel to go to Salmon (from Montana). Now there is a wide, two-lane highway. I had to go to Butte and then all the next day to Red Rock.
My mother had me sew a pocket into my petticoat and put my extra money into it. We had a big shoebox lunch. We were two green kids, one big and one little. Carlis was 5 years old now. I wore my hair braided down my back with a red hat set on the back of my head. I never wore very long skirts—I hated them! Everyone thought we were two kids going someplace. We arrived in Red Rock late that night between ten and eleven o'clock. Everyone had gone to bed. The hotel clerk told us to go upstairs and pick out a room—no keys! So we picked one and I put a chair under the door knob. It was a good thing I did, for the door rattled once in the night and then the footsteps went on. And it was good we had our shoebox lunch. We hugged one another all night long scared to death.
The next morning we went out to take the stage and I was sure surprised. There it was, "Cinderella's Coach" with six bay horses with the driver sitting way up high. I can look back now and in my mind's eye it was a scene from "Gun Smoke" and I was Miss Kitty. That road was mean and rough. No wonder they had six horses. We stopped at noon and had lunch (dinner) and changed horses. Carlis and I were the only passengers. That night we stayed at what they called a halfway house and spent the night. Next morning I just about missed the stage as they did not call me in time.
The second day was like the first. We arrived in Salmon after dark. Richard was to meet us. My sister-in-law was a young woman with a little boy about Carlis' age. And let me tell you before I go further, her little boy was a real "stinker." I did not know if I liked her or not. Rose Simer was her name. She had taken her maiden name back when she got her divorce. I found out she was too darned sweet to be genuine. She had five brothers, one sister there in Salmon and her mother. I liked her mother. Two of her brothers were married and one was 10 years old. That left two single ones and I had my choice. I chose Fred and I never regretted it. I stayed (in Salmon) until after Christmas and then I came home.
Early Married Life
All of Rose's brothers and Richard worked in a coal mine there and in February, Fred quit and went to some friends in Utah to work in the carpenter's trade. The following May he sent for me and we were married in Ogden, Utah on May 11, 1909 by an Episcopal minister. We went to Salt Lake City for a little honeymoon and seen the sights such as the Mormon Temple. We went to afternoon services in the Tabernacle and heard the famous Tabernacle Choir sing. We went out to Salt-air and seen the lake with its miles and miles of salt flats. I still have a little flowered bowl from the novelty shop.
We boarded with some of Fred's friends until fall and then work slacked down and he had to go out of town to work. I did not want to stay alone so I came back home for a visit. Mabel begun to write me to come to her. She and her family had moved from Everett, Washington, to a new boom town on the Pend Oreille River. It was called Ione.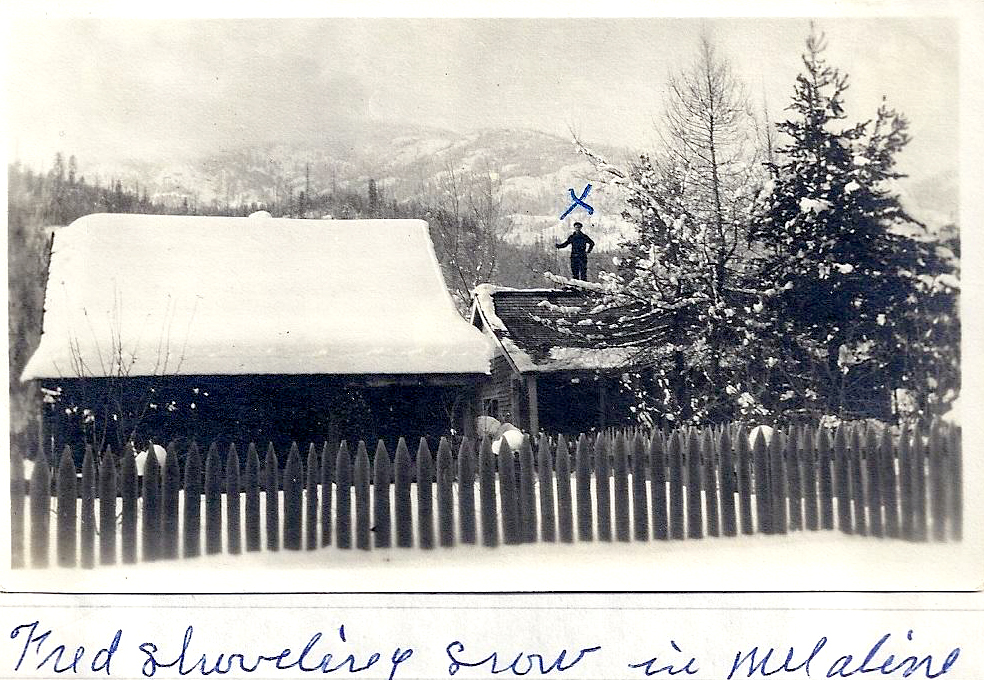 A new railroad was going through down the river to a large cement plant and a new town called Metaline. In a few weeks, Fred and I found ourselves in Ione, Washington. I had read about boom towns but of course I never seen one. There were people ever where and household goods was at a premium.
The winter was so cold, always below zero, and the snow was deep. I guess we got lucky. We got one room in a new building with springs and mattress and a little old cook stove that burnt everything that came near it both on top and in the oven. I was not a very good cook anyway and it's a great wonder we both did not die of malnutrition. We sat on boxes at first and Fred built a table and I had brought bedding and dishes with me so we survived until spring.
I would hang my wash across the alley and when a vehicle came through they had to dodge under the wet clothes. By spring the boom had quieted down. Fred said we would move on down to new Metaline at the end of the railroad. He gave me a big surprise when we moved. He bought me a new cooking range and a bedstead. We could not get a house in new Metaline so we rented one in the old Metaline and I was glad we did. It was so pretty and clean there—no cement dust! Our household goods were put on a river barge and a launch took us down the river. Old Metaline was an old, old mining town. Some of the log cabins were sinking in the ground it was so old. Once again we was living in one room but it was a nice little house and the front door opened almost on the sidewalk. If there had been a sidewalk, there was a wide path that hundreds of feet had been over it and maybe for that many years, too.
It was not long until we knew everybody. I could see the river and the mountains all around us. The birds were singing and we were happy. Fred put in a little garden and my sister's little ten year old boy come down to visit us on the river launch. He brought me a little yellow and white kitten in a shoebox. It was not long until he became sort of a famous cat in a way. He always went ever place we did. Fred taught him how to play hide and seek (we called him Henry) and Henry did all the hiding. He learned how to knock the ball off the footstool and he would bring us small rabbits and chipmunks. Henry was self-supporting so-to-speak.
Early that same fall we bought a large town lot with a house already on it. But someone had used it for a chicken house. It was built good with hand-split shakes on the roof. We cleaned it out and Fred took lumber and paper and it wasn't long until we had a nice little house. It was ours.
That winter the river got too bad to cross so Fred worked in the mine called the "Oreille." That was when the boss of the mine got so awful desperate he had to ask me to cook. I never cooked for men by myself before but the boss said feed them some meat, potatoes, and pie and they won't complain. And I did just that. We had running water in the cook house and Henry was so fascinated with it when it dripped, he sat there and let it get him all wet.
I cooked for six or seven men and I was nervous all the time but I did not hear any complaints. In the spring we come back to town and I was rich! I had earnt fifty dollars a month and we celebrated and got some new clothes and went to Spokane to see the sights. I had a new blue suit and an underskirt that rattled when I walked. I had a straw hat with pink roses. It made me forget about washing all those dishes and baking all that bread. (I forgot to tell you the petticoat was silk). I also forgot to tell you about when were still at the mine. Early one morning when it was still dark, I opened the back door of the cook house and all but stepped on a nice big bobcat. He run one way and I run the other only he did not make any funny sounds like I did. I was glad Henry did not have to sleep out. He had a hole underneath the floor where he had established himself a bathroom.
The Kidnapping
In the late summer of that year a typhoid fever episode broke out in Salmon where my brother Richard and his family lived. My brother was taken with it and died. Later his eighteen month old baby and Fred's brother Douglas died too. My brother was on the mend and he ate some solid food and took a relapse. He knew he was going to die and wanted his wife Rose to send for his father. She said it was not necessary as he was better. But he watched his chance and had Carlis, his little son, to bring him paper and pencil and, sick as he was, sent a message to one of the neighbors and they got in touch with my folks.
My sister Mabel happened to be on a visit home, so she and my father both come to Salmon. It did not take them so long as it did me in that old Concord stage. There was a train running over the mountain now. I cannot remember if they arrived before or after he died. But be it they found things in an awful mess. Rose was not taking any precautions to keep the rest of the family from getting sick.
After they had taken care of the funeral, Mabel could not stand the state of things. She boilt dishes and burnt bedding, even the mattress to keep sanitary conditions. The folks tried to talk to Rose about Carlis' future and what was best for him. They told her Carlis could come live with his own family and they would help her with money for the baby, (his name was Edwin), because she could not make a living for herself and three children. Rose refused to listen to anything they said. She said if she got the insurance Richard left for Carlis they would be alright. But $2,000.00 don't go too far to support a family and she would be in a mess again. But she still refused.
The neighbors and even one of Rose's own brothers told the folks not to leave Carlis and take him any way they could. Rose's own boy was such a little outlaw young as he was. So my father and sister hired a man and his car, I think the man's name was Murphy, and they pretended to leave town. They only went about ten miles up the road to a little town called Baker.
From there they telephoned back and found out where Carlis was playing at and Mabel and Mr. Murphy drove back and my sister grabbed him and wrapped him in her raincoat and half-carried, half-drug him to the car. Carlis was kicking and squealing and put up a fight. Now a seven year old kid can put up quite a struggle. She found out afterwards why he did it.
They had to drive part way through town and the other children had told Rose and she phoned the sheriff. The chase was on. Now I cannot describe it all as it has been so long ago and other people are involved. I forgot their names, too. They helped her (Mabel) plan it but she did the dirty work. I can only give you the high points of what happens next. The kidnapping laws were different than they are now.
They were supposed to stop the car at Baker and pick up my father. But the sheriff had phoned ahead and set up a roadblock and when my father seen them coming he ran out and waved them on and they ran the barrier. I wish I could say all was clear sailing for them on in but the roads were rough and so many hills to climb the car heated up so bad. The cooling system in the old make of cars was not as different as it is today. The first time they stalled, the driver asked my sister to take a bucket and bring some water from the creek while he drained the hot water from the car.
Carlis was still crying and snuffing and Mabel was afraid to let go of him so she made him come with her. And as they went down to the creek, she found out what the trouble was. He began to beg her not to drown him. As they carried water up to the car, he told her Rose had said for him to keep away from his grandpa and aunt for they might take a notion to drown him. But of course he was told otherwise and ever after when they had to carry water, he was the first to grab a pail and run for the water. He wanted to get the show on the road!
At last toward late afternoon the car was heating so bad and there was no water they had to stop. Mr. Murphy told my sister to take the boy and walk up on the hill until she come to a large flat rock beside the road and to sit and wait. There she would be in Montana and she would be safe there. She did just that and later they got to Red Rock in time to catch the evening train to Butte. My sister worried all night for fear when she got off the train there would be an officer there to question her. She could be so easily spotted leading a ragged little boy. The first thing she done was buy him some new clothes and then catch the train home. They expected my father home the next day but he did not come, not even the next day. My brother Bud started to Salmon to see if he was in trouble but he met him face-to-face in the depot in Butte. He had just missed his train.
Of course there is a lot more to this kidnapping than I have told because it has been so long ago, but there was a "big to-do" about it. Some folks took Rose's side and some the other side and the papers was full of it. But like everything else, it died down in a few weeks. Back in Metaline it did not die down. Fred was fit to be tied. He was even mad at me for what my sister had done. Of course he took his sister's side and I took mine. Neither of us would give an inch. I first kept telling him time would tell and it did. In about two weeks the baby, little Edwin, and one of Fred's brothers (Douglas) died of the fever and then Fred was hurt worse than ever but it was not my sister's fault it happened. He was awful badly hurt.
In about three months he had a letter from his youngest sister (Maggie) and she told him Rose had left her boy with her mother and married a salesman of some sort and went to Portland, Oregon to live. I did not rub salt in his wounds by saying "I told you so." I knew he had a lot of fences to mend and he would mend them in his own way, and he did. He never would say "I was wrong" or "I'm sorry." He would just do nice things for you and bring home a treat. After one lives with a man for forty-eight years, you learn a lot of things about him. Son (Fred "Speck") can remember the time when his father went to town and stayed a little too long. And the next day he came home with his hat on the side of his head, grinning and holding a big bouquet of gladiolas which he could hardly see over.
Rose did not live with that husband too long. The fact was, that by the time she passed away at the age of about forty-five, she had been married five times. Her first boy, the one that was such a stinker, turned out he was always in and out of jail but her other son was a nice guy. His name was Deward Boswick and he and his wife run a beauty shop here in Portland. For a long time they were separated and Deward went back east. His wife Mary lives here in Portland and she called me not too long ago. I am sure son remembers them. Now is a good place to write and say Mabel raised Carlis and give him his father's insurance money when he was twenty-one years old.

Now let us go back to Metaline. Ever thing was peaceful there again and Fred's mother and fourteen year old brother Dewey come out the next summer to stay with us. Dewey would not go to school so Fred said he might as well work and as he was foreman of the mine he got him a job. It was the mine called "The Morning and Mammoth" which was located away down the river. They were building a big new log cookhouse and bunkhouses.
When they were all finished, I went down and cooked. First time I had ever took in boarders. I had about ten regular men and a few strays once in a while. Of course, Fred's mother went down with us. I never let her help me much. She was a far better cook than I was but she was too slow. When there are hungry men, they want their meals on time.
Everything was rough and crude and the floors were full of splinters. There was a long, long table in the dining room with benches and I had a big cooking range. There was two bedrooms upstairs over the dining room. They even furnished us with blankets. They delivered my groceries free about every two days. It was clear away from ever one but I liked it there. It was so beautiful with the trees and high mountains and one could hear the river roaring on its way.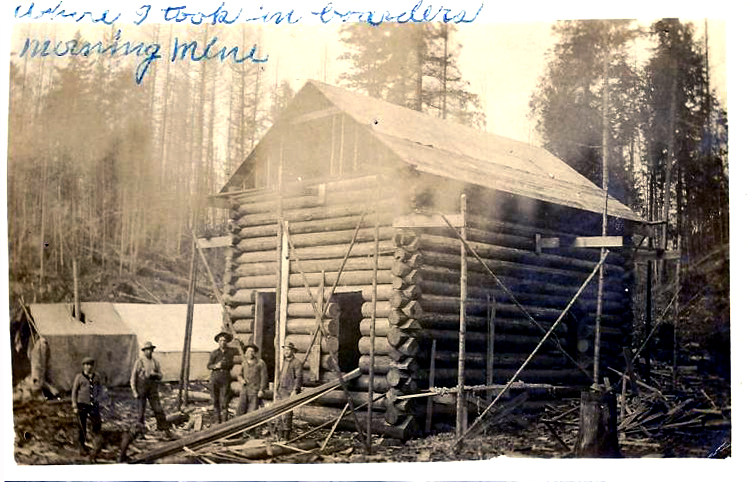 Dollie, age 23, cooked and served meals at the Morning and Mammoth Mine in Metaline, Washington.
The boys used to go fishing and catch the nicest big red-belly trout. One day they came in and layed the fish on the kitchen table and Henry the cat got tempted beyond his power of resistance and helped his self and got caught at it. Fred give him a spanking, so like a small boy, he left home. He was gone for two days and a night. We hunted and called but he wouldn't come back. At last, we found him up a pine tree all humped up. I don't remember how we got him down.

In March the mine changed management and we came back home and I am ashamed to say I did not make one cent on my boarders. I guess I fed them too good but, in a way, I did come out ahead as the four of us got our board and free wood to keep us warm, oil to burn in the lamps, and the boys got good wages.
We got back home and Fred's mother and Dewey took a notion they wanted to go back to Salmon. So Fred and I went as far as Spokane with them. That same evening Fred took me to a big stage show. Fred's mother was a very religious woman and had never in her whole life been to a show of any kind—she thought it was sinful. She could not stay at the hotel by herself so under protest, she went along. It was a nice place with different colored lights, soft music, and dancing girls. She declared it was the most beautiful thing she had ever seen and was so pleased she went. She was sixty years old and had never went to a show.
The San Francisco World's Fair
In April of that year Fred was reading about San Francisco and the World's Fair. Neither of us had ever seen the like and never seen the ocean either. Although the fair was months and months into the future, we decided to go to California. Fred had friends in both Oakland and Alameda, so we rented our little house and the neighbor said they would feed the cat, so away we went.
We came here to Portland on the train and then took a boat, "The Rose City" to San Francisco. We just got to eat one meal on that darn boat and we was both sick, sick, sick. But seasickness is a peculiar ailment. When you get over it you feel just fine.
We stayed in San Francisco about a week and Fred found his friends in Oakland. They helped us get an apartment and Fred a job. In a few weeks his job ran out so he decided to leave town and go out and look for something permanent. While he was gone, I worked in a bakery shop. I liked the boss very much but not long afterward I heard her husband was sent to jail for raping two little girls.
Fred got himself a job in Angel's Camp, California and sent for me. We lived in the Commercial Hotel and I worked in the dining room for about six weeks maybe longer. We finally got an apartment and across the hall from us was a dentist's office. I had my bridgework put in with five gold teeth and it only cost me $35.00. The dentist did a good job for that work lasted me many years. I forgot to tell you when I worked as a waitress in the hotel I received $5.00 a week and our room. How things have changed.
Angel's Camp was kind of dreary in the winter but in the spring it was so very beautiful—so many flowers! It was an old mining camp and there were many deserted houses but flowers were still growing in the yards. There were lilacs and roses and plants I did not know the name of. A way back on an old road was what used to be a house of prostitution and it had all fallen to pieces but it was just covered with cabbage roses of all colors. Sometimes Fred would come home that way from work and would bring me an armload of roses.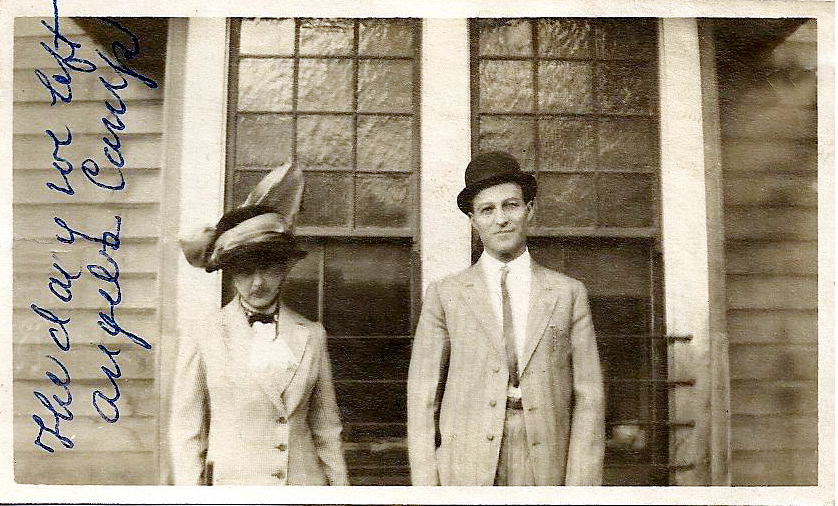 Dollie and Fred Simer the day they left Angel's Camp, California.

For a while I took care of three children whose mother had went off and left them. After a while Fred got sick. He broke out in boils and felt so bad. The doctor told him it was the mine and he better find something else to do. So we come back up to Alameda where we soon had very good friends. I worked in a dry goods store until the boss got married and she took my job. Then I worked in a nearby bakery shop but it was run too dirty and I didn't like it. By the time Fred was feeling better, he went to work for a new pleasure resort that was being built about two blocks from where we lived. We had a two-room apartment over the drug store on Santa Clara Avenue. Straight across from us was a saloon and we used to watch the beer wagon come to deliver beer with those big, big, lovely Clydesdale horses. You could hear them coming before they ever got there.
So many times that summer our friends and us used to take a picnic lunch and ride to the end of the car line and roam about in the Berkeley Hills. There was not a house there then just trees and flowers. Maybe we picnicked on the same spot that Liberace built his famous swimming pool, just maybe? Sometimes just the two of us would take the ferry and cross the Bay and sit in the big ferry building and just watch the people. Ever nationality, color, big and little walked through it. Some of them gay and laughing and others looked so sad and pitiful looking. The poor and the rich passed through that building. It was kind of a corny thing to do but it made us thankful that the good Lord had been good to us.
The World's Fair had opened and President Wilson had declared war on Germany. Fred was in his early thirty's and he would not have to fight for awhile yet. My sister Mabel and her husband and boy (Vernon) come by on their way to Fresno and we all went to the fair. One evening late when we got on the bus to come home, Fred found a gold pin with eighteen little pearls in it. I still have the pin.
Ever one was excited over the war and I guess Fred got homesick and he thought we ought to get home to Metaline and that was what we did. We stopped in Spokane and bought some furniture and then went on home.
Back to Old Metaline
The train arrived in New Metaline about noon and there was always a gas launch to take the mail and passengers over to the old town. We knew the man well that run it and when we got about half way across the river he began to toot his whistle. When we got to the dock there was several of our old friends to meet us. About the first thing I asked was how Henry was. They said he was about someplace and that he was very self-sufficient and hardly ever asked for a handout.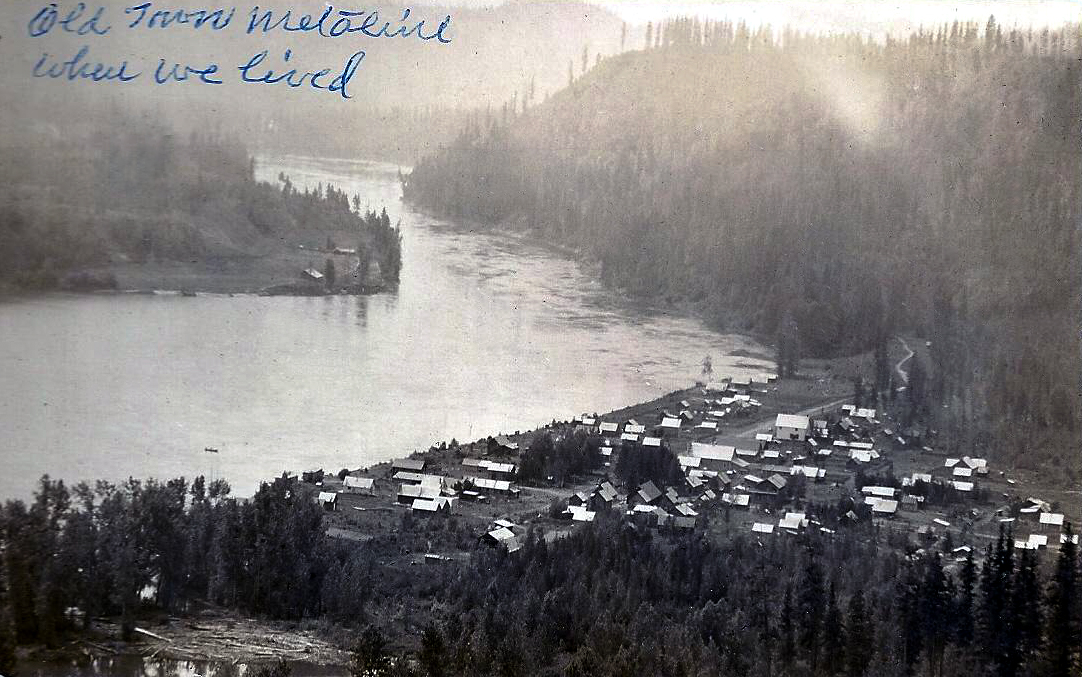 Metaline, Washington about 1909.
We got the house all cleaned up and moved in but no cat. One day I was going to the post office and looked up on a shed roof and there the rascal was fast asleep. I called to him and he got up and stretched and come to meet me. I carried him home and he looked all around and then jumped on the bed to finish his nap. We knew he remembered us as he would do his funny little tricks. He remembered where I kept the canned milk and went there and begged.
Because of the war there was work ever where. A large lumber mill went up about six miles out of town and the mines were all operating. The cement plant was working night and day. Fred went to work in the woods and forgot about being sick.
There was a Red Cross representative come to town and set us up a chapter and I was elected President. We sewed and knitted and gathered up clothes for the overseas orphans. We also gave little plays and dances to sell Liberty Bonds. Like all war years, they were prosperous. Fred remodeled the house and built on two more rooms. We bought a lot next to us and set out fruit trees and berries. He built a garage and said we would have a car someday. And, of course, I had my flowers. We had the prettiest place in either town. Now, I'm not bragging, it's a true statement. I know you are wondering what we done at the end of civilization.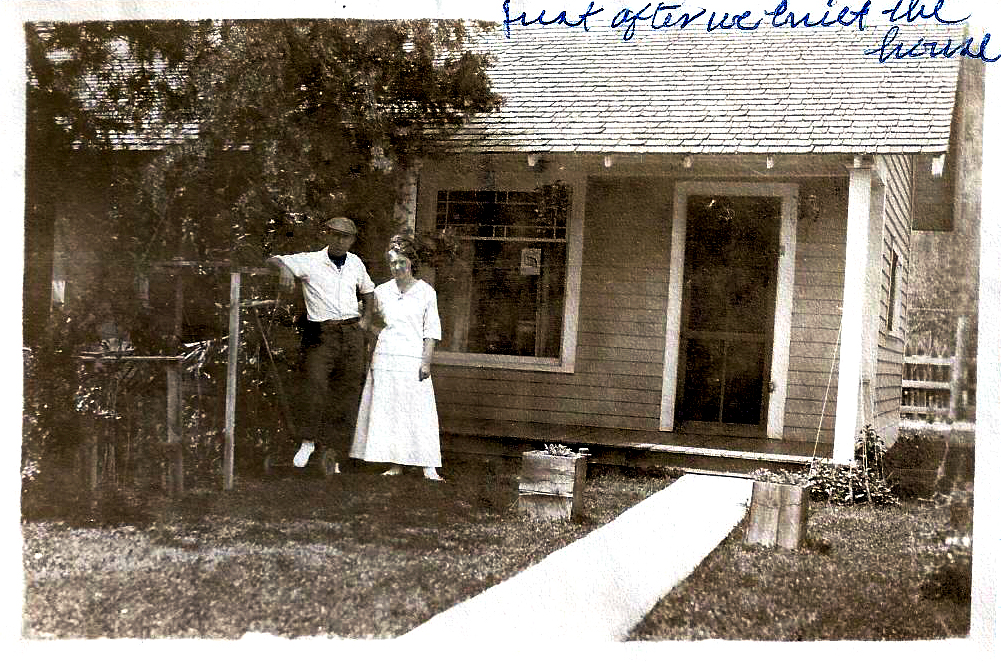 Dollie and Fred's house in Metaline, Washington.

Fred liked the fishing and hunting and I liked the berry trips and swimming. That is where I learned to swim. I loved the river and yet I hated it. It was so deep and swift but I had rowed a boat across it more than once. That big broad river could fold itself up and go through a little narrow canyon and down over a long treacherous falls and then spread out again only to form a large eddy or whirlpool. About ever three days that eddy would give up and throw ashore whatever was in—all kinds of debris, even people. It was called the "dead man's eddy." I went down there just once with a good friend. Her husband was drowned and she wanted to be there when he was cast ashore. But it did not happen that day—it did the next.
In the wintertime there was a lot to do. We shoveled snow off the roof and cut wood and carried it indoors. We had little card parties and sometimes a dance. In the summer we raised a garden and went fishing and sometimes a picnic. One summer we went to the Seattle Potlatch Exposition. I don't remember much about it only a lot of totem poles. Then we went to Bellingham and seen the battleships and we even went aboard one. I remember coming home and I was train sick all the way home.
Life in the Wild
I believe I spoke of picking berries before. Well, we had some fun when the huckleberry season was on. There would be maybe five or six of us all go together and climb Mt. Linton that was a high mountain straight back of town. The climb took us about two and a half hours with pack sacks on our backs. Inside the sack was tin buckets and inside the bucket was our eats for at least four meals, mostly bread and tin can stuff for sandwiches, canned beans, and tea and coffee. In addition to that there would be a coat or jacket for the nights were cold on top of that old mountain.
Thank goodness there was a nice spring of water up there. There was berries ever where and some as large as small cherries. That evening we would build a big campfire and the men would cut fir boughs and construct a shed with the opening toward the fire. That is where the women slept and the men curled up around the fire. When camp got all quiet we could hear the bears out in the bushes. Our dog would just go crazy, his hair would stand up on his back and he would snarl and growl. He would beg Fred to go with him out there and get himself a bear.
By noon the next day, we would have all the berries we could carry. Fred could carry down about five gallons and me about two. It was almost as hard going down the mountain as going up. One had to hold into the grass roots to keep from breaking one's neck. By the time we got home we were a mess! We would go to the river and have a swim and by the next day we had forgot our climb.
Fred always killed a deer or elk in the fall and I canned the meat so we were sure of berries and meat through the winter. The salmon never run in the river on account of the falls but the white fish always tried to make it up them. The salmon would be in the gorge below the falls and it was full of them. It was kind of dangerous to get them but we did. Long before our time someone had built fishing platforms along the sides of the cliffs, something like the Indians did along the Columbia River. It was real hard to get to these platforms as you had to go over a foot bridge made of two poles, and besides that, they wiggled.
I never was of the athletic make up so I had to be led and pushed. I don't know why I went out there. I never liked fish anyway. But it was fun after one got out there. A stout line and some hooks and you snared them. Maybe you could catch two or three at a time. It did not take long to fill a flour sack full. By that time we would all be wet from the spray of water and the fish and as it would be in November it was cold. By the time we got home sometimes our clothes would be frozen. It is a wonder we did not die of pneumonia. I'd fry a big skillet full nice and crisp and brown with a boiled potato and coffee. It was a good supper.
World War I
Along after Christmas when the winter seemed awful long, we would take the train sometimes and go to Spokane for three or four days. We took in a few shows and some good restaurant meals. One could get a good meal for thirty or forty cents. Sometimes we would buy clothes if we had money to spare. One time Fred bought me a three-quarter length black plush coat. I think it cost about forty-eight or fifty dollars. I wore that coat for years. I loved it as I always felt like I was kin to the Rockefellers.
But those good years did not last forever. Just before the Armistice, the flu sickness came to our town. Some of the people out on their homesteads died and it was days before anyone found them. I helped my neighbors as much as I knew how. One friend's house I sit up with a young father and by morning I closed his eyes and pulled the sheet over him. I then held his sick baby and it died two days later. That was the way it was. Fred had it and there was no me to help so he went it alone. I never went to bed. I slept in the big chair.
We got a Republican Administration and things went to pot for the working people. It was not long until when we bought a twenty-five pound sack of flour, one had to buy so much rolled oats, cornmeal, and bean flour along with it and there wasn't a potato to be found anywhere. My brother Bud sent us fifty pounds of seeds as he was still on the farm and he had some to spare. Sometimes things got better and sometimes things were bad.
One of the good times, Fred went to Spokane and bought a new Ford car to go in that garage he built. We had fun in that car, mostly in the daytime. Henry Ford did not make very good lights on his cars and the brake lining was always wearing out. The year we got the car my father passed way. I went home for about two weeks. Not in the car but on the train. I did learn to drive it but I did not enjoy it.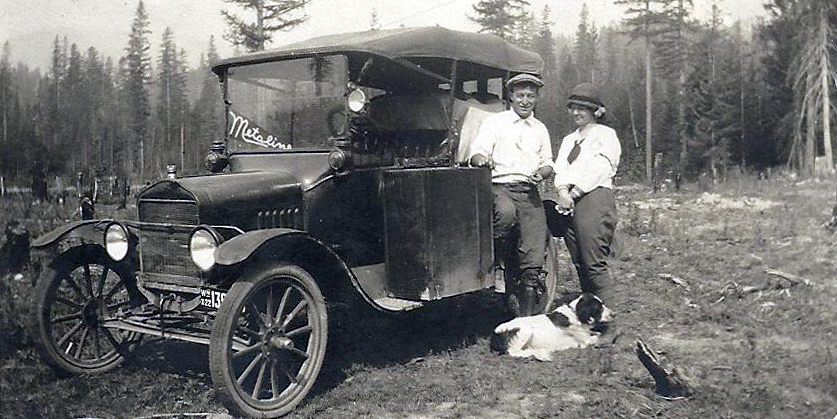 Fred and Dollie with their first car.
Now I must tell you about the funny little episode some of us got ourselves into. There were some people up at the saw mill give a dance and invited anyone that would come. They even sent a big truck down into town to take ever one out there. Of course we went along with the crowd. The truck was full with all of us standing up. When we arrived at the large front room we saw it was all cleaned out for dancing. So we begun to have fun but then we were having to brush each other off. Bugs were falling all over us. They were nice, big old fat bed bugs! The family bedrooms were upstairs and there were cracks in the floor where the bugs were falling through. We stuck it out until after lunch but no one ate lunch. Then we all went home.
On the way back one of the neighbor men kept singing about his dog having fleas and now he had bed bugs, we all laughed at him. When we got to our own homes we striped as naked as a Jaybird and hung our clothes on a clothes line, even our shoes. I stood in the moonlight and combed out my long hair. Next morning Fred and I went out and everything that was washable went into hot water and the other things we dipped in gas. I had a new coat and I never liked it after that. The joke was on us. The people at the mill said they never had one until the town folks brought them up there.
There was a sad part, too. The following early spring there was a bad accident with the neighbor man that sung about his dog. He worked in the concrete plant close to the conveyor belt and some way he slipped and fell in and was carried down into the machinery and before they could get him out he was dead. He left a wife and four children. For weeks and weeks the town was in mourning. It was such a horrible way to die.
We had another Republican president and things got worst. Ever thing shut down. Fred kept talking about getting out where there was steady work. I just would not listen. Ever thing we worked for the last fourteen years was there in Metaline. It was our first home. Our fruit trees were bearing and we had nice furniture. I knew we could not sell the place—no one had any money. But Fred said we had better go while we had the money to go. I sold my brass bedstead, my glass china closet, the big chairs; everything went but my new singer sewing machine and a few choice pieces of furniture. I even gave away my canary bird. We put things in storage and rented a house.
We had to leave our beautiful garden, berries, flowers, and of course there was Henry the cat. We could not take him as that was the only place he would be happy. My heart had a crack in it a mile wide and it stayed cracked for many years to come. That afternoon we went back and twice told Henry goodbye. He was sitting on a ladder leaning on the woodshed and he rubbed his nose on my face and I cried.
We had some good friends that went with us. They were Garfield and Anna Holley and they had five children. We kept together for many years and one or two of their children still live here in Portland. On our exodus all the way through Washington and down across Oregon, we stopped at Grants Pass and we stayed there and picked hops for about ten days. Fred and I made good money, about ten dollars a day. Back then that was top wages. There was a new sawmill being build in Brookings, Oregon. The men decided to go there, so over the hill we went to the ocean. Sure enough the men found themselves good jobs and the lumber company gave is free lumber to build us some houses to shelter us from the rain. Camping in the rain is no fun.
We stayed there until school was out and went to Eureka, California where they were building another mill. We lived there for over a year. It was not a very attractive place as the fog was bad and every Sunday we would drive out of town and hunt agates along the beach. Once or twice we went to the whaling station and watched them cut up whales. One could not stay long as it smelled so bad.
Fred traded our Ford car for a new Essex. Now we were riding in style. Fred got to worrying about his mother. His brother Dewey was not taking care of her very good. He was making and running moonshine whiskey and was in jail half the time. Dewey's wife Helen was trying to see after her, so Fred said we should go back to Salmon. I did not much care for Eureka but it was better than Salmon—I hated the place. We had been back a few times on visits but it was more isolated than Metaline.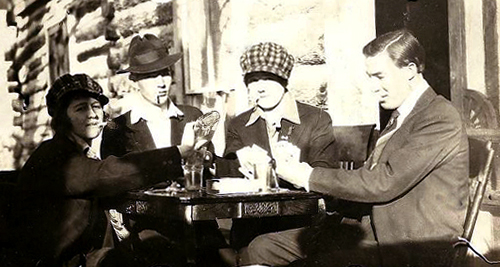 Dewey Simer's "Bible Class." Dewey is on the right.
I liked Fred's mother but I did not want to live with her. I was sure Dewey's wife must be a nut to marry the likes of him. But I was very badly mistaken. She was a beautiful woman in every way. She and I was great friends for years to come. She sure helped me through many a fight with the blues. Dewey played the violin real good and he would sometimes play at the country dances. They were awful rough parties. Moonshine whiskey flowed like water and there were always fights. Mostly fights in the house. Helen used to grab my hand and we would climb on a bench and watch them have at it.
Motherhood
Late the next summer they begun to build the new Salmon River Bridge and Fred was the first one to drive a nail. He built all the cement forms.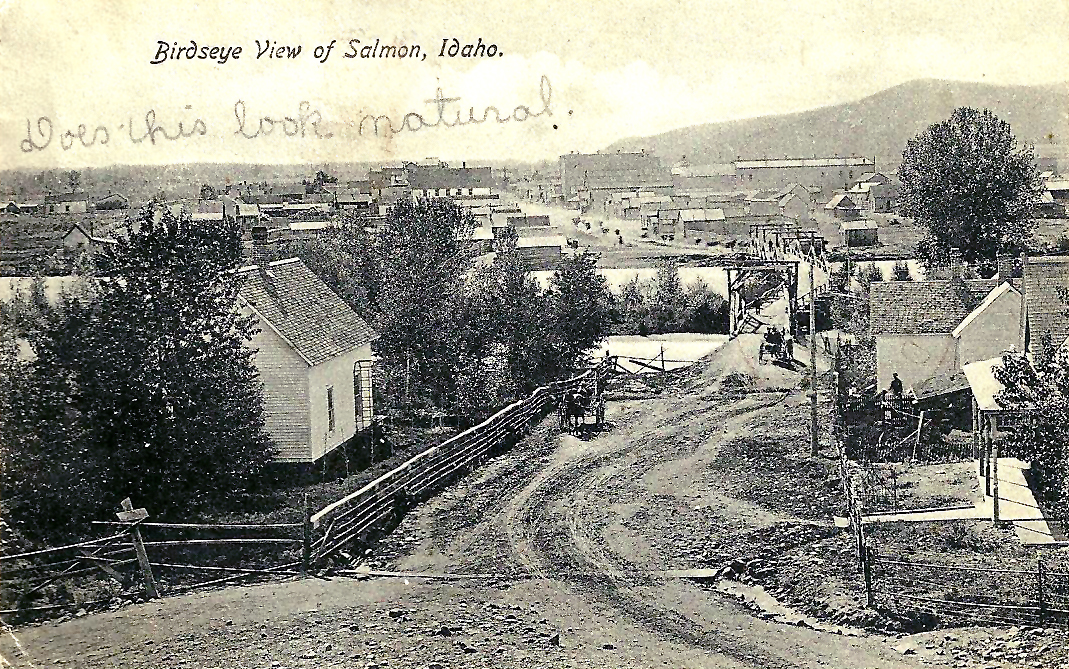 "Salmon when I saw it the first time. It was a sorry looking place with the old bridge."
We moved down into town and sometimes when I wanted some extra spending money I would wait tables in one of the restaurants. Helen and I used to work together. And one special time I well remember. She and I was working the night shift, she in the kitchen and I in the dining room. Ever time I smelt meat frying I got so sick and at last I had to go out the back door and heave up. Helen laughed at me and said I was pregnant. And right she was! I was sick every morning for about three months and went to old Dr. Wright. He was such a nice old doctor. He told me come next February I was going to have a baby. Well, he and I knew it but all the rest of the folks just laughed and said no. Not after waiting eighteen years.
Folks kept on saying the doctor was wrong and so was I. There had to me something else wrong with me. When my time was drawing near, the nice old doctor told me not to stay in Salmon but go to some good hospital and get a younger doctor than he was. Fred took me to Missoula to the Thornton Hospital. Dr. Thornton had been my family's doctor for many years. I wanted my baby to be born in the same state as I was. Our son was born and we got him.
I fought a cough and gall bladder trouble with a sore stomach for thirty-one days, and then they let me go home. That was one time I was anxious to go back to Salmon just to show ever one what a beautiful baby looked like. He had hair and everything! I am a firm believer in the fact that if you got something to flounce, why not flounce it. And I did. He was the most popular baby in town for a long time to come. Folks come to see him that I scarcely knew. On our way home from Butte, Fred bought a nice, nice baby buggy. I did not know it until it was delivered home. So that is how Fredrick Thornton Simer got his self into this world on February 1, 1928.
The Great Depression and New Deal Era
When son was two years old, our endowment insurance policy paid off and we built a nice little home over by the depot. We called it the red house. We set out trees and flowers and the garden club gave me a prize on my yard. That was when the big depression hit. People committed suicide and folks went hungry. In a way we were lucky to a small extent. We had a big garden, chickens and a cow. I had three dresses, two for everyday wear and one to go to church. Fred's mother was with one of his sisters in La Grande, Oregon. When she passed away, we had an awful hard time paying for her nice funeral, but we did.
In a while, Franklin D. Roosevelt got elected President and then things picked up. Fred joined the C.C.C. (Civilian Conservation Corps) for one summer and I had to learn to milk the cow. Son was about nine years old when we sold the red house and built the grey house next door. I liked it better. We had a bath and utility room and a big window for my houseplants. The winter son was thirteen, I broke my leg. Fred was away from home most of the time and I had a little outside help but son was more help than two women put together. I was in bed eight weeks.
We lost the grey house in a way. Fred went into a mining deal with his brother Burt and it was not a success. Like always, Fred was left holding the bag with all the debts to pay and sold the house and a great deal of our nice furnishings. It was the nicest furniture I've had before or since but we did not have anywhere to put it.
World War II
While we lived in the grey house, my mother died at the age of 96 years old. Then we moved from the grey house over the river into a rented place and it was cold as an igloo. After we took up the last load of household goods, Fred plugged in the radio and the news came on and reported the Japs was bombing Pearl Harbor. Well, I had lived through one war so it wasn't anything new. I had trouble and war of my own. I had to get started and make a new home and be comfortable in that old house. My leg had not completely healed and I was still limping. Fred and son gave me a wrist watch for Christmas, the first I ever had. It made me feel some better. I was pretty blue at times. While we were living in the grey house I had went to church a lot and was secretary and treasurer for years. When I was a girl at home I had learned to play hymns on the organ. When the regular organist was absent, I was called in to take her place. But after we moved, I even got away from that.
Beginning the following spring the government wanted carpenters in the Portland Shipyards. So, Fred took the car and went to Portland. He did not get to stay there. He was sent down to southern Oregon to Eagle Point to help build Cam White, now known as White City. He stayed there until August then he came home. He had not banked his money—he had it stuffed in one of his socks. It was more money than I had ever saw at one time. We got rid of the rest of our belongings and then we all went to Portland.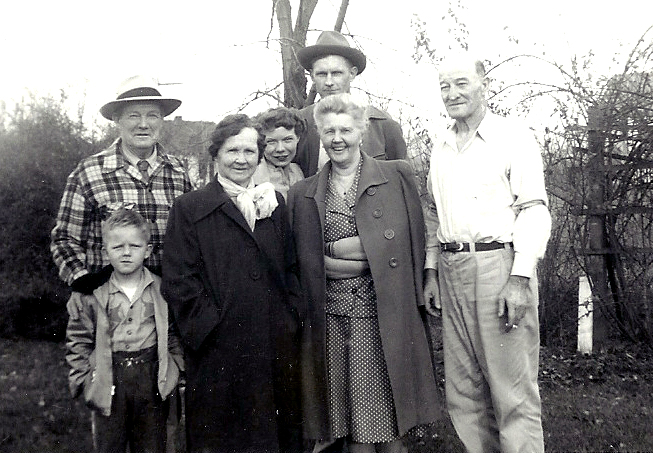 Burt and Emma Simer, Dollie and Fred, with niece Teddy Simer and her husband Levard Hansen and son, Mike about 1945.
There was not a place to live, not even a woodshed. We stayed with our good friends the Holleys for while. Walt and Emma Lolley had bought a place on 82nd Avenue and Flavel Street in Portland and they let us have some ground. Fred and son built a little three-roomed house there. When we left Salmon, I felt as though a great burden had fell from my shoulders. I wanted to be happy again, and I was.
We lived about a half a block from the bus stop. So many of the folks that got off the bus come by my door and we soon knew everyone. The folks were so friendly and sociable. We had a little extra money and a few new clothes and son was attending Franklin High School. Even if it did rain a lot we did not have bad colds like we did in Idaho.
Walt and Emma moved away but Fred kept working on our place. During that time I had an operation to remove my gallbladder. Son graduated from high school and then Uncle Sam sent him a letter that said they wanted him. He was back and forth from Camp Lewis (Fort Lewis, Washington) for several weeks and then he and Alice Beyer got married. She was the girl next door.
In November he was shipped to Korea and when he came home he had a baby boy he had never seen. That was Jerry. In the meantime while he was gone, Fred said we would move to Medford, Oregon where one of his sisters was living. He wanted a piece of ground and some chickens because he was getting too old to do heavy work. We bought a place near Central Point. It was cheap and we had much to do. I never did work so hard. We cleaned and hauled cans and papered and painted. We got our chickens and garden in and when the cleaning was done I really enjoyed it.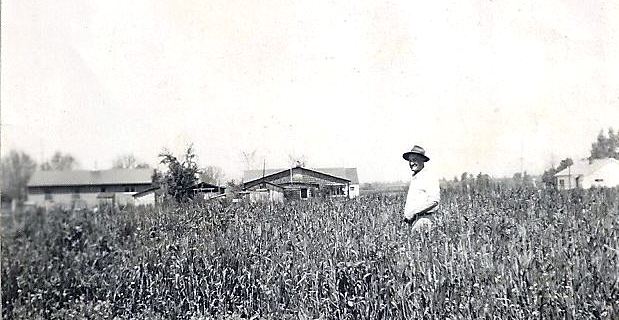 "Fred in our field at Medford, Oregon."
We went fishing and blackberrying. When Jerry got large enough he came down and visited us. While he was staying with us Sharon was born. As soon as she was house-broke she came and stayed. They run all over like wild kids and had such a good time. They made tents in the front yard and made a swimming pool out of a wash tub. That was a place of roses. There was roses ever where and birds like quail would come up to the back steps. One could hear the Chinese pheasants crowing early in the morning.
One of Fred's friends wanted him to go to Utah with him in regard to some mining interests he had there. The nice part was I got to go along. When we went through Nevada we stopped at Reno. There are a lot of queer looking people in the world and you see them there. We went down through Utah and got to stay at some real nice motels. I loved those funny looking Joshua trees. I brought back a big cactus plant because they have such beautiful blossoms.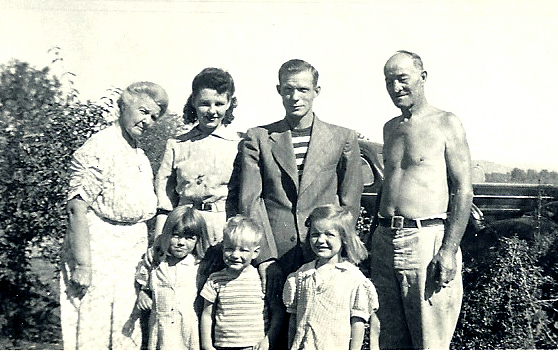 Dollie and Fred, with nephew Burt Simer and his wife Vernie and their children Penny, Steve, and Kathy.
The last year we lived in Central Point, Fred's health failed awful fast. He had a prostate operation and after that he first seemed to give up. He could not drive the car anymore and I sold the chickens. I just could not do everything. We had to depend on the neighbors for rides to the supermarket. Up in Portland, son and Alice was having their troubles and then divorced. Son wanted me to come help him with the children—I needed help too. We moved to Portland and for two and a half years lived in son's house on Garden Lane.
I think it was 1955 that son married Barbara (Wynn). Barb and Fred helped us move into our own house here on 81st and Duke Street. Fred kept getting more and more feeble and would fall a lot. I had a hard time getting him up again. Every night son came over and helped me put him to bed. But all the next day I was on my own. At last we put him in a nursing home near Gresham. He was very unhappy and so were we. My conscience still bothers me and I think I should have tried harder. He was there three months and then passed away from Pneumonia on October 26, 1957. He was 81 years old. I was alone.
About six weeks afterward, my good friend who lived across from me on Duke Street come and told me she was going to work and wanted me to babysit her three larger children and a baby just two months old. For six years, I went to her home and cared for Sue Baker's children. I taught the baby to walk and eat and use the potty. Little Salena never cried after her mother but she did me. When the Bakers moved away, a little piece of my heart went with them. While I was caring for other people's children and my back was turned, my own grandchildren growed up and was in high school. It did not seem like no time at all until Jerry was in the army and out again.
I made my yearly trips to California to see my sister Mabel and Carlis and his family. My sister Mabel and I are the only ones left of our family now. She is 98 years old and in a nursing home in Fresno.
As I look back over these pages, the reading is awfully dull. I wished I could have told you I swam the English Channel away back when I was young or that I was ambassador to Spain or some darned place. I would have even settled for shaking hands with a U.S. president, but I never did. Most folks hire someone to write their biography but I am one of those do-it-yourself kind. Maybe I should just say "Amen" and close the book but I want to bring everything up to date.
Due to unforseen circumstances my family has all scattered. Son and Barbara live in northern Washington State (Anacortes) where the ducks and blue heron roam and where Mother Nature paints a glorious picture every morning and evening with sunrise and sunset. Jerry, his wife Bonnie, and daughter Shannon live away back in Virginia and Sharon lives in Milwaukie and keeps an eye on me and Petey (the cat). I think about that old song "This house is getting old." Well, so am I but I am comfortable and happy.
Now I am asking you to overlook my misspelling and bad grammar, also the errors I have tried to rub out. And so, I close my journal.
Here's a favorite poem sent to me on a Christmas card from Gayle. (Gayle Mendum, Barbara's sister).
To one and all we pray the gift of light
And wherever you travel
May a star lead you,
The wind be at your back
And the road rise to meet you…
And God hold you in the hollow
Of his hand.
Dollie died on December 30, 1986 in Anacortes, Washington just nine days short of her 100th birthday.


Notes by Sharon Simer Isbell
Carlis Harry Neafus, the son of Richard Neafus and step-son of Rose Simer, grew up to be a successful businessman in Fresno California. He was the General Sales Manager for Sun Maid Raisins for 17 years and with the company for 43 years. Carlis and his wife Violet had one daughter named Shirley Rae Neafus. He was raised by grandma's sister Mabel Neafus Reynolds in Fresno, California. Mabel and her husband also had a son named Vernon.
Jerry (Gerald Curtis Simer) is married to Bonnie Leigh (Vorpahl) Simer and they have two children, Shannon and Chad.
Sharon Kay Simer Isbell is married to Fred Martin Isbell. Sharon has no biological children, but has two step-children, Amy and Ryan.
Fredrick Thornton Simer (a.k.a. "Speck" or "Son") passed away in October 2008, and his wife Barbara passed away in August 2008. Alice (first wife) passed away in August 1995.

Grandma's reference to an uncle who was a Montana State Legislator needs more research. I haven't found a name yet.