Commencement Address of Amelia Ann Senter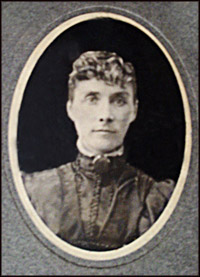 Amelia Ann 'Anna' Senter Young
Anna, the sixth child of Calvin and Rosa Senter, was born May 2, 1868 in Grayson County, Virginia.
At 17 she married Marshall Young, and they had six children - Edwin, Mabel, Roy, Paul, Anna, and Claris. The family ran a general store at Mouth of Wilson, Virginia.
Anna died in 1900 at the age of 32. The Young family bible reads "Anna Young the dearly beloved wife of M.B. Young died Sep. 16, 1900 in Grayson Co. Va., of 'hasty consumption' [tuberculosis] after an illness of 11 months, at 5 pm and is buried in the family grave yard near Edgewater, Virginia on Sep. 18, 1900." This cemetery is now called Kendrick Ridge.
In June 1884, a month after turning 16, Ann delivered the following a speech to her classmates at the Oak Hill Academy drawing heavily upon the Historical and Secret Memoirs of the Empress Josphine.
The academy, located at Mouth of Wilson, Grayson County, Virginia, was founded in 1878 by the New River Baptist Association which was interested in progress for the region - primarily the education of the valley's children.
Many Flowers Bloom Unseen
Full many a gem of purest ray serene
The dark unfathom'd caves of ocean bear;
Full many a flower is born to blush unseen,
And waste its sweetness on the desert air.
~ Thomas Gray (1716–1771)
How strangely different are the destinies of men! But, are those happiest who are born in obscurity? They pass their lives without attracting the gaze of the world; but those who return the gaze with a smile the caresses of fortune, do not always know how to submit to her frowns. Heaven in its mercy has placed the fountain of wisdom in the hidden and concealed depths of the human soul, that we may seek and find in its healthful waters, the antidote and cordial of all our cares and calamities.
The artisan begins his daily toil with a song, and ends it in a merry mood. Day by day he eats the bread furnished by his hard labor; though he reposes not upon pillows of ease, yet he tastes the sleep of peace. Those who by their rank or dignity are compelled to present themselves to public gaze, enjoy less happiness. They must count as many judges of their actions, as there are men to appear before them; and the censure to which they are exposed dissipates the dream of felicity.
The world, oft times, knows nothing of its greatest men. Their lives are passed in some obscure place, but real nobility of character is theirs. Hundreds of men go to their graves in obscurity who have remained so, only because they lacked the courage to make the first effort; and who, could they only have resolved to begin, would have astonished the world by their achievements and success. Great destinies lie shrouded in our swiftly passing hours; great responsibilities stand in the passages of every day life; and great dangers lie hidden in the bypaths of life's great highway; but our mortal eyes fail to see them.
How true it is that there are many beautiful gems of untold value, lying hidden in the boundless ocean, and as many in the human heart. We know not what may be hidden away in the deepest cells of some hearts, there may be the tender bud of some great and mighty deed, which, if brought to light would rival the splendor of Utopia's brightest beams. Whoever you are, into whose hands fate has thrown the talents which God has given to promote your own and others' happiness, beware that you do not regard them as dreams, nor as the fruits of a wandering imagination, for the efforts of men are impotent to repel the memories of the past.
And you who are still plucking the flowers of youth; you, whose minds are still surrounded by the dark clouds which conceal your future destiny; you who, to heroic sentiments may unite the celestial enthusiasm of private virtue, may the example of the illustrious heroes of the past, arouse you from your lethargy, and make you resolve to remain hidden no longer.
May is born a hero, and it is only by darkness and storm that heroism is obscured. Despair not there, but dispel the black cloud and a blaze of glory will lead you to a brighter destiny. We never know until it is too late what wealth of affection fades from us, when one of our dearest friends, one that we did no know was our true friend, has passed away. We never knew what fidelity of friendship, what delicate regard, what gentle magnanimity, what angelic patience was hidden with that friend in the gave. We never knew while we were searching all through the catalogue of our acquaintances, for one in whom we could confide, and on whom we could rely, that near our own homes, perhaps among our schoolmates, one of those hidden gems of earth's dearest treasures was passing away into oblivion, unnoticed and unknown.
I have looked upon the silent form of such a friend lying in a coffin shroud, when earth's commotion seemed as calm and still as the little flower when it droops its head in reverence, seemingly whispering, "All that lives must die."
When the sleeping echoes of Truth Divine are awakened from their slumbers, then it is that we remember the admonitions of departed friends, and are influenced by their silent voices mingling around us.
"See how in air the sportive goddess hangs—unlocks her casket, spreads her golden wares, and calls the winds to puff abroad her random bounties o'er the gaping throng."
And see how eager we are to reach them! The hurrying throng presses onward chasing the deceitful phantom of pleasure, never diverting its gaze; and tramples under foot all the true "jewels of life." Our whole soul is wrought up in the beauty of the scene before us; and we pluck that which looks to be the most beautiful, though by so doing, we, many times take the "glitter" for the "gold."
Courtesy of Anna's great-grandson, Phil Roybal.