Philander McCarter's Probate Records
Philander McCarter died intestate at age 67 on February 9, 1870. His death must have been sudden because just one month earlier he had purchased an additional 40 acres of land for his farm.
At the time of his death, his household in Ashe County, North Carolina included his wife Thurza, their grown children Andrew, James, George, Emily, their grandson Elbert, and their servant Phany.
Because Philander died without a will, Thurza was limited to lifetime use of just one-third of their land, also known as her dower. She could not sell this property without the consent of her children because it belonged to them as Philander's heirs, as did the other two-thirds of his land.
A portion of the land had to be sold to meet the estate taxes and debts, but what remained appears to have been about 910 acres on Little Helton Creek in both Virginia and North Carolina. The preliminary survey of Thurza's dower carved out "280 acres more or less" which, by law, included the dwelling house and outbuildings. In the official survey, her dower was valued at $2,241.66.
According to later records filed by her son, William, Thurza lived on the farm in Ashe County for another twenty-five years.
He stated that at the age of 86 his mother "becoming old and infirm and not able to give it her personal attention as it should be attended to, and all of her said children now being grown and married, in about the year 1895 she went to live with her son L. H. McCarter [Levi Hickman McCarter] and soon thereafter she sold her life estate in said dower land."


Map of the McCarter Heirs Land Partition
This 1874 map shows how the land was divided among Thurza and her ten children. According to the heirs petition for partition, Sarah and William had already sold their inheritances to their brothers Andrew and George as reflected in this map. (Andrew became George's guardian after Philander's death.)
Click to enlarge image.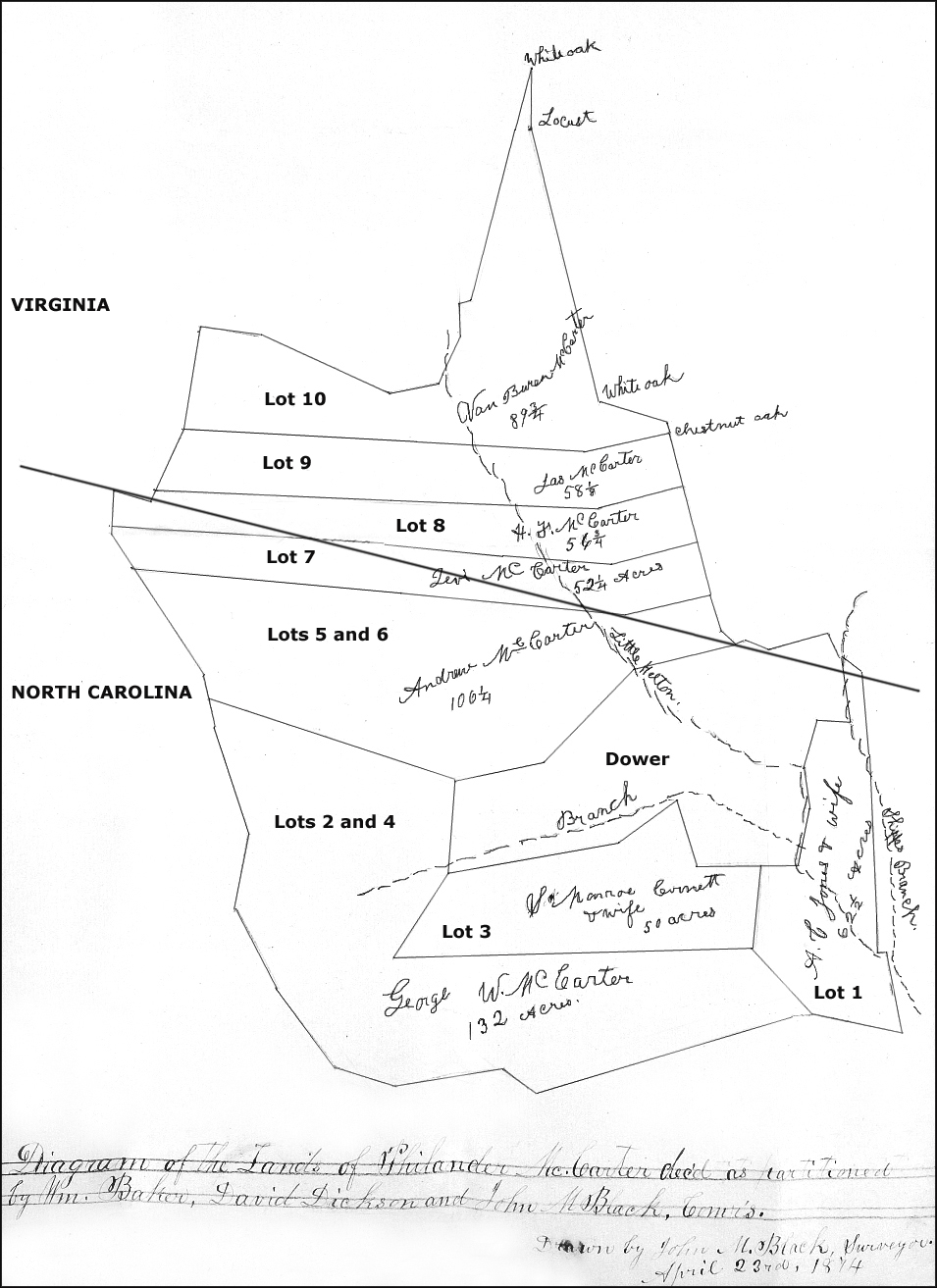 Allotments

1
2
3
4
5
Emily McCarter Jones
George McCarter
Jane McCarter Cornett
George McCarter
Andrew McCarter

6
7
8
9
10
Andrew McCarter
Levi McCarter
H. F. McCarter
James McCarter
Van Buren McCarter

Map of Thurza McCarter's Dower
This map was not created at the time of partition, but some thirty years later when son William brought a suit against J. J. Thomas who had purchased Thurza's dower. William claimed that the land he sold his brothers after his father's death did not include his portion of his mother's dower. He was suing for ownership of one-tenth of this land.
Graybeal and McCarter Made Administrators
July 5, 1870
In the late nineteenth century the courts customarily appointed a male relative to administer a widow's estate because women were not thought capable of managing it themselves. The administrator was required to post a substantial bond, sometimes equal to the value of the estate, as a guarantee of both its proper management and preservation. In this case, Thurza was allowed to administer the estate along with Simeon Graybeal, neighbor and father-in-law of her daughter Sarah.

Thurza McCarter's Petition for Her Dower
July 6, 1870
Despite the appearance of an adversarial proceeding, Thurza McCarter vs. The Heirs of Philander McCarter was the standard form of law. In this petition Thurza was requesting that her dower be carved from the lands of Philander's estate. As mentioned above, a dower was one-third of the estate to which a widow was given lifetime use, but which legally belonged to the heirs (her children).
She also requested that Andrew be made the guardian of George, still a minor at 18, because widows in North Carolina were not allowed to administer the estates of their minor children until 1883.

Preliminary Survey Thurza McCarter's Dower
July 16, 1870
This was the first of two surveys of Thurza's dower allotting her approximately 280 acres.

Thurza McCarter's Allotment of Provisions
August 20, 1870
Under North Carolina law, provisions were set aside to support a widow and her minor children for one year. The value of Thurza's allotment was $300. The remaining $500 in personal property had to be sold to pay the estate taxes and debt.
Later documents mention a full inventory of Philander's personal property which is missing from the probate file.

Petition to Sell Personal Property for Debts
September 19, 1870
The need for this petition is somewhat unclear. It appears that most of Philander's personal property had already been sold in an attempt to meet the estate tax, but Simeon and Thurza were petitioning to sell what remained.
Official Survey of Thurza McCarter's Dower
September 19, 1870
This is the official survey of Thurza's dower giving more detailed boundaries and assessing the value of the land.

Petition to Sell Land for Debts
May 20, 1872
After selling all available personal property, only $30 remained to meet the $350 still owed in estate taxes and debts. So Simeon and Thurza had to petition the court to sell some of Philander's land. Because the land belonged to the heirs, they had to be informed of the impending sale.

Summons of the Heirs
August 27, 1872

Thurza's children residing in Ashe County, North Carolina are summoned to appear in court regarding the sale of some of their father's land to meet estate debts.
McCarter Heirs Petition for Partition
May 28, 1873 with 1896 Addendum
Over three years after their father's death, with their mother's dower having been set aside and the estate taxes and debts having been paid, the children petition the court for their inheritance.

Partition of Philander McCarter's Lands
April 23, 1874
William McCarter's Law Suit
On October 7, 1872, two years before Philander's land was officially partitioned among the heirs, William sold his share to his brothers Andrew and George.
After the untimely death of his wife Ellen in Kansas, William returned to Virginia where he was enumerated in his brother Levi's household in 1900. In the spring of 1901, he sued J. J. Thomas, the new owner of his mother's land, for his 1/10th share of his mother's dower. He claimed that the land he'd sold his brothers thirty years earlier was his inheritance from his father only and did not include his rightful portion of his mother's dower.
George produced a title bond showing that William had sold them his entire interest in the estate. William lost his suit, but may have recovered what was owed to him by his brother Andrew.


W. A. McCarter vs. J. J. Thomas, Complaint
Spring 1901
Exhibit A
Exhibit B
W. A. McCarter vs. J. J. Thomas, Answer
Deposition of John M. Black
May 2, 1901
Survey of Dower
June 10, 1901
Deposition of George C. McCarter
Louisburg, Kansas

Judgment
Fall Term 1901