Obituary of George Croggan McCarter
March 25, 1916
Louisburg, Kansas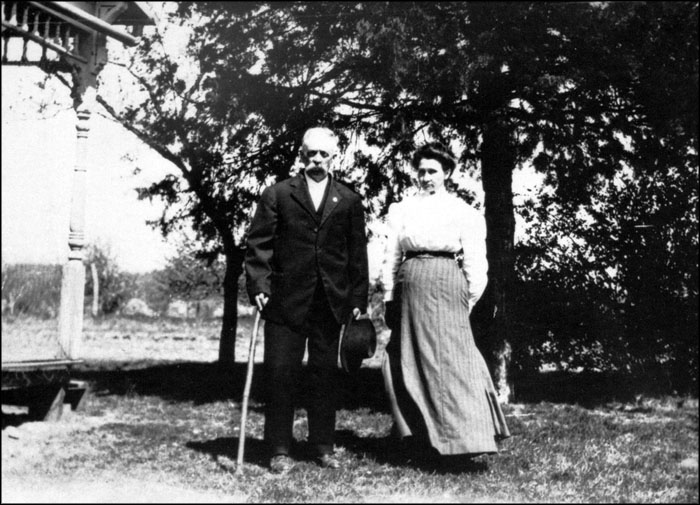 George Croggan and Nancy Celia (Carter) McCarter
Courtesy of Marilyn Barnes McCarter


Well Known Louisburg Man Dead
G.C. McCarter died at his home in Louisburg, Saturday, March 25th, 1916, after three months' illness of dropsy. The word came to Paola that evening in a telephone message to Miss Mamie McCarter, a daughter, who was just preparing to board the train for Louisburg after attending the county spelling contest here that day.
George Crogan McCarter was born July 13th, 1851 in Grayson County, Virginia, a son of Philander C. and Theresa McCarter, and was married there in 1879, to Miss Celia Carter. In 1894 they came West and after living at Belton. Mo., four years, located near Louisburg and have since resided in and around that town.
Mrs. McCarter survives as do ten of the thirteen children born to her and Mr. McCarter. J.L., Flora A., and Belle McCarter live in Kansas City, Mo.; J.B. in Kansas City, Kansas; Charles and W.V. are residents of Louisburg; Mrs. R. Hunt lives in Keytesville, Mo.; Mrs. A.S. Bryan, at Fort Pierce, Florida and John W. and Miss Mamie McCarter at home.
All of the children except Mrs. Bryan, were in Louisburg for the burial. The funeral services were conducted from the home last Tuesday morning by Rev. Molesworth, Pastor of Louisburg Methodist church and the interment was in Louisburg cemetery.