Genetically Confirmed McCarter Lines
Through autosomal DNA testing at both 23andMe and Family Tree DNA, we have matched with distant cousins and genetically confirmed these ancestors.
Third Great Grandparents
Mary Jane "Polly" McClure and Drury Senter

Fourth Great Grandparents
Patience Bourne and Jonathan Thomas
Sarah Greer and David Pugh
Fifth Great Grandparents
Uriah Ledyard and John Marks
Seventh Great Grandparents
Sarah Day and John Greer
Ninth Great Grandparents
Rebecca Tracy and William Merrick
Catherine Wheldon and Giles Hopkins (Mayflower)
Tenth Great Grandparents
Mary and Stephen Hopkins (Mayflower)
Margaret and Garbriel Wheldon
Tryphosa Lee and Stephen Tracy
Mary Durrant and William Ring
McCarter Haplogroup
Through y-dna testing (dna passed from Philander McCarter to his direct male descendants) we learned the haplogroup for our line of McCarters is R1b1a2a1a1b4 which is most common in England and Ireland. The administrator of the McCarthy Surname Study puts us in the South Irish Type II group. (We are kit no. 11112.)
This testing shows that we do not match the large family of McCarters from York County, South Carolina. We have several surname matches with McCartys and McCartneys, but our closest matches have been with surname McConnell.
Other lines of McCarters interested in having their DNA tested may want to join the McCarthy DNA Surname Study. Because surnames have evolved through the generations, the McCarthys are inviting anyone with a variation on the McCarthy surname including Cartey, Carthy, Carty, Macarthy, MacCarthy, MacCartney, McCarter, McCarthy, McCartney, McCarty, etc.
McCarter-Tharp Ethnicity
These are the ethnicity results of a first generation McCarter-Tharp descendant and gives us some idea of where our line of McCarter-Tharp ancestors originated. This is an emerging science and the results will likely become more definitive with time. So far Family Tree DNA has pinpointed French, Orcadian, Basque, Spanish, Tuscan, Finnish, Romanian, and Sardinian ancestry.
Western European

30.29%

South Asian

1.21%

North Sea

29.06%

Southwest Asian

0.55%

Mediterranean

15.18%

Siberian

0.15%

South Baltic

12.35%

East Asian

0.15%

Volga-Ural

6.68%

North American Indian

0.10%

Caucus

4.27%

West African

0%

Generated by the Eurogenes K12 model created by Davidski/Polako.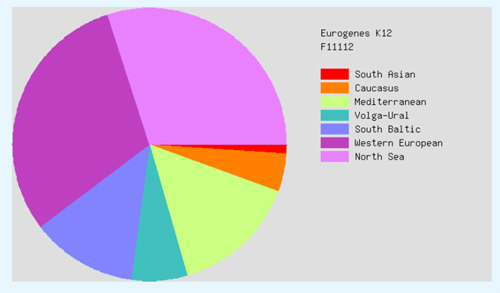 Click to enlarge image.