James McCarter Indicted for Assaulting His Wife Elizabeth Paulding Bertine McCarter

January 14, 1806, New York City
On January 14, 1806, James McCarter was indicted for assaulting and beating his wife Elizabeth. He was ordered to find a surety to supervise him, to report to the court from day-to-day, and to put up a $200 bond.
At the time James had a grocery at 249 Greenwich. John McCanns, who had a tavern on Greenwich, must have agreed to be James surety because he was required to put up a $100 bond. Elizabeth allowed the court supervision to end four months later on May 29, 1806.
Note: A surety is a person who comes to court and promises to a judge or a justice of the peace to supervise an accused person while they are out on bail. A surety also pledges or promises an amount of money to the court by signing a type of bond called a recognizance.



The People
v.
James McCarter

On an indictment for assaulting and beating his wife, the defendant being brought into Court in custody of an officer on a Bench Warrant issued against him. On a motion of Mr. Riker, District Attorney ordered that he find surety for his appearance from day to day to answer to.

Thereupon the said James McCarter of the 5th ward, grocer, and John McCan of the same place, grocer, severally acknowledged themselves to owe and be indebted to the people of the state of New York. The said James McCarter in the sum of two hundred dollars [$200.00] and the said John McCan in the sum of one hundred dollars [$100.00] to be levied and made of their several and respective goods and chattels, land and tenements if default shall be made in the condition following - to wit.

The condition of the recognizance is such that if the said James McCarter shall personally be and appear at the court from day to day and answer unto all such matters and things as shall be objected against him and abide the order and judgement of the court and not depart without leave, then the recognizance shall be void otherwise to be and remain in full force and virtue.
Click to enlarge image.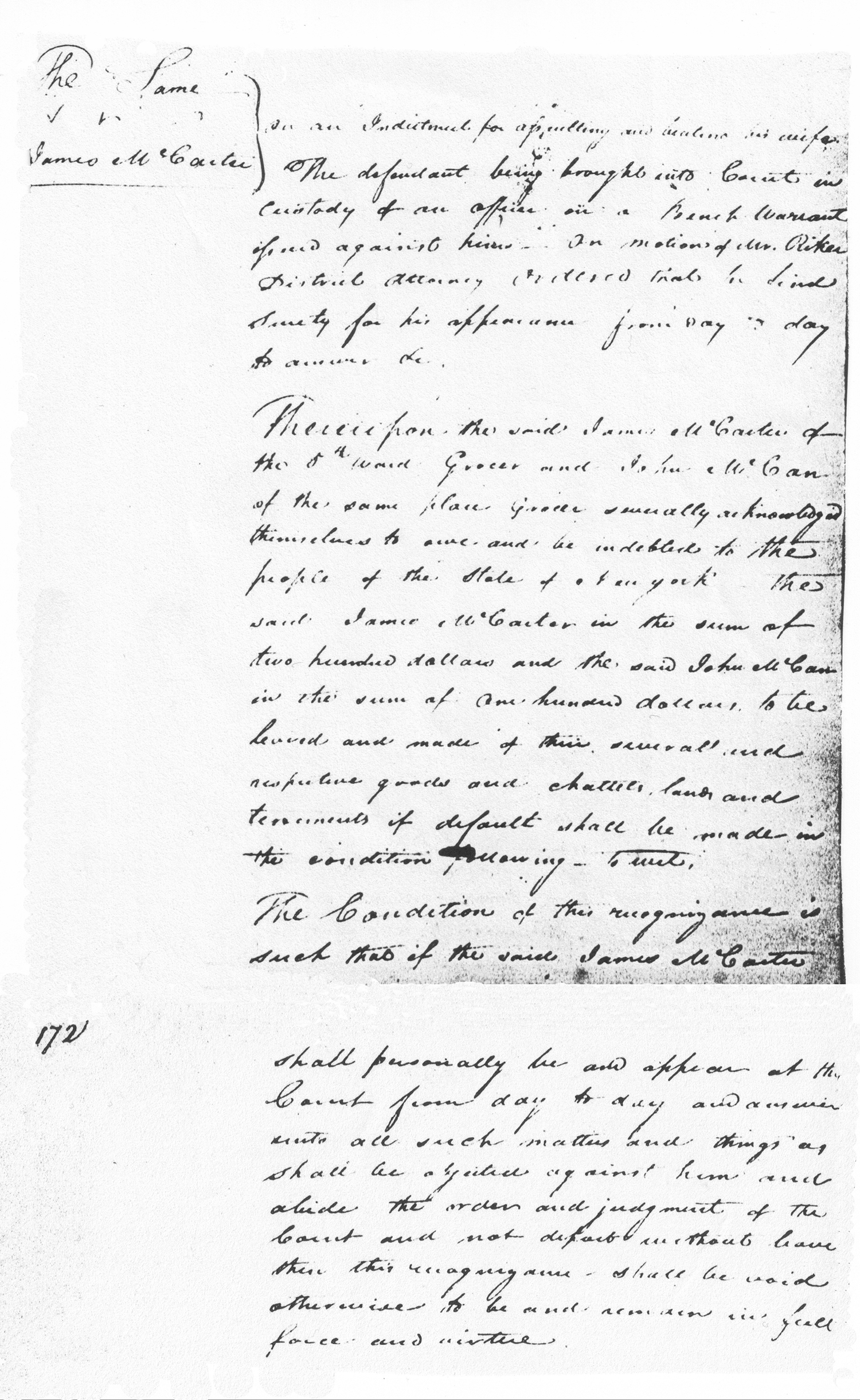 New York County (New York) County Clerk Court Sessions, V. 11, 12 1796-1807; FHL Film 497587, pp. 171-172