Minnie Sophina Senter Copenhaver Delp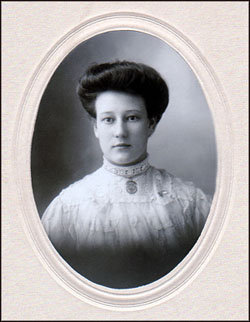 Minnie Sophina Senter
"Finnie" was the youngest child of Calvin and Rosa Senter. She became a teacher and married Robert Copenhaver in 1891. They farmed at Seven Mile Ford, Virginia until 1902 when they moved to Cincinnati, Ohio where Robert did contract work for the railroad.
Robert and their children William, Nellie, Ollie, and Charles were killed by a train at a crossing there on July 9, 1903. Their youngest son, Samuel, was lying in the lap of a man sitting in the back seat of the hack and survived the accident. Robert and the four children are buried in the Samuel Copenhaver Family Cemetery near St. Clair's Bottom, Smyth County, Virginia.
In 1906 Finnie married Robert E. Delp and they had five children. Census records list the children as Sue M., Carrol L., Harris C., Max C., and Gordon H.
Finnie died in the 1923 at the age of 50.