Graves of Brothers William and James McCarter
James and William McCarter, as well as William's sons, Will and George, are buried in the Good Shepherd Cemetery in Huntington Beach, California. The street address of the cemetery is 8301 Talbert Ave.
Their graves are in section A which runs along the Beach Blvd. side of the cemetery. They are located north of the flag pole and between, and a little beyond, these trees.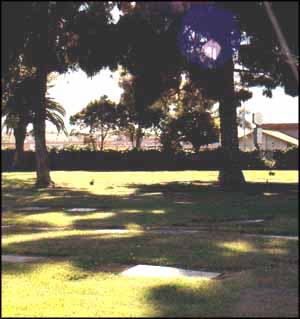 It appears that William's headstone was once standing, so the "McCarter" probably appears on the back. William and his son, Will, are buried in plots 1-41-A and 2-41-A. William A. McCarter was born in 1842 and died in 1914 at the age of 71. His son, James William 'Will' McCarter, was born 1885 and died in 1915 at the age of 29.
William's brother, James, and William's son, George, are buried just beyond in plots 11-41-A and 12-41-A. They have no headstones. James P. McCarter was born in 1848 and died in 1920 at the age of 72. George McCarter was born 1872 and died 1925 at age 51.