The History of Taylor Court Grocery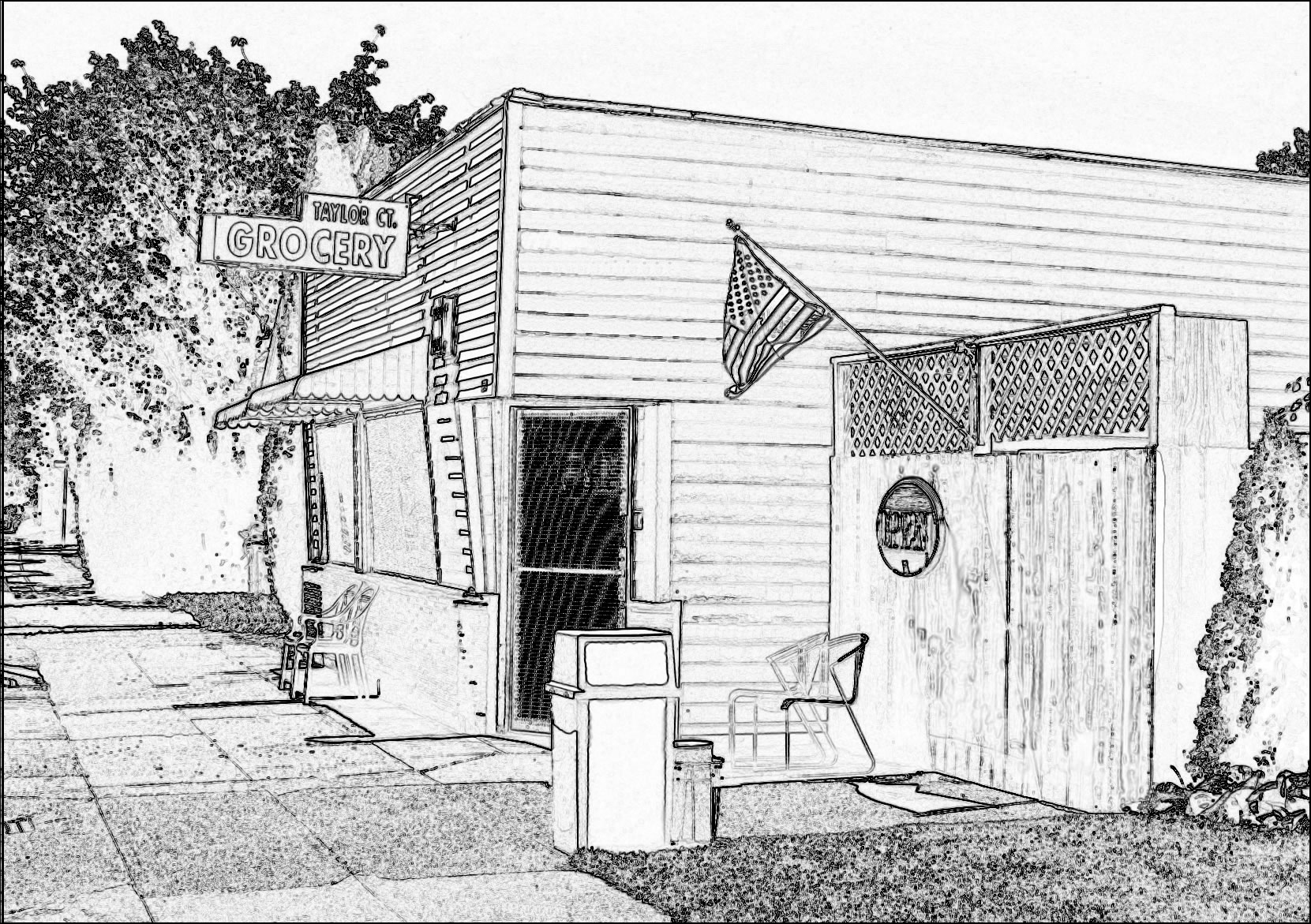 The Taylor Court Grocery at 1335 S. E. 80th Ave. is one of Portland, Oregon's last remaining streetcar era grocery stores in a residential setting. At the time it was built, the corner store was a fixture in every neighborhood. In 1921, the first year it appeared in the Polk City Directory, there were 855 retail grocery stores for a population of just over 250,000.
When chain stores began to proliferate, most of the mom-and-pops went out of business, but Taylor Court Grocery's dedicated owners and employees ensured its survival. Nearly a century later it continues to thrive and serve as the hub of the Kinzel Park neighborhood.

This history of the Taylor Court Grocery is the story of those hard-working owners and employees who preserved this Montavilla icon. It is dedicated to Mel Hafsos and Errol Carlson to thank them for their many contributions to the neighborhood since they purchased the store in 1996. Their story is yet to be told.


The Selling of Lot 1 (1892-1903)
Before bridges were built across the Willamette River, most of Mt. Tabor's east side was made up of farmland and orchards. When the first bridge, the Morrison, was constructed in 1887 speculators began rapidly buying up this farmland for residential development.
One of the early farmers on Mt. Tabor was German immigrant August Kinzel who had arrived with his wife, Katherine, and their two small children, Ida and Paul, in 1871 or '72. The family principally grew "small fruit" or berries.
Both Katherine and August died in middle-age and were buried in the Mt. Calvary Cemetery. After August's death in late 1886, 19-year-old Ida skillfully executed the estate. She sold the handful of farm animals, equipment, and household goods to pay the taxes and debts accrued from her father's illness, but was unable to unload the "old white horse," some kitchen utensils, and a sewing machine "at any cost." These she gave to her brother.

Ida and Paul then split the real property consisting of the house valued at $1,000 and the 72 acres of Mt. Tabor land south of the base line road (Stark) valued at $3,800.

Although the estate was to be split equally, it appears that Ida took the house and 17 ½ acres her father had purchased from William Crawford in 1882, and 18-year-old Paul took the entire 55 acre tract his father had purchased from Albert Bartsch on July 1, 1870.
While the estate was being settled, Ida rented the farm to Irish immigrants James and Annie Hyland who had come to Portland with their four children sometime prior to 1880.
In 1887 they moved from downtown Portland, where James had been working as a carpenter, to Mt. Tabor to operated a dairy farm on the Kinzel place. In a few years James gave up farming to try his hand at land speculation. With Daniel Bartholomew, Benjamin Childers, and M. Lanktree, he formed the Enterprise Real Estate Co. and may have had a hand in convincing Paul Kinzel to plat his 55 acres for development.
Paul named the tract, which is bounded by SE 76th and 80th and SE Stark and Madison, Kinzel Park. He made his first sale in February 1892 to Archbishop Gross. The full-block lot held a church and the original monastery of the Sisters Adorers of Precious Blood at SE 76th and Main.


Greek Revival Monastery built in 1892 at 7617 SE Main
The Greek Revival monastery seen above was completed in 1892, but demolished 30 years later to make way for the larger and more fire resistant Spanish Colonial monastery that exists today.
In 1892 Paul also sold a number of smaller lots to James and Annie Hyland. Then the Panic of 1893 hit and Portland's real estate market began to founder. In 1894 Paul joined James in forming Kinzel and Hyland from the remnants of Enterprise.
At this time James was also the President of the Portland, Mount Tabor & Eastern Railroad Company which began operating in 1893 and ran almost the full length of Kinzel Park. The $30,000 railroad had been built by the subscription of property-owners along the route.
It connected to the City and Suburban Railroad at 70th and Yamhill, ran 2½ miles southeast down Mt. Tabor, looped around Market and then up 80th to Morrison where it turned eastward and ended near 102nd and Stark.
But the railroad ceased working in July 1894 because of engine failure, and the lessee, J. E. Howard, sued the company for $10,000 for failing to provide him with a new steam engine. The stockholders held that the engine was repairable and was Howard's responsibility. Some alleged that he was scheming with the directors, Pres. James Hyland and Sec. Father L. A. Brousseau, to buy back the property at a low cost and freeze them out. When the case came to trial, the judge told the jury that there was no evidence of fraud by the directors and Howard was awarded just $50.

The engine was never repaired and in the fall of 1895 the company was dissolved and the railroad was sold for just $1,800. The rails were dismantled and taken to a logging camp in Washington.
The Oregonian reported that "a considerable amount of property was sold on the strength of the road, but the property owners would never receive any great advantage from it."


Spanish Colonial Monastery built in 1922 at 7617 SE Main
In 1896 Paul realized that the Portland real estate market was played out and left to try his luck in the remote mines of Silver City, Idaho.
In 1898 the Hylands moved back to downtown Portland where James resumed work as a carpenter to support their growing family of eleven children. In the meantime they still owned a fair number of home lots on Mt. Tabor for which they'd paid $400 each, but could not sell for even $100. This included a lot in Kinzel Park on the corner of SE 80th and Taylor.
In 1900 the Hylands owed $3.65 in back taxes on four lots in Kinzel Park, so sold them to their oldest son William who worked for the City and Suburban Railroad. William also soon owed back taxes on these lots and sold them back to his parents for $1.00.
For 10 years, Lot 1, Block 13 at the corner of SE 80th and Taylor remained in the Hyland family. Then in the fall of 1902, James decided to rid himself of the land for good and sold it and an adjoining lot to real estate agent George Barringer.
On March 12, 1903, Barringer sold the eventual site of the Taylor Court Grocery to Fred and Rosannah Burdick for $100.


Rosannah and Fred Burdick (1903-1918)
Rosannah McKinney and Fred Burdick were in their late 20s when they married in Portland in 1902. They had two children – Rose Bettie born in 1903 and William Til in 1905.
They had their home built on Lot 1, Block 13 in Kinzel Park sometime before 1906 when the city directory lists their address as 100 Kearney. That was the year Portland annexed Montavilla and began the first of several efforts to standardize addresses. 100 Kearney soon became 1998 E Taylor, then 2002 E Taylor, and finally 7934 SE Taylor in 1934.


Rosannah and Fred Burdick Home built c. 1905 at 7934 SE Taylor
Fred Burdick was born in 1874 in Reynolds, Nebraska to Nelson and Marrilla (Marks) Burdick and had three siblings – Cora, Carrie, and E. E.
The Burdick family arrived in Portland on Christmas day in 1889. They first appeared in the Portland city directory in 1893. No address was given beyond Kinzel Park, but they were probably living at 7713 SE Morrison based on tax records published in the Oregonian. Nelson and his son E. E. were carpenters and likely built the home on Morrison as well as Fred and Rosannah's home on Taylor.
Fred's sister Cora was a beloved teacher in the Montavilla grade school and was active in the church and several lodges. When she died suddenly in 1899 at the age of 26, the entire community mourned.
In 1902 Fred's sister Carrie married Albert Farley, a clerk in W. C. Reed's tobacco shop. Fred's brother E. E. married Mary Taylor a year later and for over a decade the two couples lived next door to each other – first at the corner of NE 77th and Hasslo and later in the 8100 block of Ankeny which is now the site of the Hong Phat Food Center at 101 SE 82nd.
Fred's wife Rosannah Sharpe McKinney was born in 1875 in Lawrence, Kansas to William and Flora (Wood) McKinney. She had four siblings – William, Margaret, George, and Jessie.
The McKinneys came to Portland in 1883 and first appeared in the city directory in 1885 where William was listed as selling fish and game at the corner on 4th and J. street (815 NW Naito Parkway). The family moved a number of times before eventually settling at 42 E. 6th at the corner of NE 6th and Davis where they boarded.
Most of the McKinney children continued to live with their parents while they worked. William was a marine engineer, Margaret a compositor (typesetter) for the Catholic Sentinel, Rosannah a reader for Press Clipping Bureau, George a candy maker, and Jessie a stenographer.
In the summer of 1900 Rosannah and her sister Margaret pooled their funds and opened a wholesale ice cream factory at 731 SW Yamhill and an ice cream, confectionery, and tobacco store at 737 SE Grand Ave. (original buildings no longer exist). They soon brought their brother George on board to help manage the businesses, but not long after Rosannah and Fred were married, the sisters took George to court after he mortgaged a portion of the property without their knowledge. Fearing that they would become indebted to creditors, they asked the judge to have their father take receivership, and they won their case.
When their father died soon afterward, the businesses were shut down and their mother opened a delicatessen, grocery, and confectionery at what was 424 SE Morrison with George and Margaret as her employees.
A few years later Flora moved to Seattle to live with her son William. At the age of 72, she became a student at the University of Washington and participated in many civic organizations including the Mothers' Congress, the Nation Council of Women Voters, and the Lakewood Social and Literary Club.
Because of her family's retail experience, it seemed possible that Rosannah may have had a store next to her home on Taylor, but after the birth of her first child in 1903, she gave up the ice cream business and followed in her mother's footsteps by becoming involved in civic affairs.
Rosannah was elected President of the Montavilla Parent Teacher Association and helped organize Portland's 1911 Child Welfare Exhibit. She was also Vice President of the Pacific Circle 400 of Women of Woodcraft.
Fred worked as a driver for the U.S. Laundry, the Crescent Laundry, and the East Portland Cleaning and Dye Works.
He was also a charter member of the fraternal organization Woodmen of the World, Lodge 77 and participated in local dog shows with his St. Bernard, Madame Bruno, and his bull terrier, Highland Lady.
In his spare time, he was also an inventor. One of his patents was for a window cleaning device that didn't require the use of a ladder. He gave demonstrations of the product in their home.
In the summers of 1915 and '16 Rosannah and her children took the new passenger train to the coast where they spent two months in a tent on Manhattan Beach in Rockaway. Fred joined them on the last week of their 1916 vacation, likely taking the "Daddy Train" that arrived at the coast on Fridays.
In 1918 the Burdicks sold their home for $700 to Gilbert and Josie Abert, the first owners of the Taylor Court Grocery.
They then moved to a large piece of property in Lents and, soon after, to Sandy. In 1925 they relocated to Seattle perhaps to be near their daughter Rose who'd married C. Elliot Pickrell, owner of Pickrell's Price Right Grocery.
Fred continued to work as a laundry driver, and in 1928 he and Rosannah separated. She retu